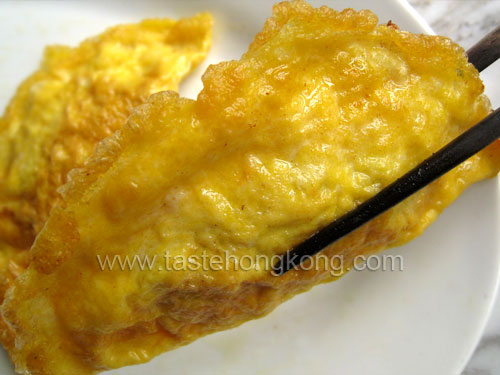 I am no expert in finance or economics, but it really catches my attention that the new apartments facing the harbor front here are sold more than USD12 millions each. They are not houses nor duplexes, but are flats of about 1,000 square feet (or 100 square meters). That is, in our currency, they cost more than HKD10,000 (7.8:1 USD) per square foot or per an area comparable to the size of a 14″ laptop.
Gladly (or sadly?), I don't live in those apartments. Fair the game is, my flat is situated in an area where different kinds of fresh markets, grocery stores and supermarkets can survive. And probably due to the lower rent, they are always able to give bigger discounts on a wide array of foods, even on quality ones.
For making these dumplings, I have been fairly selective in choosing eggs because good ones will not only bring intense flavor but also look bright after fried. Below is a pack of branded eggs from Japan which I trusted and bought from a nearby supermarket at about USD1.5 (expensive? cheap?). Anyway, I am happy with it.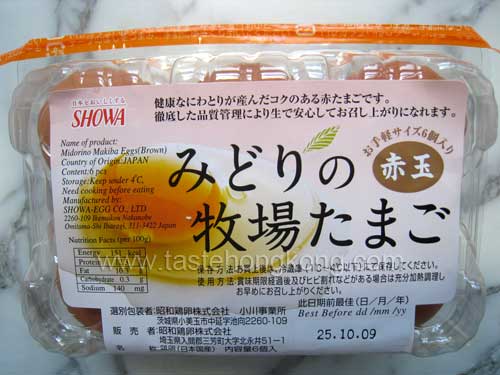 With only four eggs, about 100g ground pork and a few sprigs of spring onions, I made a dozen of dumplings. Very often, they are simmered in oyster sauce immediately after fried. If not, like what I did this time, the dumplings are stored in fridge and cooked the other day. Or, they can also be kept in freezer for up to a week.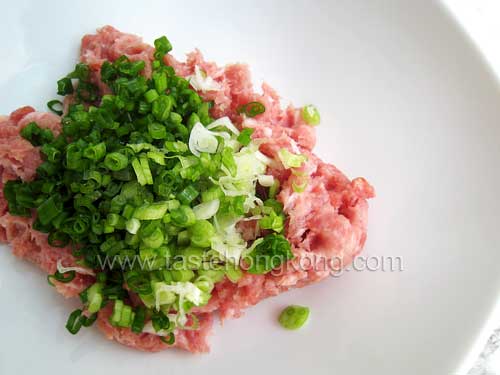 Ingredients
4 medium-sized eggs, beaten
100g ground pork
Seasonings for meat
1 tsp soy sauce
pinch of salt
pinch of ground pepper
few droplets of sesame oil
2 tbsp finely chopped spring onion (I love a lot in the fillings)
Oyster sauce
2 tsp oyster sauce
2 tsp olive oil
1 tsp sugar
pinch of salt
1 cup of water (stock should not be necessary as it will overpower the taste of oyster sauce)
1 tsp dark soy sauce
1/2 tbsp corn starch mix well with 2 tbsp water for thickening
Method
Mix well all seasonings in ground pork as fillings. Heat wok or pan with half table spoon of oil over low heat. Gently ladle in about one table spoon of beaten egg in wok. Then immediately put in one tea spoon of the filling (a,b). I do mean immediate because you will need to get the dumpling sealed when the 'egg skin' is still moist. Folder the skin in half as in (c). Slightly press down the dumpling to seal its edge (d) and fry each side to slightly brown. Repeat from oiling the pan for the remaining beaten egg and fillings, which altogether makes about twelve egg dumplings.

I have just got used to the use of a Chinese turner for making egg dumplings, otherwise tongs should also be of help.
Mix well all ingredients (except dark soy sauce and corn starch) for oyster sauce and bring them to boil in a pan. Put in all dumplings and simmer for 5 minutes. Then add in dark soy sauce, check the taste, and thicken the sauce with corn starch paste.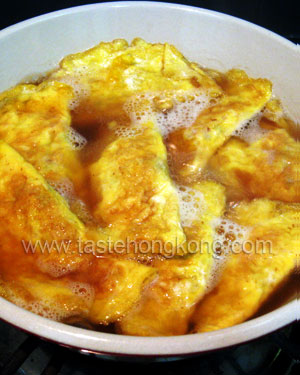 We may actually choose to eat the egg dumplings before stewed (left) or after stewed (right). Should you prefer not to simmer them, then add one to two spoons of soy sauce in the beaten eggs and replace the pork by beef to make sure both the fillings and eggs are well-done but not over-cooked. Whichever, enjoy.

To get immediate updates and new recipes from my blog, you may also SUBSCRIBE them via RSS feeds. See you there.