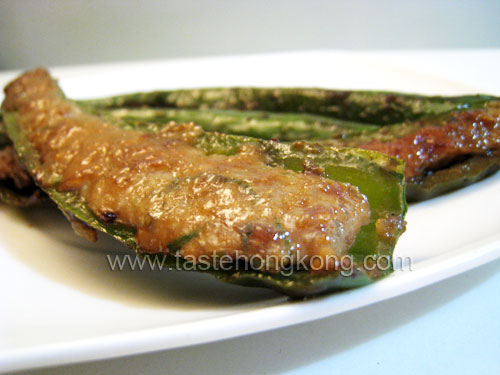 I like having this slender type of chili pepper for stuffing. When halved, they are just in the optimum size to hold the right amount of fillings for me as I prefer not to have the meat outweighs the taste of pepper. Yes, I have been using meat actually more than one type of meat as the filling, but the only magic combination to me is fish with beef. Let me explain why.

The type of fish I often buy for making this dish is carp or sole. Choosing these types of fishes is because their meat after minced and blended will form a sticky paste which is then perfect for stuffing. So, why add beef? You may not agree, but I treat it as a seasoning, a seasoning to the minced fish meat. My opinion is, fish is a bit too gentle and meat however is relatively more powerful, in terms of their flavors (just not to be mistaken). That is why I mix into the minced fish some ground beef in lesser amount to balance the tastes.
I enjoy cooking these stuffed peppers with pan frying because it is wonderful to see each of their surface turning golden brown.
Ingredients
8 pcs chili pepper (jalapeno type)
100g ground beef
150g minced white fish (the type of carp I used is 鯪魚 – in Chinese)
Seasonings
1 tsp sea salt
1/2 tsp ground white peper
1/2 tsp sugar
few droplets of rice wine
handful of finely chopped coriander and spring onion
Method
1) Rinse peppers, remove stalks, halve them lengthwise, discard seeds and cut away any white membrane inside. Pat dry.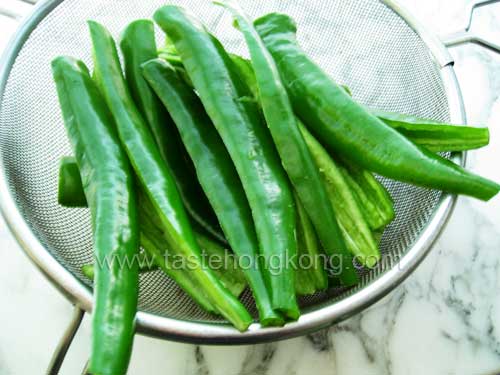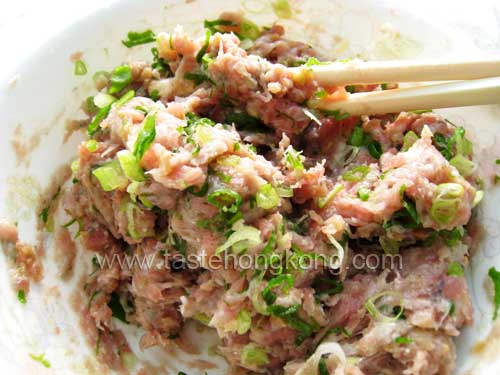 2) Mince and blend the fish fillet with a food processor to form a sticky paste. Then, add in ground beef, all seasonings, mix well, and they are the fillings ready for stuffing.
3) Briefly sprinkle some corn starch inside the peppers (so doing, their inner surfaces will become adhesive to the fillings). Then fill the cavity of each chili with meat. I used to get a knife to do the stuffing because it is not only a great tool for grabbing the filling but its blade can also help flatten the meat in peppers.
4) Heat a pan with two table spoons of oil over low to medium heat. Wait until the oil starts to heat up (but before smoking), gently put in the stuffed peppers (meat side faces down). Depending on the thickness of the filling, it should take about 5 to7 minutes to get the meat well-done. Then, turn over to briefly cook the pepper on the other side for half a minute or so.
5) Done and drizzle some soy sauce to enjoy.
To get immediate updates and new recipes from my blog, you may also SUBSCRIBE them via RSS feeds. See you there.