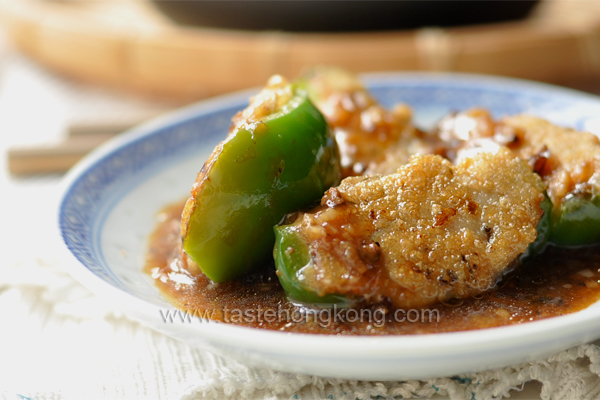 This was one of the few street foods I like eating with schoolmates during my childhood, when we, wearing school uniform, enjoyed sinking our teeth in the fried stuffed peppers on bamboo skewers only with a dash of soy sauce.

Those were our days after school.
The memory is still vivid though, it has been ages since I started cooking for two in my tiny kitchen. And I have made this fried peppers with different approaches. Following the old-fashioned recipe, I add aged tangerine peel (soaked and finely chopped) to the sauce. For a quicker version like this, I skipped that and bought pre-mixed fish paste as the filling than making it all from scratch, but with the add of some chopped spring onions.
If you are making fish paste from scratch, be sure it is stirred properly into a cohesive filling.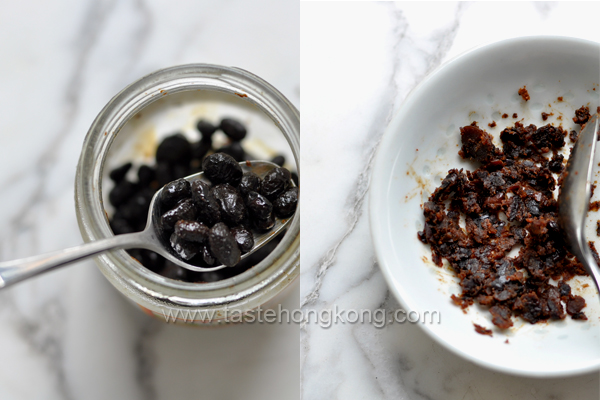 Although black bean sauce can be conveniently bought either in supermarkets or in grocery stores here, still, I have it homemade considered that it can be prepared in minutes.
It is all about mashing a few fermented black beans with spoon, sautéing it with garlic in pan plus a splash of wine, and simmering with a soy-sauce mixture.
But I truly like the flavors mingled from that splash of wine and the black bean mixture.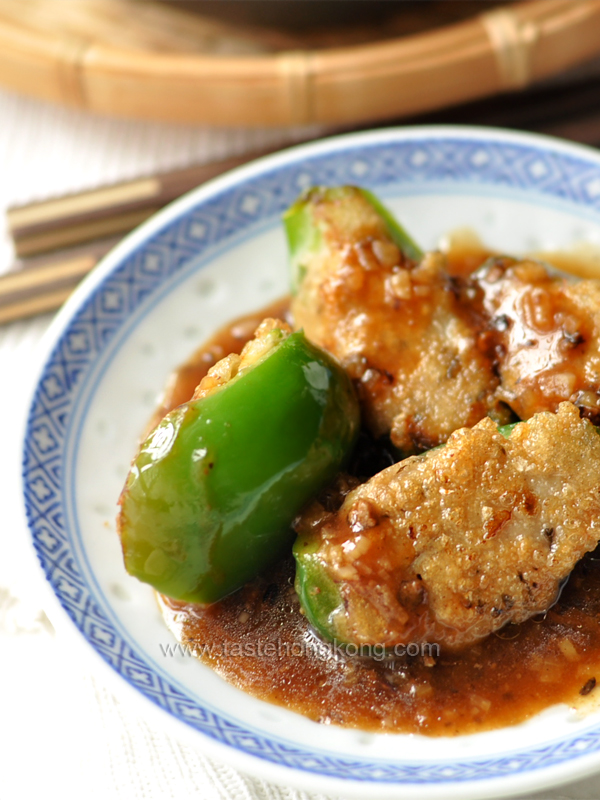 Ingredients
2 green bell peppers, ~300g
~1/2 tbsp plain flour, for dusting
2 tbsp cooking oil
Fish paste
~200g white fish fillet, I usually use carp
1 sprig green onion, thinly sliced
1/2 tsp corn starch or potato starch
1/4 tsp sea salt
2 tsp water
Black Bean Sauce
2 tsp fermented black bean (douchi or dausi 豆豉), mashed
4 cloves garlc, finely chopped
~1/2 tbsp cooking oil
2 tsp yellow wine
2 tsp soy sauce
1 tsp oyster sauce
1 tsp sugar
1/2 C water
~1 tsp cornstarch paste (corn starch : water = 1 tsp : 2 tsp)
pinch of salt to taste, optional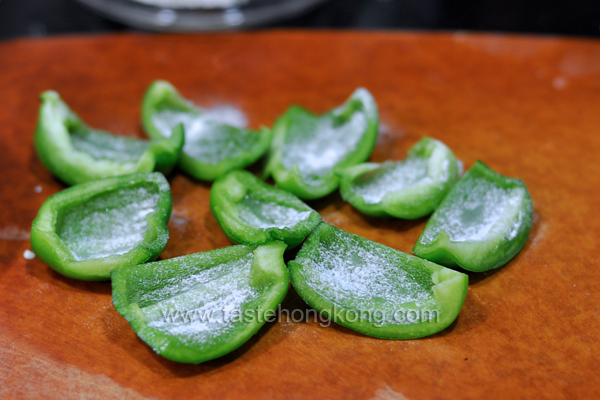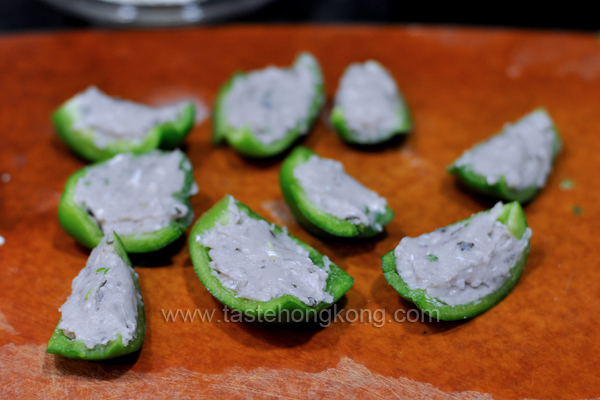 Method
Follow the method here to make a bouncy fish paste from scratch. Skip this step if using a pre-mixed fish paste. Either one, add chopped spring onion.
Wash bell peppers, cut away stems by running a paring knife around them. Half lengthwise, roughly along veins; seed, and trim the white pithy bits. Cut each half, again lengthwise, into 2 to 3 wedges.
Gather the pepper wedges, inside facing up, on a cutting board, evenly dust a thin layer of flour in each (I do with a small fine sieve).
Using a butter knife, fill the pepper wedges with the fish paste, packing and flattening it firmly – making a good surface for pan-frying.
Heat pan (or wok) enough over medium flame; add 1-2 a table spoon of oil and distribute evenly by swishing the pan. When oil is heated, place stuffed pepper wedges in pan one by one, with fish paste facing downward.
Regulate heat to low, frying for about 3 to 4 minutes, or until the downsides turn golden brown and are done. Gently flip all of them to the other side and fry for another half to one minute. Dish up.
Over low heat, sauté garlic and mashed fermented black beans with another half table spoon of oil for roughly a minute. Then splash in wine and stir in soy sauce, oyster sauce, sugar with water, bringing to a simmer. Thicken with corn starch to desired consistency. Taste and adjust the flavor with extra salt or sugar if required.
To retain the crunchiness of fried stuffed peppers, simply pour sauce over them and serve. Or, return the fried peppers and simmer briefly with the sauce.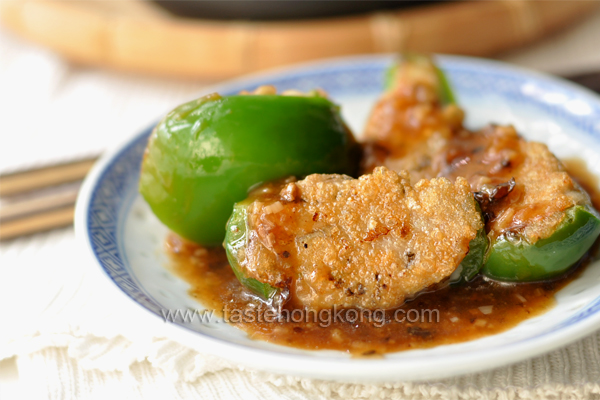 Enjoy!
To get immediate updates and new recipes from my blog, you may also SUBSCRIBE them via RSS feeds. See you there.