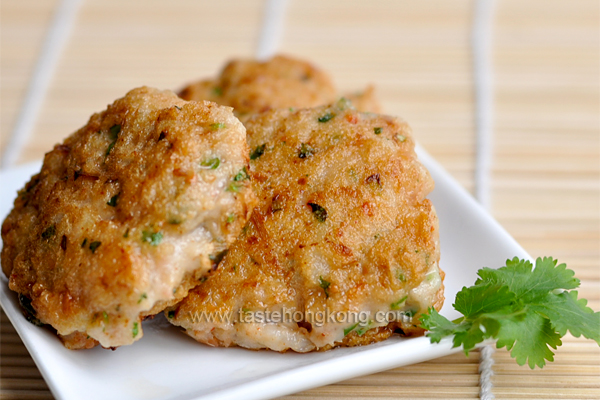 Tod mun pla, fried fish cake, is a dish always recommended as an appetizer on Thai's menu. Have it homemade, I often serve it as one of my main dishes to go with rice or noodles.
Like many Asian fish cakes, tod mun pla is bouncy to chew. And this Thai style, imparted much flavors from the red curry paste, is both spicy and aromatic.

A speedy way to make this is to buy readily made fish paste and bottled red curry (fish paste available from wet markets and some supermarkets here is usually made from carp 鯪魚). I made my own fish paste in a food processor, followed by some stirring (kneading) to make it bouncy enough.
That way, I may choose my fish paste to make from the fillet of catfiish, markerel or even from swimming cat carps, and I know what exactly are added to it.
With galangal, lemon grass, chili, shallot, and a few more spices, I also made my own red curry paste. Many of them also make up the crew that cooked me this Thai's tom yam goong (hot and sour soup with shrimps).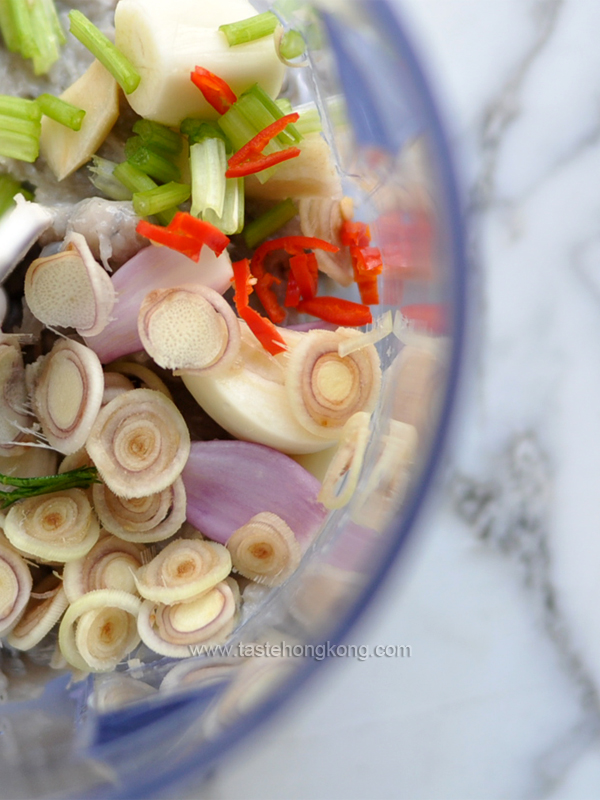 Knowing that I was not time pressed, I chose pan-frying than deep-frying. Pan-frying these fish cakes takes the similar steps as pan-fried tofu: heat pan and oil enough, flip each of them only after the down side is done. There was no mess up too.
Ingredients
~200g white fish fillet, I used carp
1/2 tsp corn starch or potato starch
1/4 tsp sea salt
2 tsp water
2 sprigs coriander, finely chopped
2 lime leaves, roll up and shred like this
2 tbsp cooking oil
1-2 red chilies, thinly sliced, optional
Seasonings
1/4 tsp fish sauce
1/2 tsp brown or shaved palm sugar
1 tbsp red curry paste
1/8 tsp ground white pepper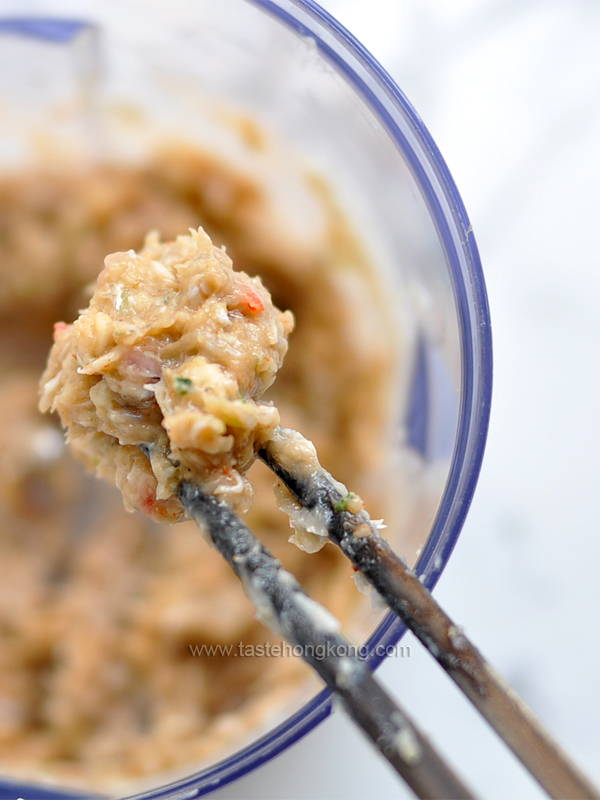 Method
Defrost fish fillet, skin (if any), clean, pat dry, cut into chunks. In a food processor, add corn starch, sea salt, water and process fish fillets until smooth, about half to one minute. You may need to stop the processor once or twice to scrape down the meat to process thoroughly.
Transfer to a big bowl. Using a wooden spoon (I use a pair of chopsticks), stir the fish paste in one direction until the lumps are bouncy. It is important to do the stirring in ONE DIRECTION, about 10 minutes, or the meat won't turn bouncy. If you work with a larger amount of meat, you may try moist your hand and kneading it like a dough in a bowl, again until it appears bouncy.
Add in seasonings, chopped corianders, shredded lime leaves and mix well. Using two greased spoons (if using moistened hand, be careful of the chili may cause hotness), form heaping tablespoonfuls of fish paste and flatten into thick discs.
Heat pan and oil over medium heat, when the oil looks slightly wavy, regulate flame to low. Lay fish paste onto the pan one by one. If you know you could work fast, just grease a spoon and scoop out the fish paste directly onto the heated pan, and flatten each by spoon, or spatula, or turner (whichever, oil it a bit before touching the paste).
Do not move patties until the downsides turn golden browned, about 3 minutes. Then, lift and flip patties, brown the other sides until done. Red curry pastes differ in saltiness, so you may want to sample frying one small patty before doing the whole batch. To increase hotness, add one or more sliced red chilies to your liking.
Serve hot with chili sauce, or Thai hot and sour sauce, or this homemade lime and garlic dressing.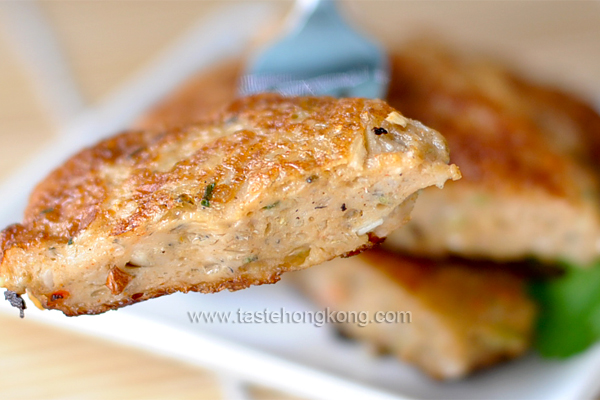 Make them bouncy, and enjoy!
To get immediate updates and new recipes from my blog, you may also SUBSCRIBE them via RSS feeds. See you there.