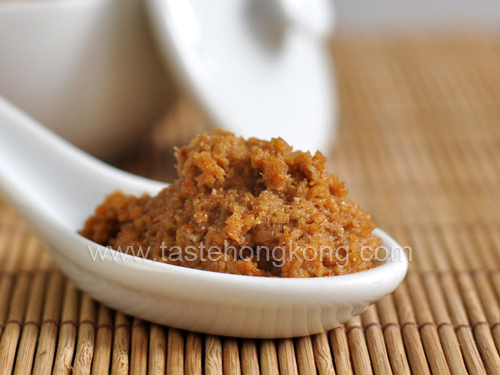 I change the way I used to cut lemon grass, and it makes a significant difference for my red curry paste. I thought I must have looked proud the moment I found this a very satisfying homemade paste.
Or, am I the only one not knowing such trick or tip?!
Usually, before pounding ingredients into a paste, I'd cut them down into smaller pieces. Following the same habit, what I did was: roughly chopped the galangal, garlic, shallot, and cut lemon grass into short sections. And with the help of a food processor and several hits on the pulse button, I'd had a red curry paste easily made. Tasty though, it turned out to be very fibrous and made me feel something grassy in mouth.

Truth is, lemongrass has lots of fibers that run the length of its stalk. To weaken them, the best way proved to me is to thinly slice the stalks crosswise before pulverizing them in a food processor or mortar. Then, the fibers will be too short to be interfering. What we get will be a creamier and aromatic paste.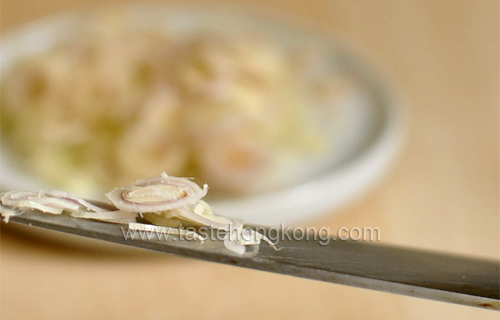 Ingredients
1 tsp ground coriander seeds
1 tsp ground cumin
1 tsp red chili coarse
1 tsp shrimp paste
3-4 cm knob of galangal
1 tbsp chopped shallot, ~2 pieces
2 tbsp chopped garlic, ~6-8 cloves
2 lemon grass / lemongrass stalks
40g roasted cashew nuts, ~20pcs
5 sprigs coriander / cilantro roots with some stems (~2-3 cm) attached
1 tbsp vegetable oil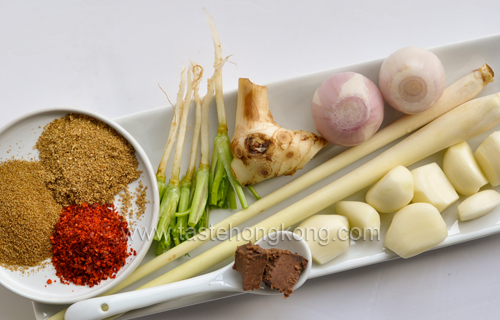 Method
Remove dry outer layer(s) of the lemongrass. Cut off the greener upper sections, the bottom root, and reserve the bulbous pale yellow lower stalks, about 5-6cm. Slice them crosswise as thin as possible.
Dry-fry ground coriander and ground cumin in a pan till fragrant and let cool.
Before chopping the galangal or cutting the coriander root, scrape off any dirts and ragged bits, rinse them and pat dry. Then, put all ingredients including the lemongrass in a food processor and pulverize. To achieve a creamier paste, rest every one-to-two second pulse, and scrape down the mixture from the side of the container. Pulse again, (repeat scrape-downs if needed) until the desired consistency is formed. Store the paste in an air-tight glass container and keep in fridge for up to a month. And, feel free to multiply the amount of the ingredients, the quantities here yield about half cup of paste.
Note
This red curry paste is good for cooking with seafoods, meats and even vegetables. A simple dish I like very much is stir-fried green beans with this paste, to which I often add some paprika and coconut cream.
I have also tried a variation with one onion replacing the cashews, and it is still hard for me to decide which one is better.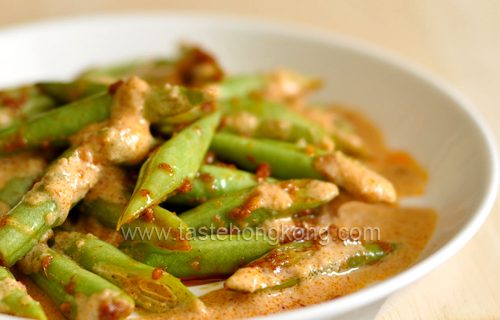 To get immediate updates and new recipes from my blog, you may also SUBSCRIBE them via RSS feeds. See you there.