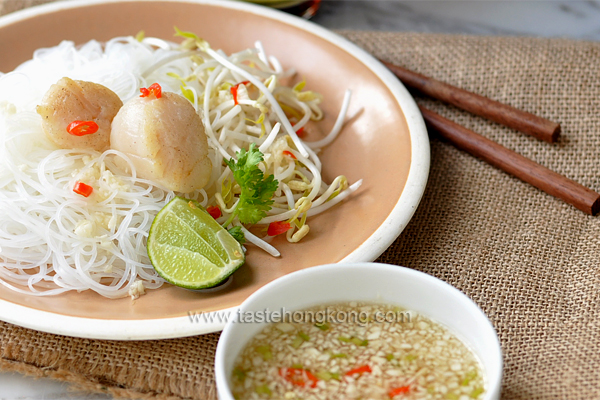 This dressing tastes somewhat like a vinaigrette, but there is no oil. The dish is also low-fat requiring only light cooking. I'd say, chopping garlic, coriander and chilies are the 'heaviest' tasks. The rest is easy, just dissolve sugar, add lime juice and vinegar, mix in the aromatics. And the dressing will be ready to make the dull rice noodles spring to life.

I didn't make a trip to any Thai grocery stores for the ingredients, but relied mostly on my stock. The bottle of fish sauce is from Vietnam, rice noodle is from Taiwan, sugar is from Malaysia, and happily I could easily get the Thai chilies and lime from a supermarket nearby. But I get excited how the dish is tasted like Thai.
The rice noodles with the dressing are lovely alongside with a few grilled scallops. If you have squids or shrimps, it'd would be equally good to have them cooked and served the same way as the scallops.
Noodles are seldom served as a starter in our meals, probably this is a different one.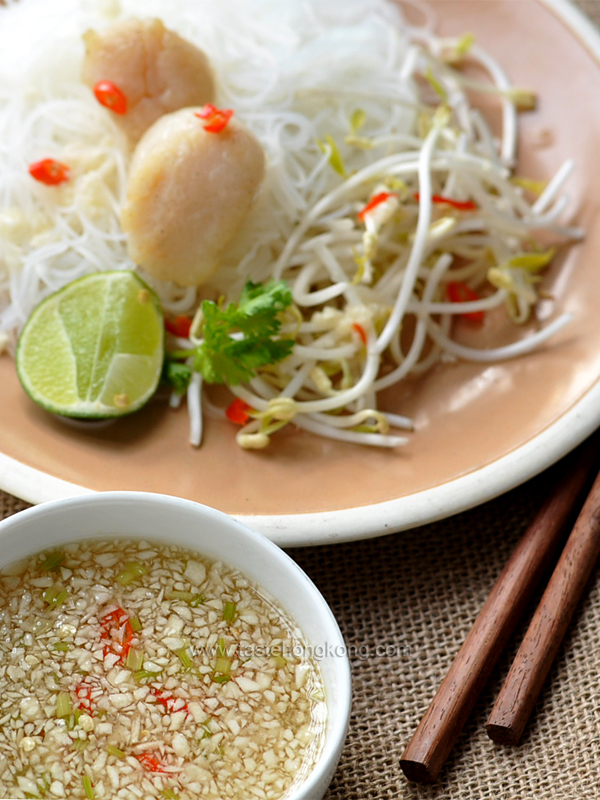 Dressing
1/2 cup water
2 tbsp fish sauce
2 tbsp sugar
2 tsp vinegar
juice from 2 limes
wedges of 1 lime
3 tbsp finely chopped garlic
2 red chilies, thinly sliced
2 sprigs coriander, stems only, coarsely chopped
1/2 tsp salt, or to taste
yields 2 servings
Noodles and bean sprouts
~80g dried rice noodles
~50g mung bean sprouts
4 grilled scallops
~4 cups water
2 tsp salt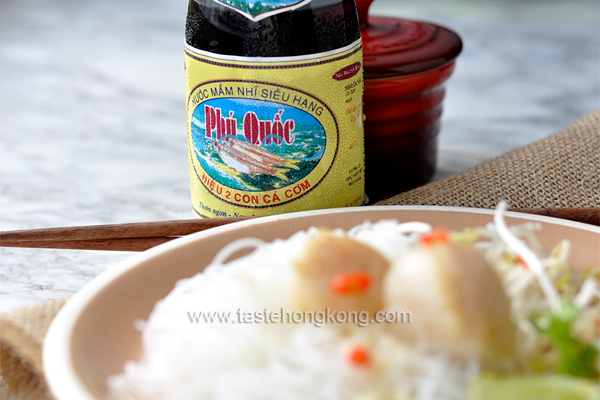 Method
Bring 1 cup half cup of water and sugar to a boil, stir to dissolve. Remove from heat, stir in lime juice, vinegar, chilies, garlic, and add salt (or add water) to taste. Let cool. Divide.
Bring about 4 cups of water to a boil, add salt to dissolve. Put in rice noodles, cook them until al dente (about 1 to 2 minutes or according to instructions). Drain them. With a large bowl of drinkable cold water, briefly rinse the rice noodles (this will prevent the hot noodles turning too soft and from sticky together) . Toss and drain noodles in a colander. Pat dry the noodles if you want to skip the draining time, which takes about 10 minutes.
If you don't like the raw smell of bean sprouts, just briefly scald them in the hot water in which the noodles were boiled.
Grill scallops. I marinade them with a pinch of salt, white pepper, sprinkling some oil on them and grilled them a couple of minutes
Divide noodles and bean sprouts – chill them before serving if desired; arrange them on dishes and serve with an equal amount of dressing (to pour over the noodles and sprouts and mix well) . Squeeze juice from wedges of limes over the noodles according to taste.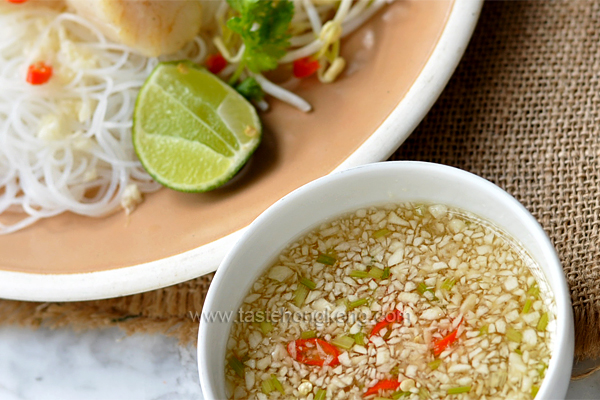 Enjoy!
To get immediate updates and new recipes from my blog, you may also SUBSCRIBE them via RSS feeds. See you there.