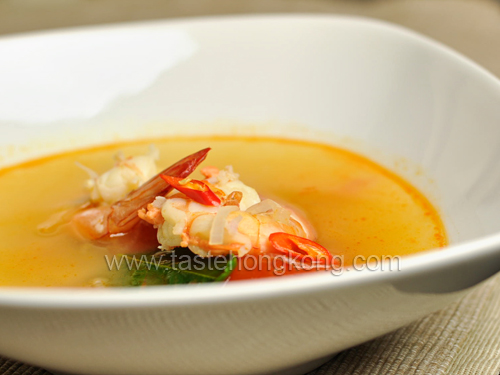 I love Thai's tom yam goong aka hot and sour soup with shrimps or prawns. While inspired by Thai's recipes for making the soup, I also love using shells of shrimps and tomatoes instead of beef, pork or chicken bones for preparing the stock. Hope it causes no offense if I still call this a tom yam goong, but a meatless version cooked with shrimps' shells apart from the traditional lemon grass, lemon leaves, lime juice, galangal …

I have meant to cook this soup for weeks, however my plan has been kept postponed as I haven't seen quality shrimps but farm breed ones in my recent visits to the wet market.
One day, a friendly fish monger reminded me that less seafoods would be available when entering the 'Fishing Suspension Period (休魚期)', a policy imposed by the government that forbids fishing in specified areas from around June to August, aiming to help nurture the growth of more fishes.
As the plan almost faded out from my mind, happily I was stopped by a box of frozen shrimps in the supermarket I happened to visit on last Saturday. Among various packs of frozen foods, it was those little words 'sea caught' which seemingly jumped out and shouted to me. So excited was me with my discovery that I invited hubby to dine at home than looking for foods elsewhere.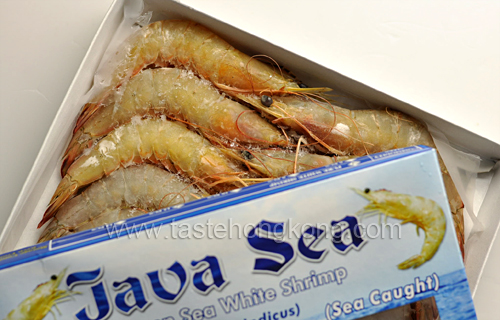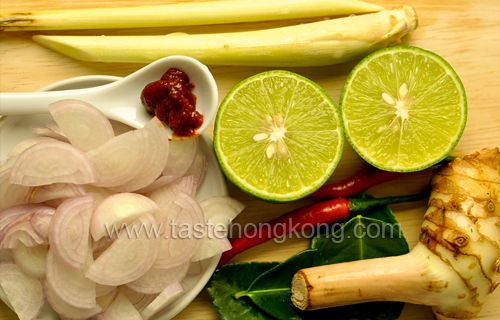 Ingredients
6 shrimps, ~180g
2 tomatoes, ~250g, quartered
3 heads of shallot, thinly sliced
1 head of fresh galangal, sliced
2 stalks of lemon grass, crashed and sliced (remove any bruised outer bulbs)
2 bird's eye chilies, sliced
4 lemon leaves, make some cuts on them
2 tsp oil
3 cups water
Marinades for shrimps
1/8 tsp salt
1/8 tsp ground white pepper
1/8 tsp corn starch
Seasonings
1 1/2 tsp fish sauce
1/2 tsp chili paste
juice of 1 lime
salt to taste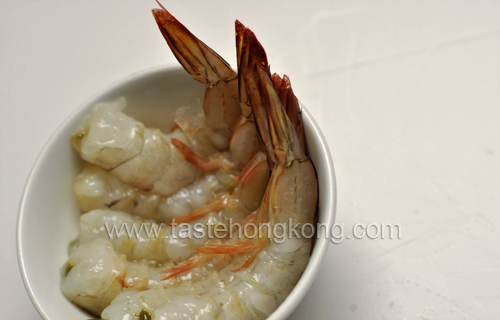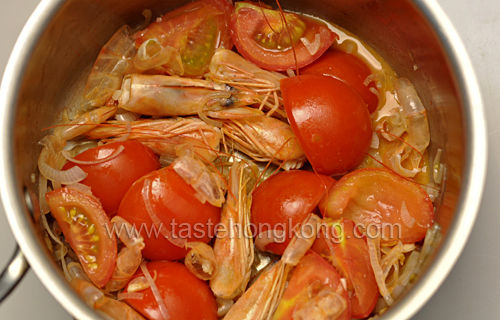 Method
Defrost shrimps, rinse, peel, devein them but with tails intact. Marinades them for about 15 minutes. Reserve heads and shells of shrimps.
Over moderate heat, heat 2 tea spoons of oil in a saucepan, sauté shallots, tomatoes, shrimps' heads, shells till fragrant, 1 to 2 minutes. Pour in 3 cups of water, add in sliced galangal and lemon grasses, bring it to a boil. Turn to low heat, let the stock simmer for about 15 minutes,
This is probably the most tedious task; pick out all shrimp's heads, shells and discard them.
Add in peeled and marinaded shrimps, lemon leaves, chilies and seasonings (except salt). I do not add lemon leaves earlier because I find them turn bitter if cooked for too long. But in order to have their lemony flavor infused into the soup, I make some cuts on the leaves. Turn heat to medium and let the soup boil for another 3 minutes, that is, to cook the shrimps just right but not overcooked. Add salt to taste, serve hot (it is not only hot but spicy, so adjust the amount of chilies to your preference).
Note
I sometimes serve this simply as a soup with garnish of coriander, but occasionally I will also have it served as a broth for soup rice or noodles. How would you usually serve your tom yam goong? Enjoy yours anyway!
To get immediate updates and new recipes from my blog, you may also SUBSCRIBE them via RSS feeds. See you there.