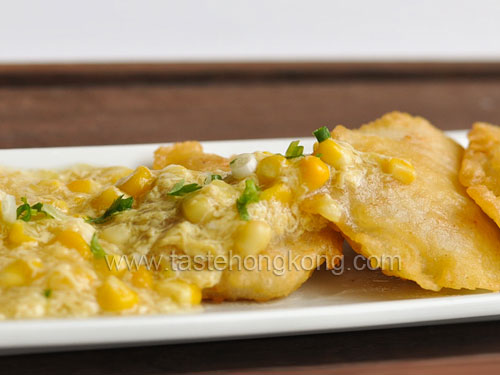 Whenever we have get-together meals in Cantonese-style restaurants with a mix of kids, adults, seniors, this (in Chinese 栗米魚塊) will be one of the dishes ordered. Kids usually show hands for this since anything that is crisp and sweet is going to please them. Seniors also favor the order apparently because they like the meat being boneless and tender. We adults, while enjoying both the fish and sauce, are happy seeing them licking the plate clean.

Admittedly, however, there are times I didn't enjoy it when I am sensitive enough to detect that there is a frozen smell in the fish, and my inner ego would whisper, 'Back home and make this yourself.'
My practices prove to me that I only need to be patient with the batter, to properly defrost the fish fillet, and to follow a simple trick to prepare the sauce, then these simple tasks will reward me with some goods pieces of crispy fish fillets and a feather-like creamy sauce.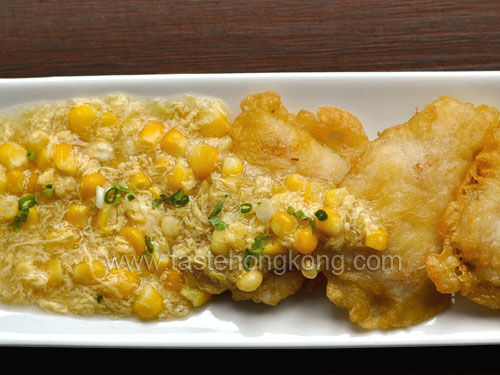 Ingredients
300g fish fillet (I use frozen catfish)
5 tbsp oil for frying
Marinades for fish
1/3 tsp salt
1/3 tsp ground white pepper
Sauce
1 pc corn, yields ~120g corn seeds
1 cup chicken stock
1 egg, beaten
1/4 tsp salt
1/4 tsp sugar
1/4 tsp ground white pepper
1 1/2 tsp corn starch and 3 tsp water to form a paste
Batter
4 tbsp plain flour
1/2 tbsp corn flour
1 tsp custard powder
1/2 tsp baking powder
1/4 tsp salt
1/4 cup water
1 tsp oil
Method
Preparing fish fillets
Defrost fish fillet. Rinse it (my habit for sanity) and squeeze excess water. Have it laid flat on a plate, then bring two cups of very hot water in a measuring cup. Put the fish with plate in kitchen sink, pour half cup of hot water toward the fillet when you shall see the meat contracted a little bit. Drain any water in the plate (be careful of the hot water or you may need to wear your rubber gloves) and turn to the other side, repeat for the remaining hot water. Pat dry the fillet and cut into into about 5 to 6 cm squares. Marinade them for roughly 15 minutes.
Treating the fish fillet with hot water is to reduce its frozen smell and to make the meat firmer. If you fillet is fresh enough, simply omit this step.
Preparing batter
Sieve together all the flours and powders for the batter, then stir in salt, water to assemble into a lump-free mixture. Lastly, add in oil and mix well.
Heat oil in wok over medium heat. I am doing kind of shallow frying than deep frying therefore smaller amount of oil is used. Downside is, I may only put into wok only 2 to 3 piece battered fillets at a time. No doubt, deep frying delivers a higher efficiency but consumes more oil.
Frying fillets
When oil is heated, dredge fish fillets into the batter, gently put them into wok. Flip to the opposite side when the bottom side turns golden yellow, 2 to 3 minutes for each side as my fillet is about 1cm thick. Dish up piece by piece.
Preparing sauce
I cut kernels from a whole piece of corn. The task is a little bit tedious but it is worth having them fresh than frozen particularly if you are not in a rush. Yet, I know sometimes, we are forced to use the readily available. Whichever one is used, have it ready beside you before frying the fish.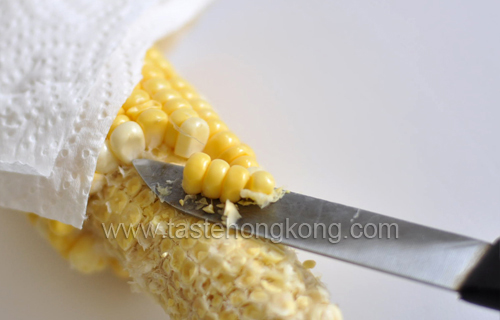 In a pan or in the same wok (drain away the oil for frying), pour in stock and corn seeds, bring it to a boil, then add in salt, sugar and white pepper, mix well and thicken with corn starch paste. Lastly, but an important step to make sure the sauce look good, lower heat, gently spoon in the beaten egg over the surface of thickened sauce (as shown here to minimize lumps). Then, give it a quick stir in the sauce to shape the beaten egg into feather-like patterns.
Serving
Pour sauce on the fillets only before serving, serve hot.
To get immediate updates and new recipes from my blog, you may also SUBSCRIBE them via RSS feeds. See you there.