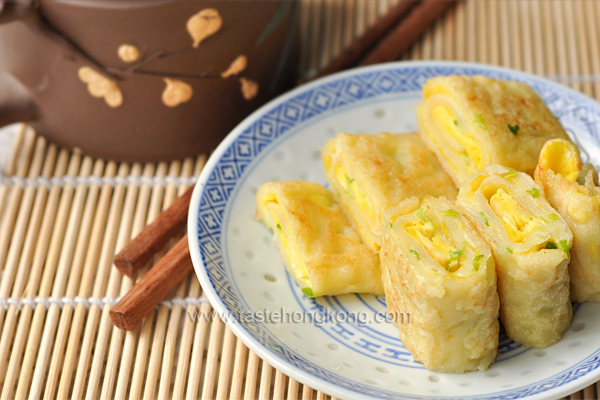 Like many pancake mix, there are only flour, egg, water plus salt. It is halfway through frying that we need to do something different, pouring about half a beaten egg with green onion over the pancake and roll it up. The payoff is a simple yet an interesting treat, good for breakfast or snacking.

In both China and Taiwan, I had watched food stall chefs made similar egg rolls of this in less than half a minute. I do the frying far more slower, but is still talking about a minute or two.
The hardest part perhaps is to roll up the pancakes in the frying pan. But there is a time-saving way, which I like doing too: simply flip over the pancake with the beaten egg, having it fried on both sides. That way, though we may no longer call them egg rolls, however does not alter the taste of the pancake, still allowing it to go well with porridge or soup too.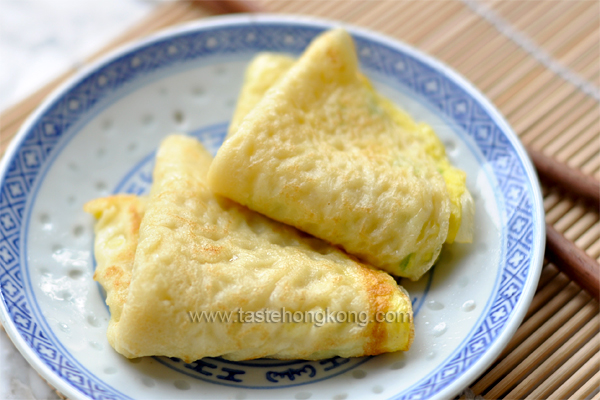 If you prepare the pancakes in advance and store in the fridge (covered) for the next morning, then making your breakfast with these savory pancake rolls (by frying the pancakes prepared in advance and adding beaten egg to them) would be as simple and fast as frying eggs!
This recipe uses one egg for making two pancakes (about 18cm each before rolling), you may easily adjust the recipe to serve more by multiplying the number of egg and other ingredients proportionally.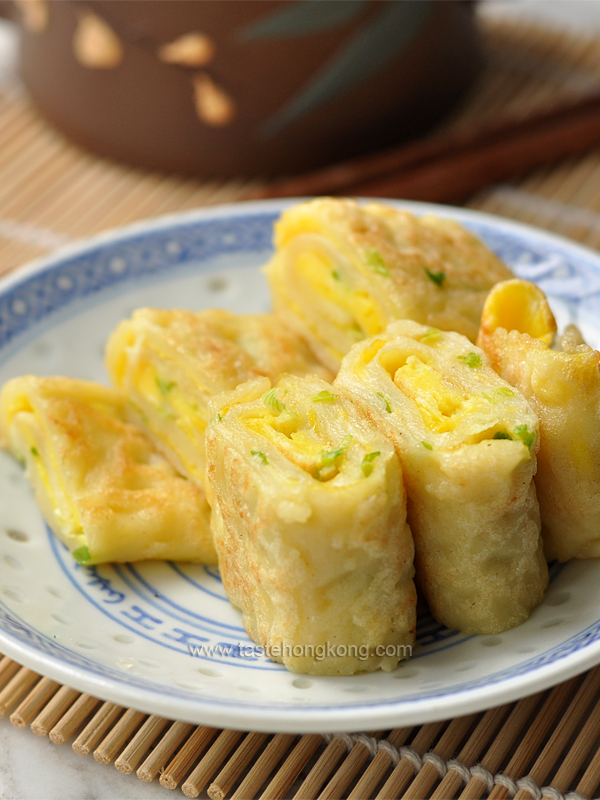 Ingredients
1 egg
25g plain flour
3g potato flour
60g water
1-2 tbsp chopped green onion
1/4 tsp sea salt
pinch of ground white pepper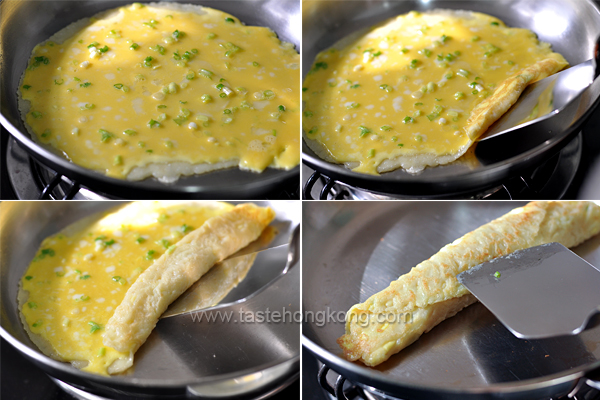 Method
Add pinch of ground white pepper in egg and beat well.
In a mixing bowl, mix flours and salt. Gradually add water in the center, whisking and incorporating flour from around at the same time. Spoon 1/4 of the beaten egg into the flour mixture. Whisk well and until lumps disappear and the batter is smooth.
Add spring onion into the remaining 3/4 egg.
Heat a frying pan and coat its bottom with a very thin layer of oil. As they become hot enough, turn heat to low. Pour half of batter into center of the pan in one go (half of the batter in this recipe shall make a ~18cm pancake).
As soon as the batter hits the hot pan, tip it around to get the base evenly coated with batter (I like to spread it as thin as possible).
As the top side of the batter is about to set, pour over it half of the remaining egg mixture and spread it out evenly.
Wait for the egg mixture to set a bit, yet still slightly wet, lift an edge of the pancake and roll (I lifted with my turner). Aid the action with chopsticks or fork in another hand, if required.
Fry the roll for a few seconds, or more, to brown to your liking.
Repeat with the remaining batter and egg mixture. Section the egg rolls to your desired length. Serve hot with chili sauce or terayaki sauce.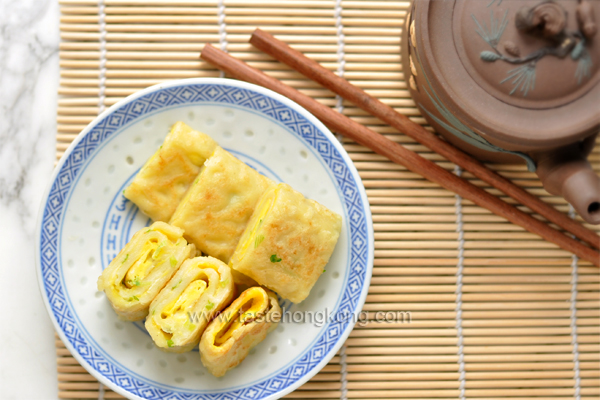 Enjoy!
To get immediate updates and new recipes from my blog, you may also SUBSCRIBE them via RSS feeds. See you there.