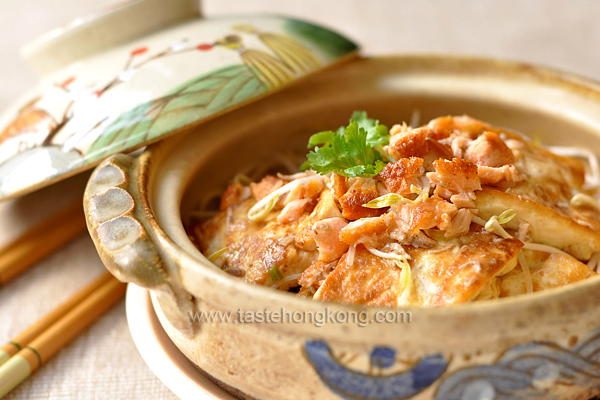 Salted fishes can be found in many traditional Chinese dishes. From stir-fried vegetables and steamed meats to clay pot dishes, most of them are packed with flavors. The one inspired me for making this is the 'Clay Pot Tofu with Salted Fish and Chicken Meat (鹹鱼雞粒豆腐煲)'. But I don't think I have made it since I have learned that salted fishes are not good for health.

So why do I crave it again? All because a visit to Mary's blog, where I read with interests a healthy homemade version of salted fish. Mary resides in Aberdeen, Scotland, a place where there is a river she could go and watch salmon jumping as they swim upstream to lay eggs. While I admire her living so close to the wild salmon, I also adore her many lovely ideas in cooking them.
So I made my salted salmon fillet too. Yes, it is different from the traditional Chinese salted fishes which are usually saltier. But it too gives a nice flavor to my dishes while adding an extra healthy element – omega-3 again! Cooked in a pot, the crunchy bean sprouts, the smooth tofu together with the nutritious salted fish had made us a warm, satisfying meal. Experiment with your version and have fun!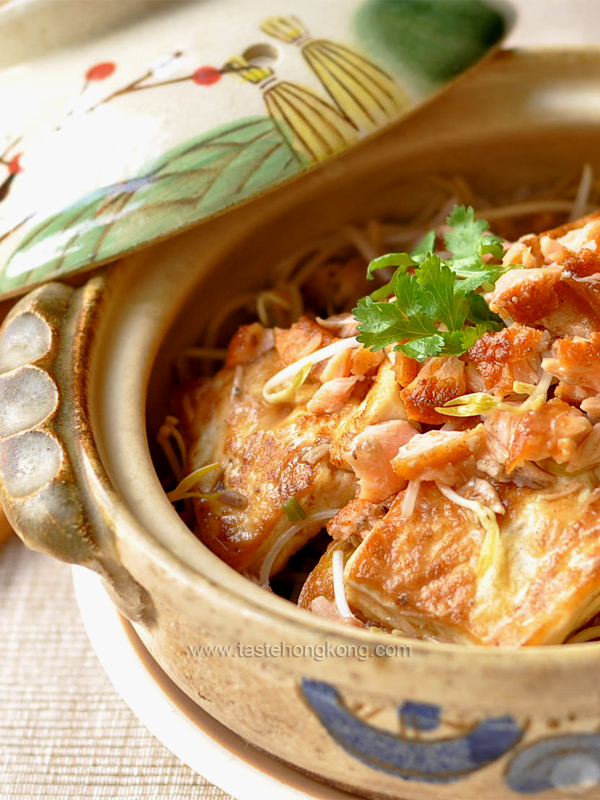 Ingredients
400g firm tofu
120g salmon fillet
150g bean sprouts
2 cloves of garlic, crushed
1-2 tbsp oil
~1/4 tsp salt for salting tofu
For salting salmon
1/8 tsp ground white pepper
1/2 tsp sea salt
Sauce
1/2 tsp white pepper, coarsely grounded
2 tsp oyster sauce
1/4 tsp sugar
1-2 sprigs coriander, coarsely chopped
1 1/2 cup water
corn starch paste (corn starch : water = ~1 tsp : 2 tsp)
dash of soy sauce
dash of sesame oil
Method
Evenly apply salt and white pepper to salmon (only a moderate amount of salt is added so the fish won't become too salty after cooking with the sauce), then let it sit in fridge for about a day. Before cooking, pat dry.
Wash bean sprouts, drain dry.
Slice tofu into about 1 cm thick. Sprinkle salt over both sides of tofu slices, and let them stand for about 15 minutes. Blot dry. Add about one table spoon of oil to well-heated pan or wok and fry tofu and salmon fillet until golden. How to pan-fry tofu with crust could be very simple, see this post with step-by-step photos.
Dish up and flake fried salmon fillet into smaller pieces. Set aside.
Sauté garlic with some oil over low heat until fragrant. Then, put in tofu, give them some turns and stirs. Mix coarsely ground white pepper, oyster sauce, sugar, and coriander with water, and add in. Bring it to a simmer. Roughly stew for another 2 minutes over low heat, occasionally flipping over with a turner. Thicken with corn starch paste to your desired consistency. Do a taste test; add a dash of soy sauce and/or dash of sesame oil as required.
Lay bean sprouts and salmon flakes at the bottom of clay pot. After the tofu with sauce is done, transfer them to the pot. Press down the bean sprouts to the sauce. Bring it to a simmer. The bean sprouts need only a brief simmer or they will lose their crunchiness. Garnish with coriander (but gently mingle the foods with the sauce before eating).
Serve hot and enjoy!
Traditional Chinese Salted Fish
If you are interested in how this simple salted salmon is different from the traditional Chinese salted fishes, the following video shall show you some ideas.
It was recorded from a TV program in Hong Kong and was therefore conducted in Cantonese. Here are the key procedures I translated:
– scale fish (some species require this step, some do not)
– remove gill
– wash but do not cut open the fish in order to preserve its taste
– to get rid of the moist in the fish: either hang and dry under sun for 20 to 30 minutes, or wrap in a coarse cloth and lay the fish (head downward) at an angle to drain.
– wooden box is used to salt fishes for better drainage and absorption of moisture.
– the wooden box will first be filled with a bed of salt, then fishes stuffed with sea salt are placed on the bed of salt and positioned in a way as if they were swimming than laying flat.
– cover the stuffed fished with another layer of salt, and preserve them 4 to 5 days (needs one to two days more if weather is not fine).
– wash fishes and wrap their heads with papers (because smells may release from heads, where gills are remove, and may attract flies and spoil the drying process).
– then hang and dry them under sun (no mention for how long)
– the chef hosting the program then continues to compare fishes preserved by salt versus in brine. He suggests that salted fishes are more fragrant, firmer and are better.
Enjoy!
To get immediate updates and new recipes from my blog, you may also SUBSCRIBE them via RSS feeds. See you there.