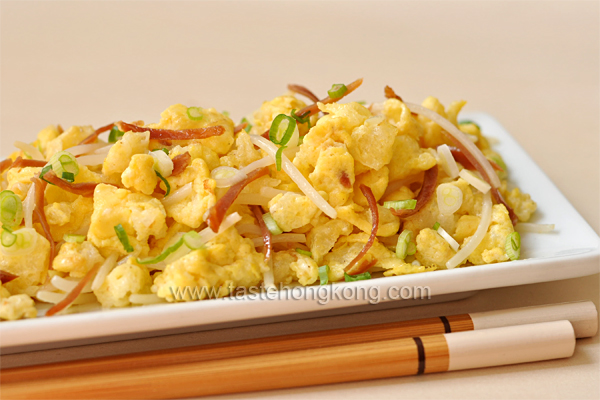 I always have good time reading readers' comments and emails. This is quite an unfair scenario because in return I could not necessarily answer their requests or questions. Recently two ladies expressed their interests in reading more Cantonese recipes; and that is a lovely message because I know this is what I could handle. If you are not familiar with what they are referring to, no worries, you will soon see this is actually a nutritious Chinese dishes which can easily be accomplished by stir-frying.

The typical way of cooking this may be more elaborate. I make a tweak here to make the stir-frying simpler. No deny, I once cheated in frying noodles and here again.
If you know how to make omelets, I bet it is even easier for you to cook this. The trick is, do not keep the fried eggs in good shapes but instead you need to stir cook them into small patches, more or less like a good bunch of little yellow flowers. That is why in Chinese, this dish is also called Stirred-Fried Fish Maw with Osmanthus (桂花炒魚肚).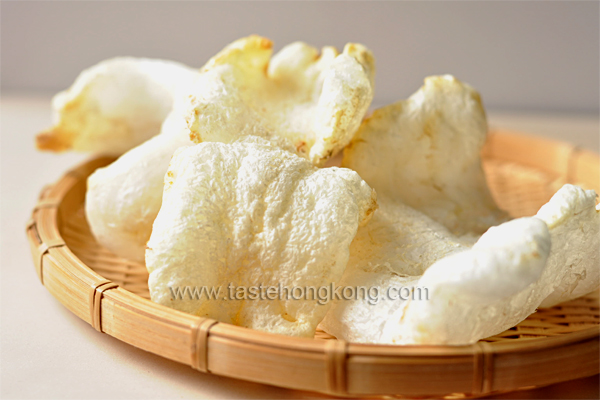 Fish maw actually is the air bladder in a fish, and is a kind of high-protein low-fat food. It has been known among Chinese for its tonic value, believing it good for nourishing and keeping skin young.
Basically, there are two types of dried fish maws, fried and non-fried. The type of fish maw used for this recipe is fried. Contrary to the non-fried ones which mostly appear translucently yellow and looks plastic, it usually looks pale white and weighs like feathers. One whole piece measuring roughly 15cm times 7cm weighs only 10g.
There is a wide array of dried fish maws with prices range from a few hundred to more than several thousand Hong Kong dollars per 600g (or one catty). I'm no expert in selecting fish maws but, for making this dish, I know I should get the fried ones which is good for stir-fries. Sometimes if I'm allowed, I will hold it close to my nose to check if it is odor-free.
Ingredients
10g fried fish maw
2 eggs, beaten
50g bean sprout
ham (same as this), ~2 x thumb size, shredded
1 tbsp thinly sliced spring onion
2 tbsp oil
1/4 tsp fish sauce
1/8 tsp salt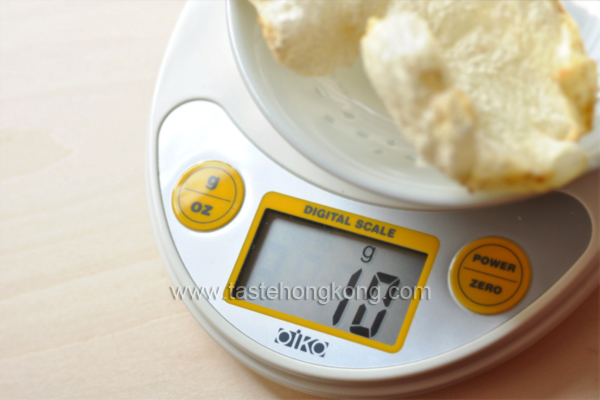 Blanching fish maw
2 sprigs spring onions
3-4 slices ginger, crushed
1/2 tsp cooking wine
2-3 cups water
Seasonings for fish maw
1/4 tsp salt
1/4 tsp sugar
1/8 tsp ground white pepper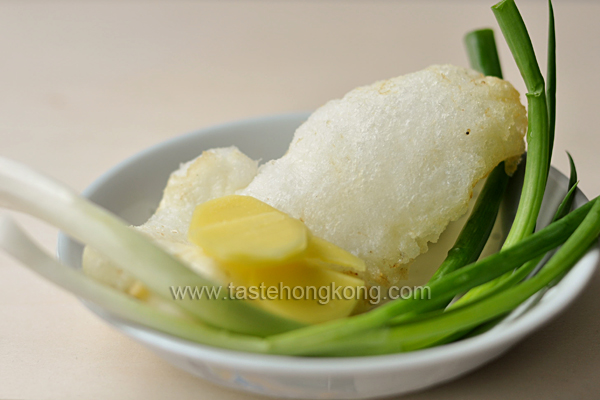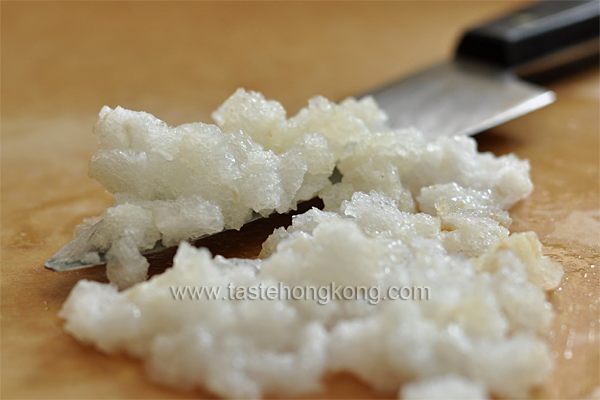 Method
Soak fried fish maw with 2 to 3 cups of water until soften and malleable, about 3 to 4 hours. Apply some weights to it, like topping it with a plate so that it doesn't float above water but is fully submerged.
After the fish maw is reconstituted, rinse off any dirt or impurities and squeeze away water. Set aside. Meanwhile, toast the ham in oven under low heat until fragrant and julienne.
In a pan, put all ingredients together for blanching and bring the water to a boil. Add the fish maw and blanch it for about a minute. Doing this is to get rid of its fishy smell (avoid prolonged boiling as it will render the fish maw too soft). Drain and discard all but keep the fish maw.
Squeeze all water from the fish maw; pat dry with paper towel if it is still wet. Dice it into about half cm cubes. Add seasonings to them and mix well. On the other hand, mix fish sauce into the beaten egg.
Here is my cheat, instead of frying eggs and fish maw separately as the classic way does, mix these two together right before frying.
Heat wok with medium flame, add 2 table spoons of oil. When heated, pour in egg mixture with the fish maw. Fry the eggs, and flip as they turn golden. Add in toasted ham; stir the eggs into small pieces with the back of a turner and keep frying till all ingredients are dried. Push aside, toss in bean sprouts, briefly stir fry (they will loss their crunchiness if over-cooked) and sprinkle in 1/8 tea spoon salt. Assemble all together, dish up. Garnish with spring onion.
Why not following the classic way?
Reconstituted fish maw may easily stick to the wok when heated. Professional chefs can minimize such by tossing the fish maw with the whole wok skillfully, which to me is not easy to replicate. But as it is mixed and coated with eggs before frying, the problem is gone.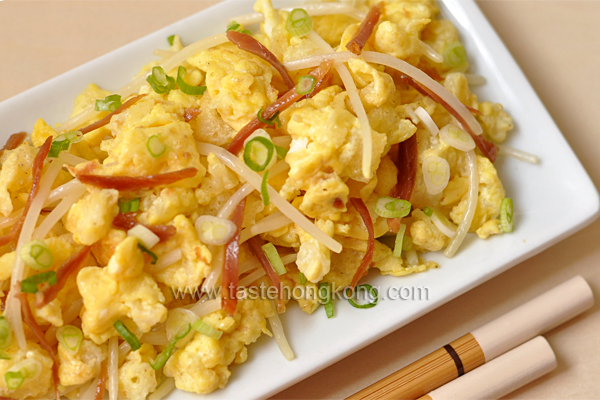 When done, you will find the fish maw barely visible as each dice of it is wrapped with fried egg. But you may have in each bite the chewiness of the fish maw and crunchiness of bean sprouts.
Serve hot and enjoy!
To get immediate updates and new recipes from my blog, you may also SUBSCRIBE them via RSS feeds. See you there.