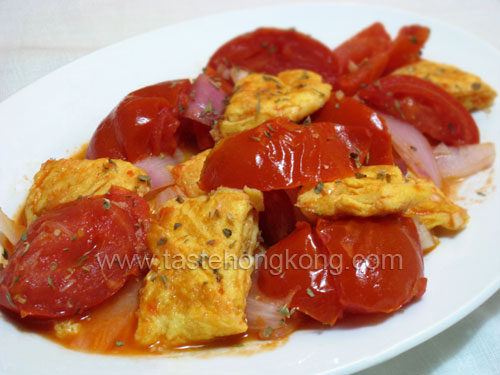 This is a lovely dish, colorful, delicious yet easy-to-make.

Ingredients
3 eggs, beaten
300g tomato
3 cloves garlic, finely chopped
some onion or herbs (optional)
Seasonings
3/4 tsp salt
1/2 tsp sugar
a pinch of ground white pepper
Method
1) Heat 1 table spoon oil in pan or wok over medium heat. Pour in egg juice. As soon as the down side of the egg sheet is set but before it is dried out, use a turner to fold up the sheet into three to four layers. Fry both sides until golden. Dish up and cut into ~2cm x 2cm pieces.
2) Sauté chopped garlic with 1 table spoon of oil until fragrant. Add in sliced tomatoes and stir fry them until juices begin to exude. Sprinkle ~1 table spoon water, cover the pan or wok. Simmer for 2-3 minutes. Then toss in the cooked eggs and add all seasonings. Stir well.
3) Dish up and sprinkle you preferred herbs.
Tip
Some tomatoes are less juicy, therefore you may need more than 1 table spoon water for simmering (particularly if you prefer the dish to come with more sauce). Do not spread out and fry the eggs into a thin sheet. The purpose of folding the eggs into layers is to form a sponge-like substance, thus soaking up the taste of tomatoes.
To get immediate updates and new recipes from my blog, you may also SUBSCRIBE them via RSS feeds. See you there.