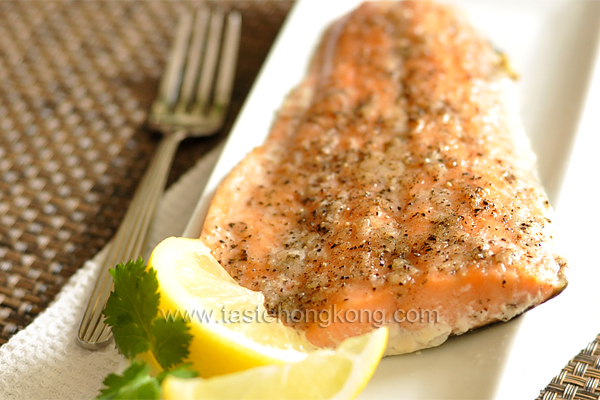 This probably began with a bottle of maple syrup which I bought during a sale. Maple syrup is not that cheap in my place, about HK$100 per 300-400 ml. So I was not that adventurous to cook with it, restricting its uses mostly in recipes that seemed familiar.

With that bottle of syrup, I feel like more ready to try out those 'new ideas' with me.
To combine black peppers with maple flavor is among the most interesting ones and has proven to work well, I even find it adds a different character to the garlic-scented salmon with much ease.
And I'm also happy that I did not make this dish with too much syrup, thus suitable for serving with rice too! As the original recipe from The Maple Syrup Book
suggests, '… the ingredients are added in amounts you feel are appropriate rather than in a restrictive list.'
My salmon fillet is rather 'lean' and thin, so I added almost 2 table spoons of oil. You may also want to adjust it according to the fatty level of your salmon fillet.
Hope you'll like this simple, easy dish!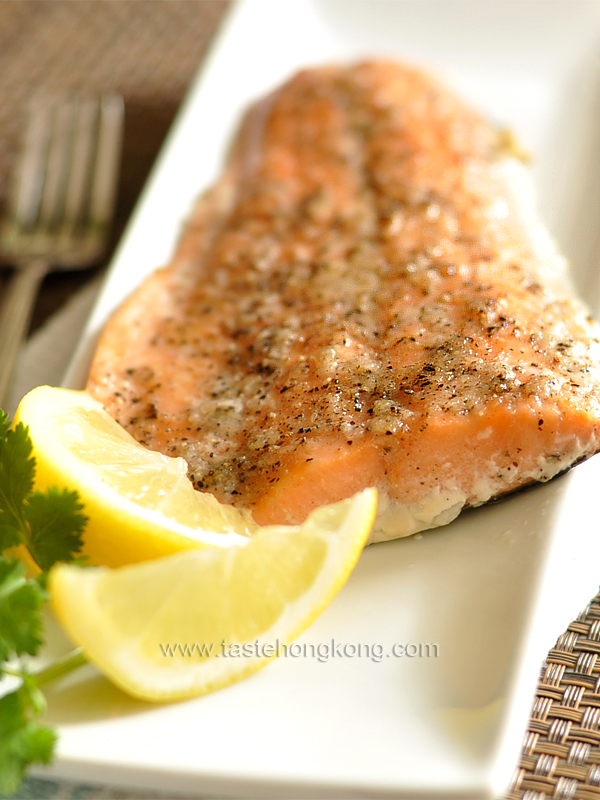 Ingredients
~300g salmon fillet, I used frozen type
1 tbsp maple syrup
some freshly ground black pepper to taste
1-2 tbsp olive oil, I used coconut oil
2 slices lemon for juicing or garnishing, optional
yields 2 servings (the picture here shows only 1 serving)
Garlic paste
~1/2 tsp coarse sea salt
2-3 cloves garlic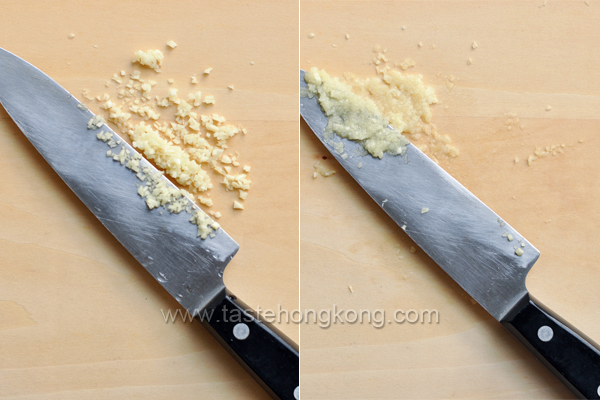 Method
If using frozen fillet, defrost thoroughly and rinse as required. Pat dry.
To make the garlic paste, finely chop the garlic first. Pile the chopped garlic and sprinkle the salt on it. With the flat side of knife facing the chopping board and the blunt edge facing you (for safety), drag it back and forth across the garlic to mash it. Scrape and pile up the garlic again, continue mashing several times with the blade until reaching a mushy consistency.
In a small bowl, whisk together garlic paste, maple syrup, and oil.
Arrange salmon, skin side down, on a parchment paper-lined rimmed baking sheet; brush syrup mixture over fish, sprinkling evenly a thin layer of freshly ground black pepper on top. I did it with a pepper grinder rather than measuring with spoons. Let it stand for about an hour in fridge, covered.
Pre-heat oven to 150 degree C. Bake for about 10 minutes until fish flakes easily when tested (when the flesh is opaque). My fillet is less than 2 cm thick; for an usual fillet which is about 3 cm thick, you will need to bake it at 200 degree C for 3 to 4 minutes more.
Dish up, garnish and drizzle with lemon juice (if using). Serve hot.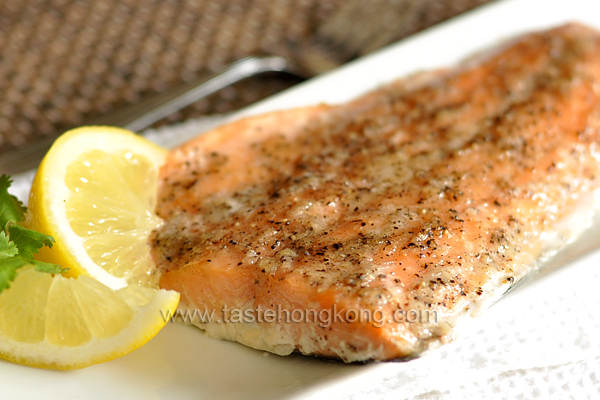 Enjoy!
To get immediate updates and new recipes from my blog, you may also SUBSCRIBE them via RSS feeds. See you there.