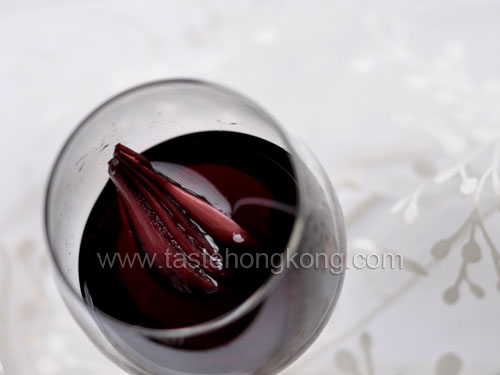 This red wine with purple onion is said to be good for hearts, for reducing arterial lipids and for softening blood vessels. I first heard of these sayings from causal chats, from emails forwarded to me, and then from friends' personal recommendations. On the day I was ready to prepare this drink, I also read an article (in Chinese) on the Apple Daily News mentioning the same, and seemingly endorsing me to share this recipe. The author of that article also wrote about A Soup for Preventing Flu

In only two steps and a couple of minutes, this drink can be done. But wait, for the best effects, it should not be drunk on the first 7 days. If the wine looks so irresistible, let me propose to make only half portion of this recipe and enjoy the remaining bottle (this was what I did actually).
Ingredients
1 bottle 750ml red wine
2 each of purple onion
Method
Remove the outer membrane and cut away both ends of the onions, rinse them, cut each into 8 wedges. Pat dry. Load them into a container (I suppose it is better to have a sterilized glass container), and pour in the wine.
Seal the container, store it in a cool dark area for a week. Remove the onions from wine on the 8th day, and store the whole container in fridge. You may then start enjoy 50ml per night from then onward.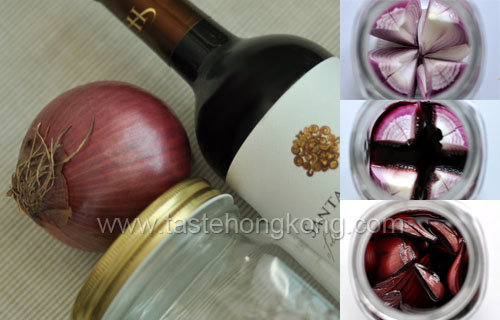 To cut onions without 'crying', try this tip in my previous post.
Be prepared, the wine with onions soaked in it for so many days will offer a strong garlicky flavor. Indeed, the very first sip of the drink did not please me. It took me quite a while to get used to the smell, but what I am sure now is that I will go for the second, third … bottles of this as hubby has gladly grabbed every 50ml of his.
To get immediate updates and new recipes from my blog, you may also SUBSCRIBE them via RSS feeds. See you there.