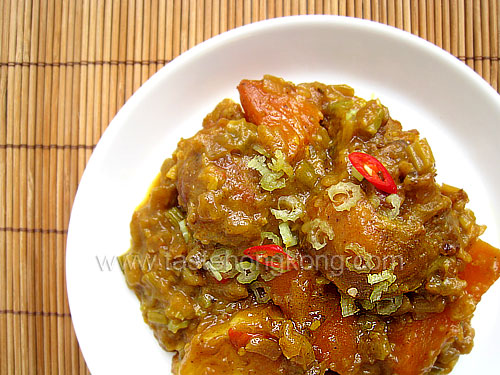 This may not be the most authentic type of curry, but to me is the most rewarding way of cooking chicken curry. Not only that it is flavorful, I have also find it delightful to sauté the ingredients one by one and see them sizzling in my French oven which will then be cooked as my curry sauce. These ingredients are nothing rare but a few humble members from the onion family including shallot, garlic and red onion. Getting them chopped while hearing the 'chep, chep, chep' rhythm from my knife is a sheer pleasure. Yes, even with the onion, I can easily cut it without having tears running.

Cutting onions without crying
All I have to do is to cut the onion lengthwise after peeled and to submerge the two halves in water for a couple of minutes. Then, I can chop or dice them without crying. Here's why: 'The tearjerker in onions is a compound called propanethial-s-oxide, which is released in a vapor when onions are cut. When the vapor comes in contact with the eye, it is converted to a form of sulfuric acid, which produces the stinging sensation and subsequent tears. Cutting onions under water or chilling them before cutting, will retard the enzymes that generate the noxious chemicals' (source: lancaster.unl.edu ). The way I learned (long ago during a casual gathering) though not identical to Lancaster's, I believe the logics works more or less the same. If you try this little tip and find it works for you, do share with others who would need this piece of advice.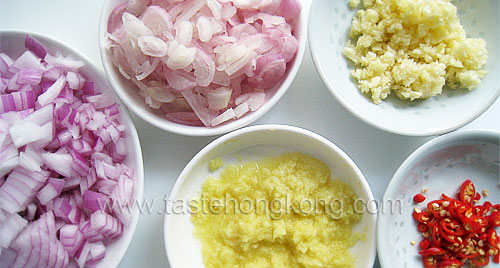 Pass it on
No doubt, I love playing around in my kitchen and preparing food from scratch whenever possible. In a recent blogging, I am interested in reading a post from lululu who explicitly suggests, 'I totally support Jamie Oliver's "Ministry of Food". In case you haven't heard about the campaign, this is basically about inspiring people who used to cook or have never cooked before to get into their kitchens and make simple and delicious food from scratch. Once you've mastered a recipe, you'd teach it to two more people and then ask them to teach it to someone else, he called it "Pass it On".
So forget the fast foods for a while and entertain yourself with some homemade delicious foods. 'Pass it on' to benefit more.
Ingredients
4 chicken drumsticks ~500g
2 potatoes ~400g
1 carrot ~200g
Curry sauce
1 tbsp oil
1 tbsp curry powder
1 tsp turmeric powder
1 tsp paprika powder
1 red onion, diced ~200g
2 pcs bird eye red chili, finely chopped
5-6pcs shallot, finely chopped
1 tbsp ginger, grated
1 tbsp garlic, finely chop
1 tbsp palm sugar or brown sugar
1/2 cup coconut milk
1 cup water
celery ~100g, finely chopped
1 tbsp flour + 3 tbsp water for thickening
Seasonings/marinades for chicken and potatoes
1 tsp salt for each
few droplets of oil
pinch of ground white pepper
Method
1) Chop onion, garlic, shallot, and ginger as specified. Cut chicken, potatoes and carrots into about ~1 1/2cm chunks and apply marinades/seasonings to the first two.
2) Heat one table spoon of oil over low to medium heat. First sauté curry, turmeric, parprika powder then followed by stir-frying together chopped shallot, garlic, onion until fragrant and slightly brown. Add in coconut milk, chili and ginger (ginger is moist after grated so it will affect the browning process if added with garlic and onion). Keep stirring for a while to bring out the flavor of coconut. Pour in sugar and the cup of water, cover, brings to boil. Now it is time to put in carrot, potatoes and chicken drumsticks, and simmer for about 15 minutes. Add salt to taste. Thicken with flour paste and garnish with celery. Done.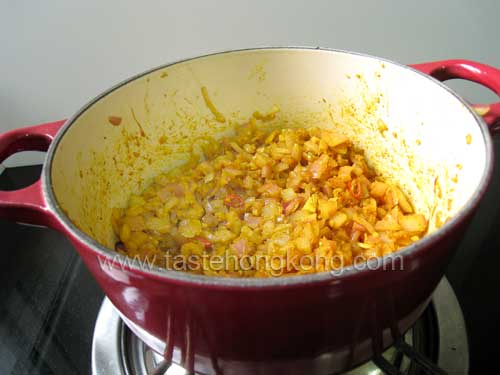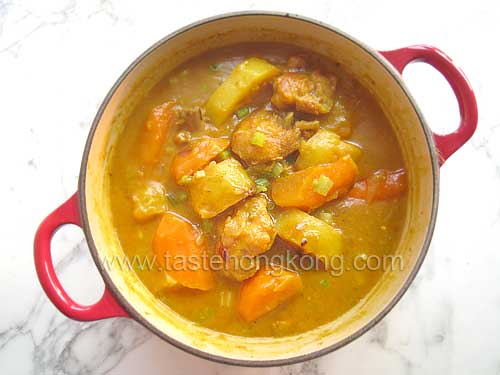 In case you want to impart more flavors to the chicken and potatoes in addition to simmering it the sauce, I am with you as well. Just read on.
Variations – Fry chicken and grill potatoes first
Heat a pan with another table spoon of oil over medium heat. Immediately after the oil starts to smoke, lower heat a little bit and place in chicken chunks.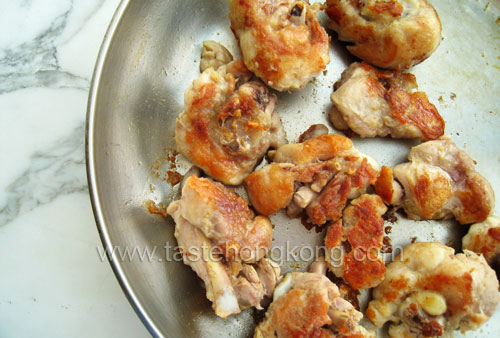 You don't want the meat to stick to the pan, so just don't move them as they are being fried and before they become golden brown on one side. In around 4-5 minutes, you may then easily turn each piece to the other side to finish the frying.
The following step is easy, drizzle some oil on potatoes and place them side by side on a plate and grill in oven for ~300 degree F for 10-15 minutes or until golden.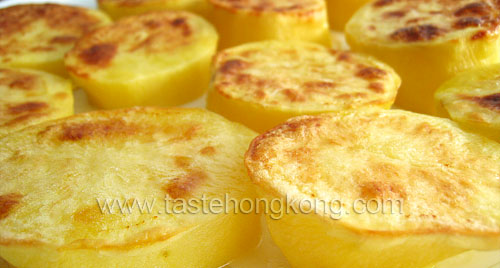 Since both of the chicken and potatoes are cooked, we may choose to simmer them in the boiling curry or, simply mix them in the sauce after which is thickened. Enjoy.
To get immediate updates and new recipes from my blog, you may also SUBSCRIBE them via RSS feeds. See you there.