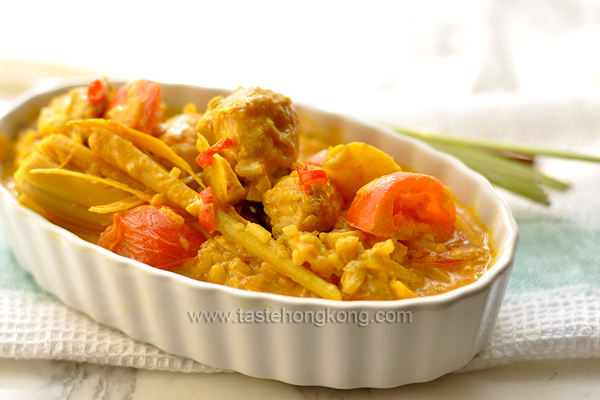 With such a small amount of chili used in this recipe, I know I could hardly qualify this a sambal (a south-east Asian spicy chili paste). But I can't lie that it inspires me to cook this, a mildly spicy dish flavored with lemongrasses and tomatoes, which is both refreshing and appetizing.

A basic (or more authentic) sambal is a thick paste made by pounding a large amount of chili pepper with salt and sugar, mostly served as a condiment. Popular sambals I have tried probably are those added with more spices and secondary ingredients, like garlic, shallots, lime, ganlangal, dried anchovies, fermented shrimp paste… Although often come with a sharp taste, they are flavorful.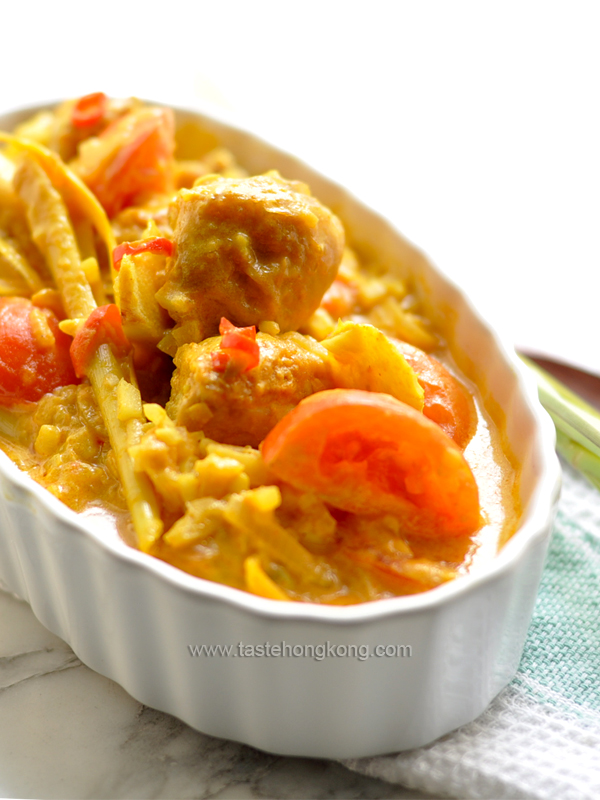 I very much like the flavor of lemongrass yet find its chopped version too fibrous in mouth, so I make a little effort to cut it lengthwise, repeatedly, making it look like a small broom. And this help it release its flavors yet avoid the troubles of having its tiny pieces being trapped between teeth.
Instead of using a mortar and pestle to pound the other aromatics, I chop and smash them, partly for reason of ease and partly because they will subsequently be cooked than serving raw as a condiment. But it is up to you to decide which is more convenient.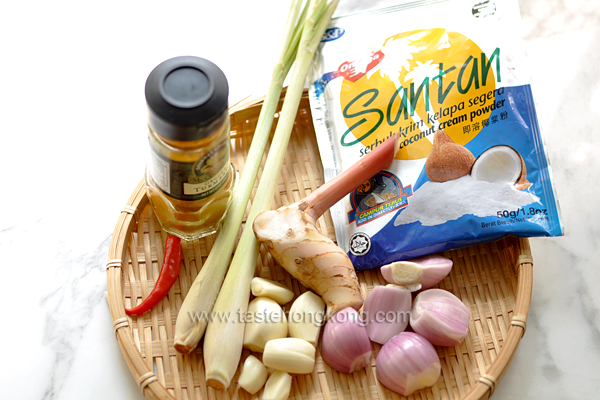 Ingredients
1 frozen spring chicken, ~500g
3 medium size tomatoes
2 stalk lemon grass
5-6 cloves shallot, chopped
5-6 cloves garlic, chopped
1 knob galangal, sliced and lightly crushed
1 bird eye chili, sliced (or add more to taste)
~2 tbsp cooking oil
1 tbsp coconut oil, optional
Marinades for chicken
1/4 tsp salt
pinch of ground white pepper
Sauce
1 tbsp tomato paste
1 tsp fish sauce
1 tsp sugar
1 tsp ground tumeric powder
1/8 tsp sea salt, or to taste
30 g coconut powder
~1 C water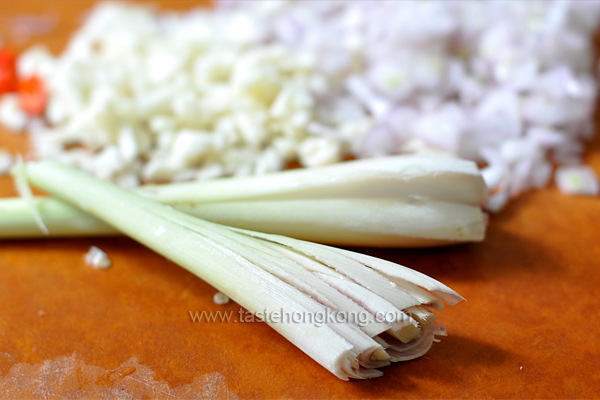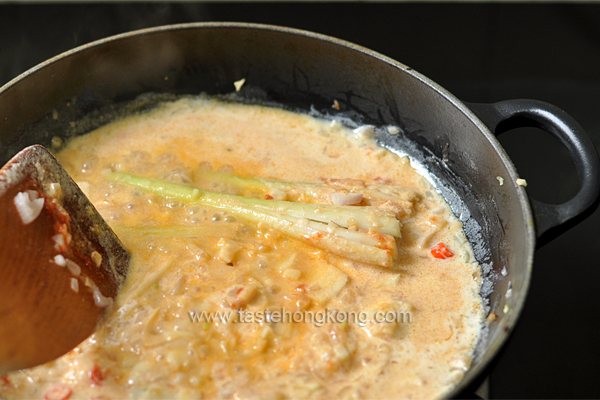 Method
Thoroughly thaw chicken, remove any innards, rinse, pat dry and cut (I used a kitchen scissor) into bite size pieces.
Marinade chicken for about 15-30 minutes.
Rinse, deseed, and cut tomatoes into chunks
Chop off green sections of lemongrasses and their bottom ends (remove outer layer if require). Using a sharp knife, cut each length wise into strips but leaving the top 1/3 end intact.
Dilute coconut powder with water, mixing in one spoon at a time to avoid lumps. Then add in remaining ingredients for sauce, stirring well. Set aside.
Sear chicken with a table spoon of oil on both sides in pan like this. Dish up and set aside.
Heat a table spoon of oil in pan or skillet, sauté garlic, shallots, galangals, chili and lemongrasses until fragrant.
Once again, mix well sauce and add into pan, stirring briefly. As they reach a simmer, gently put in tomatoes and return chicken chunks into pan, flipping once or twice. Cover and simmer for another 2 to 3 minutes, or until the chicken is done. Add coconut oil if using.
Check taste, add salt (and water to desire consistency) if required.
Serve hot.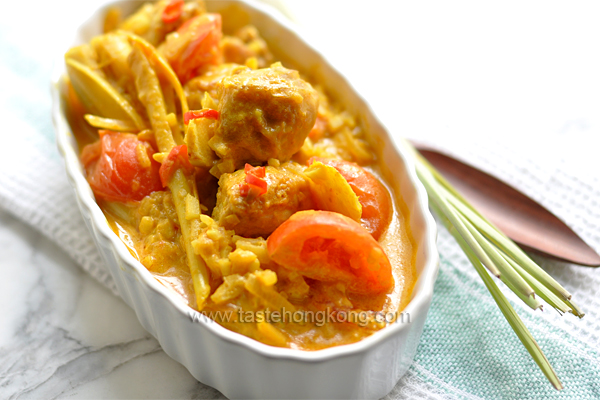 Enjoy!
To get immediate updates and new recipes from my blog, you may also SUBSCRIBE them via RSS feeds. See you there.