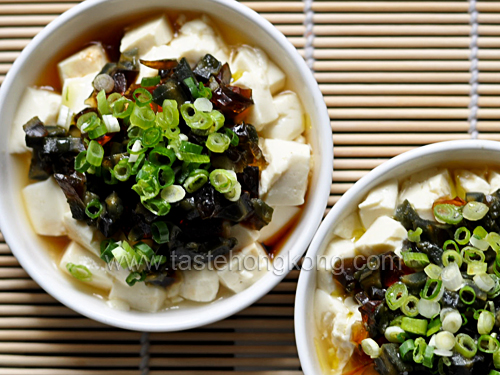 Although I have not timed how long I have to stay in my kitchen for preparing this whole dish, it must not be longer than 10 or 15 minutes. I'm not a fast cook, just to say that it is quick to prepare. And, making this dish is flexible, tofu may be sliced in the way you like; century egg may either be diced or mashed. Then, just assemble the chopped century egg with seasonings and top the silken tofu with green onions after chilled. That's it!
When chilling the ingredients, It is best to store tofu and mixture of century egg separately before serving, as such the seasonings won't cloud the tofu for too long.
I have here a shot showing a century egg that is still coated with rice husk and clay, a traditional way of preserving the egg. After the egg is shelled, you shall see pine-like patterns on the jelly-like egg white which actually look brownish black. That is why century egg is often named as pine-patterned egg (in Chinese 松花蛋).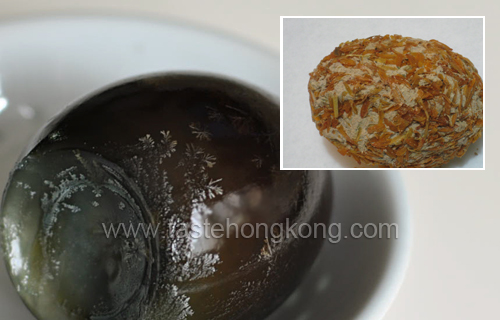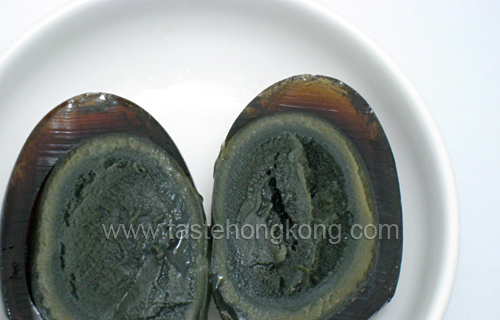 Ingredients
1 silken tofu (~200g, vacuum pack preferred )
1 century egg (preserved duck egg)
2 springs spring onion (green onions), finely chopped
Seasonings
1 tsp black vinegar
1 tsp light soya sauce
1 tsp sugar
1 tsp sesame oil
Method
Choose vacuum-packed tofu which would not require rinsing and steaming as it is free from infections (In H.K., we still have tofu displayed naked than package). Drain off all water from the pack, if any, and cut it into about 1/2 cm slices or 1/2 cm cubes. Arrange on a plate for serving.
Shell, rinse, pat-dry, dice or mash century egg. Mix it well with seasonings in a separate plate or bowl .
Cover prepared tofu, century egg mixture, green onion separately and chill them in fridge for 3 to 4 hours or until cold.
To serve, again drain off any water exuded from tofu and top it with a layer of century egg mixture followed by a handful of green onions. This tofu with century egg is nice on its own, yet it is also great to be served as an appetizer or side dish. As a variation, sometimes, I will add a handful of Japanese bonito flakes with the green onions. Enjoy!
To get immediate updates and new recipes from my blog, you may also SUBSCRIBE them via RSS feeds. See you there.