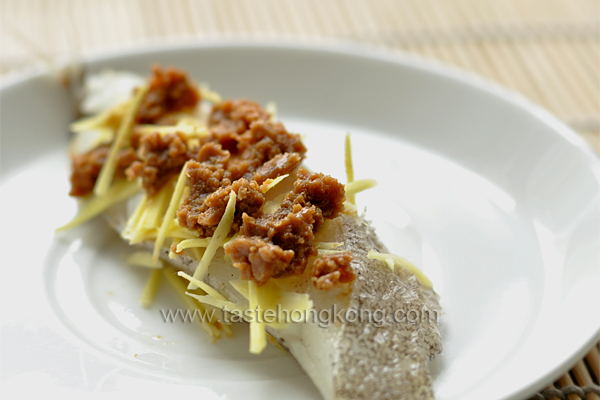 Cooking with rice cooker is a good thing for many reasons, not the least of which is its capability of cooking rice and steaming another dish simultaneously. Plus, I could walk away from my kitchen leaving the appliance unattended and go WhatsApping, Googling, or even snapping until the timer beeps. It is also one of the most used, easy and simple ways I cook for myself when dinning alone at home.

It however is not only good for cooking small-serving meals. We may steam a larger piece of fish as long as our rice cookers can hold it. And also cook with much variations we like; using chili bean paste or miso paste, or soybean paste are the ones I frequent. If you could not locate Chinese soybean paste, you may also try one from Korea.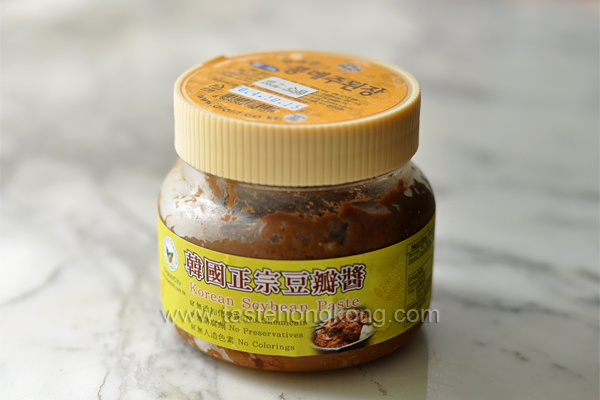 Before cooking, just make sure the fish and the plate will fit into the rice cooker, then marinade the fish as you would steam it in a steamer or a wok. It is this simple!
You don't even need to adjust the heat and fear of the fish being over-looked just by observing these little rules:
Cooking rice first: Cook the rice as usual, then put the fish into the cooker with a basket or on a rack at time when the timer beeps (you shall see how).
Steaming time: My fish fillet here is slightly thinner than an inch (thickest part) and is rather a small cut, therefore needs only 6 minutes to cook. You may follow the 10-minute-per-inch rule if you are having a thicker slice of fish fillet. Usually, I would choose to under-cook the fish slightly and keep the lid of cooker covered for another minute or two after cooking ends, thus preventing the fish from being over-cooked and turning dry and tough.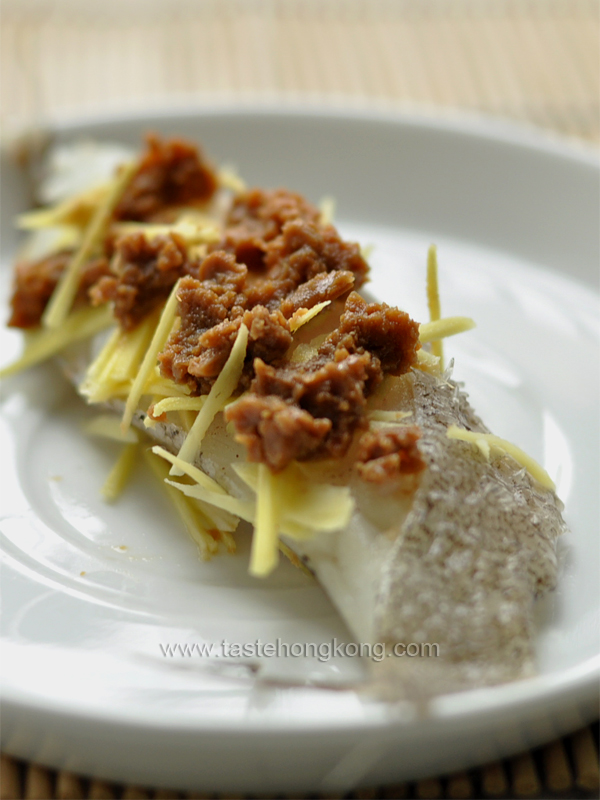 Ingredients
a fillet of frozen halibut, ~150g
~1/2 – 1 tbsp shredded ginger
~1/2 – 1 tbsp thinly sliced green onions
~1/2 tbsp fermented soybean paste
1 tsp soy sauce, or to taste
1 tsp oil, I used olive oil
Marinades for fish
pinch of ground white pepper
pinch of sea salt, no more than 1/8 tsp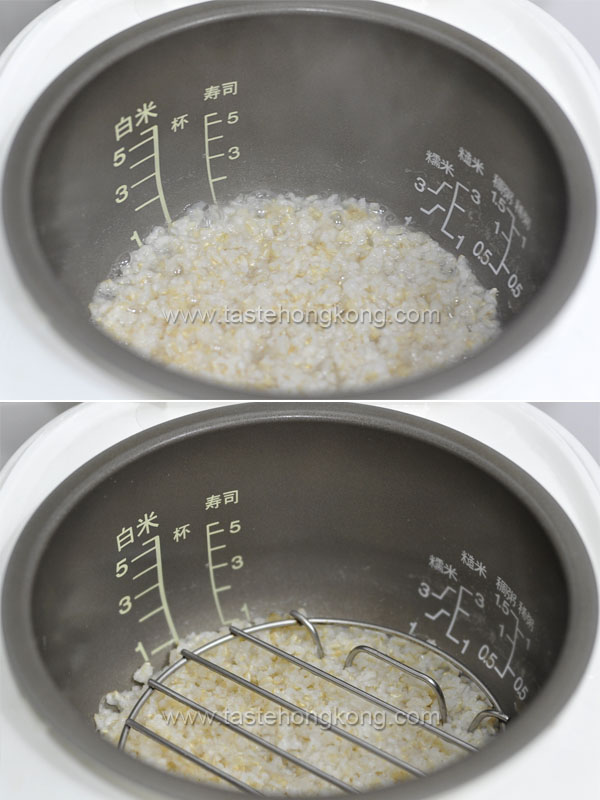 Method
Preparing the fish
Thaw fish fillet thoroughly, if using frozen one. Briefly rinse under running tap water to clean. I did one more step to get rid of fishy smell: pour hot water all over the fish fillet (as preparing this). You may skip this if the fish is fresh enough. Pat dry.
Marinade fish with a little of ground white pepper and salt.
Get a steam-proof plate, also making sure it would fit into the rice cooker, scatter about one fourth of the ginger shreds in center of the plate, then put fish fillet on top of them.
Top the fish with soybean paste, spreading it out with back of spoon. Scatter remaining ginger shreds on top of it. Set aside.
Rinse rice until water turned from milky to clear. Meanwhile, also have a clean stainless steel steaming rack ready for fitting into rice cooker.
Cooking with rice cooker
Cook rice in rice cooker under normal mode; do not use quick mode. Set a timer to beep you. I set mine at 24 minutes (cooking rice takes 30 minutes and steaming this fish fillet shall take 6 minutes).
As the timer beeps, open the rice cooker, when you shall see the rice is still moist and covered with bubbles. Land the rack into the rice and place on top of it the plate of fish. Get a tong to help you do this to avoid burning by steams. But if your rice cooker comes with a steamer or steaming basket
, simply omit using the rack.
Cover lid, continue until cooking function ends (in these few minutes, I suggest that you cook some veggie to complement the meal). You may also choose to keep the lid on for a minute or two to make sure the fish is perfectly cooked but not rough.
To test doness, open lid and plunge a chopstick all the way through the thickest part of the fish fillet. If done, the chopstick shall pass through easily, and the meat on the outside and at the center should both be opaque. Scatter sliced spring onions over the fish.
Check taste, drizzle soy sauce and oil around fish (To finish this the traditional way: heat some more oil in a saucepan until lightly smoke and pour it over the spring onions and steamed fish to sizzle them a bit. For simplicity, I skipped this and drizzle in olive oil straight from my bottle).
Serve hot with rice.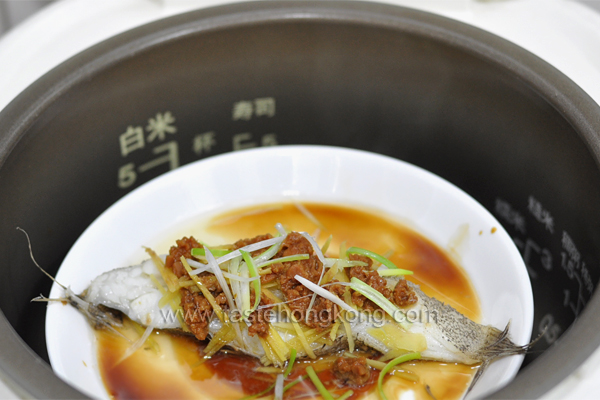 Enjoy!
To get immediate updates and new recipes from my blog, you may also SUBSCRIBE them via RSS feeds. See you there.