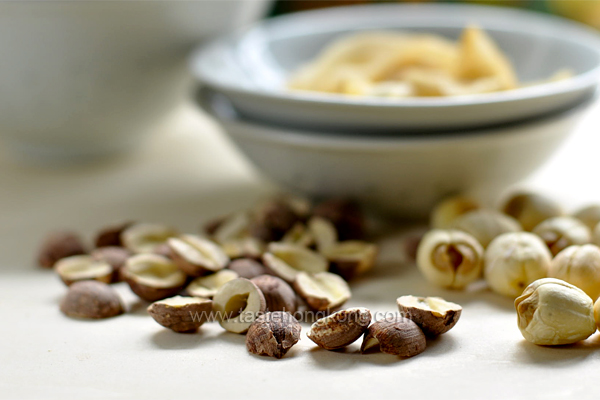 They said they had shipped 36 containers (20 feet each) of lotus seeds for making moon cakes, the iconic Mid-Autumn Festival food, this year. That was a statement I read from a print advertisement, which looked pretty much like an advertorial, put up by one of the biggest bakeries in Hong Kong.

Obviously they took pride of the figure, 650 tons to be specific; and they also emphasized that their lotus seeds were from Xiang 湘, that is Hunan, (this recipe gives a little more elaborations on this region), which has been known for producing quality lotus seeds. Using Xiang's lotus seeds 湘蓮 almost implied that they had the best.
And the Chinese tradition has it that lotus seed is a symbolic food for bringing more offsprings to the family due to its Chinese name 蓮子 lian zi, of which 'lian' shares the same pronunciation of 'continuous' and 'zi', 'son or child'. This also explains why candied lotus seeds are often served during many Chinese festivals, Chinese New Year in particular.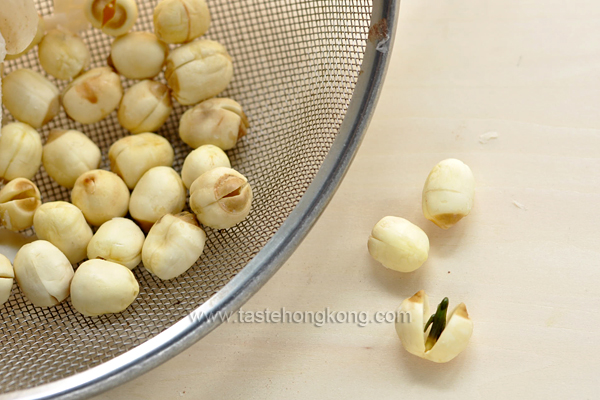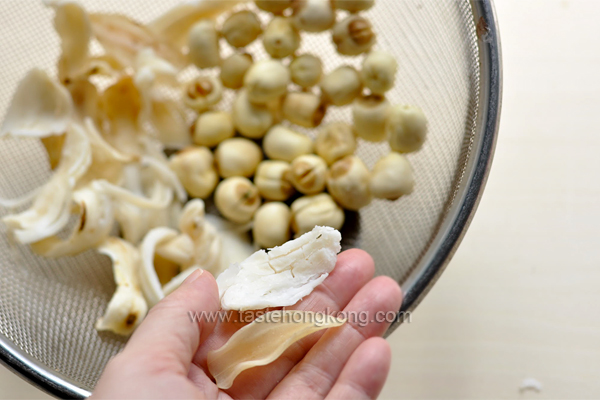 I enjoy swallowing the pureed lotus seed paste in moon cakes. That fragrance is truly addictive. However, those are pretty much the eat-once-a-year foods due to my limited capacity for the grease-laden filling (the lard or oil that was added to the pureed seeds).
Gladly, lotus seed is a healthy food, which I could eat it more often. Believe it or not, the seed is also anti-aging if you take a look here at livestrong.com, which further states, 'The lotus flower produces edible seeds, which you can eat cooked or raw. Growers harvest the seeds in August and September, and then dry them in the sun.'.
I doubt if I have ever eaten the seeds raw (the way they are stored doesn't seem to encourage me to so)! Like most Chinese recipes suggests, I usually cook dried lotus seeds in soups, in congee, in drinks, in desserts and, occasionally, even in stir-fries.
In additional to culinary uses, lotus seeds are often valued for its healing properties. The popular ones being calming and assisting with insomnia.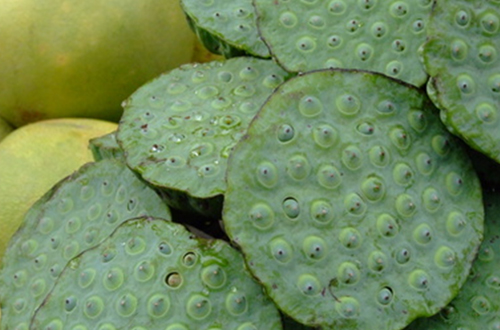 source : livingstrong.com
The drink or dessert (more often called Lotus Seed Tea) I'm sharing here perhaps is the easiest and most simple recipe to enjoy lotus seeds. This is more or less like boiling a soup. The important thing to note is that the dried lotus seed has to be soaked before boiling. Since I knew how to made this, I was told not to soak the brown ones for too long as that would wash away much nutrients from the their skins.
Pairing with dried lily bulb petals, believed to be beneficial to dry throats, is a popular way for making this sweet soup more soothing and nutritious. You may choose to boil the tea with either one type of lotus seeds. With only the white ones, the tea (if sweetened with rock sugar) will look clear. But the flavor will be less intense than with the brown seeds. Sometimes, I skip the dried flower petals but add shelled hard boil eggs toward the end of boiling.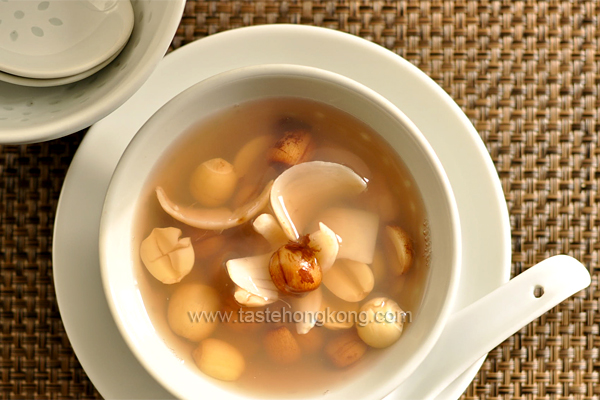 Ingredients
40g dried white lotus seeds
20g dried brown lotus seeds
20g dried lily bulb petals, optional
6-7 cups of water
30g rock sugar or slab sugar, or to taste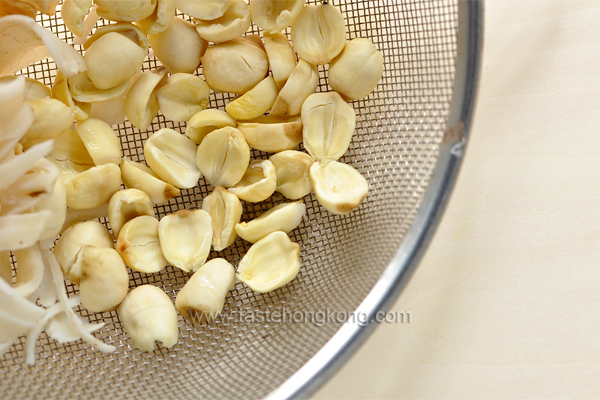 Method
Screen out any discolored seeds. Separately soak the white for about an hour and brown for about 10 minutes. If using dried lily bulb petals, soak for about half an hour, or till slightly softened (soaking time vary according to thickness of petals).
Discard water and briefly wash the dried seeds and petals. Remove germs inside the seeds, if any. You may want to split the lotus seeds for easy removal should they come in whole. (The germ taste somewhat bitter, but some like to retain it for another healing purpose – reducing heaty feelings in body.)
In a pot, add water and dried lotus seeds. Bring them to a boil. Over medium-high heat, keep boiling for 10 minutes (may leave the cover ajar to avoid over spilling). Then switch to low heat and boil for another 40 minutes.
Add lily bulb petals and sugar, switch to high heat and boil till sugar is dissolved, about 5 to 10 minutes. If you want the lily bulb petals sort of melted in the soup, either soak or cook it a bit longer.
Serve hot with the seeds and flower petals (some prefer to strain the soup, but the solid ingredients are nutritious to eat). Enjoy!
Happy Mid-Autumn Festival Everyone!
The full moon is coming soon on September 12 this year! For another healthy and seasonal eat, give baby taro a try.
White and brown lotus seeds
Any doubt on why there are two types of lotus seeds? Wikipedia has given a good account of them, 'The brown peel is harvested when the seed head of the lotus is ripe or nearly ripe and the white is harvested when the seed head is still fully green, but with almost fully developed seeds. White lotus seeds are de-shelled and de-membraned. The bitter tasting germ of the seed is also removed at the time of harvest using a hollow needle, though some may still remain in the seed due to production oversight. Brown peel lotus seeds are brown because the ripened seed has adhered to its membrane. These seeds are usually cracked in half in order to remove the germ since the seeds are hard enough to make the germs' removal by needle difficult.
Harvest a lotus pond
After posted a recipe on Steamed Chicken in Lotus Leaf, I received a feedback from one of my readers, telling me that he(?) has a quarter acre pond full of healthy lotus plants and would like someone to harvest them…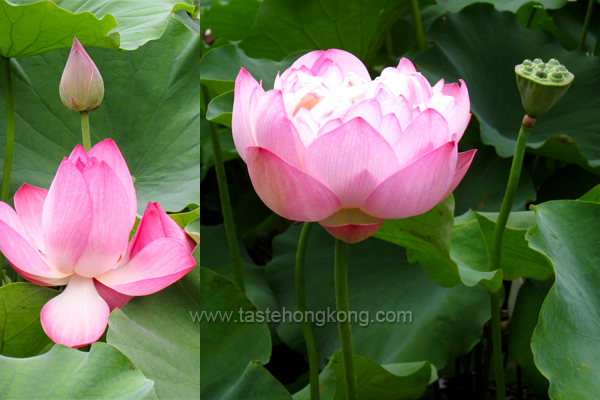 I know the harvesting is not an easy task, but that would reward him or the harvester with a decent amount of lotus seeds, lotus leaves for cooking into various dishes. He wrote to me on September 4 2011, hope this doesn't happen too late — to contact him, you may leave your message here or send me an email (check out the 'Contact' section), and I'll forward it.
To get immediate updates and new recipes from my blog, you may also SUBSCRIBE them via RSS feeds. See you there.