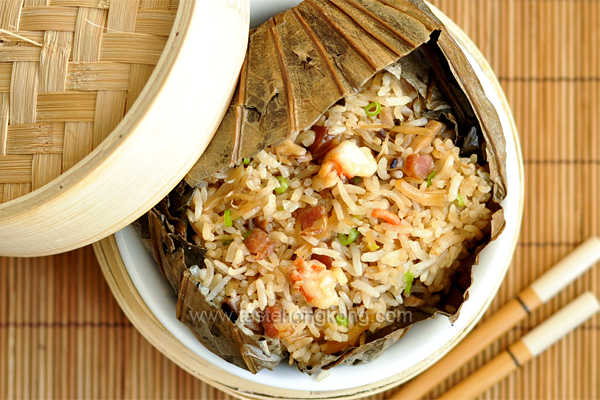 I'm glad that Ju, a reader of my blog, asked for this recipe, which I already had it high on my agenda. Ju advised me that she always ordered this (荷葉飯) as a dim sum in restaurants, and I want to tell her that I also like to serve this as a one dish meal at home, one but satisfying dish indeed.

But there was a delay since I had been looking for good quality shrimps in the size of my little finger for making this. After taking several tours to the wet markets, they were still out of sight. On the day when I intended to give up and tried to convince myself to substitute the frozen shrimps by dried shrimps, I had an unexpected nice discovery of some bigger prawns.
While I had to console my upset wallet, I was happy doing less work in removing the many fine digestive cords otherwise would have been required if using smaller shrimps. With this species, however, I needed only three of them.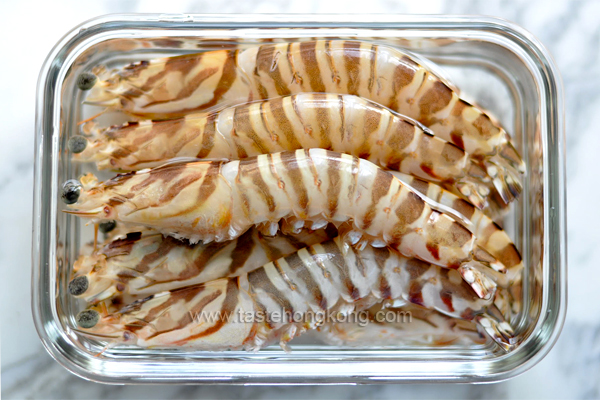 It doesn't matter whether you use big or small shrimps for making this, just make sure they are of good quality. Although the shrimps make up more or less the same amount as other fillings, restaurants like to highlight their presence by naming this dim sum as Steamed Rice with Shrimps in Lotus Leaf Wrap (鮮蝦荷葉飯).
Ingredients
1-2 dried lotus leaves
~ 2 cups cooked rice, I use jasmine rice
~ 50g peeled shrimps, deveined and diced
2-3 dried scallops, soak and tear them into strips, reserve water
1 Chinese preserved sausage (lap cheong), coarsely chopped
1 shallot, finely sliced
1 sprig spring onion, finely sliced
2 tsp soy sauce
2 tsp cooking oil
Marinade for shrimps
pinch of salt
pinch of ground white pepper
Seasonings
2 tsp oyster sauce
1/2 tsp soy sauce
1/4 tsp sesame oil
1/8 tsp salt, or to taste
1/8 tsp ground white pepper
2 tsp water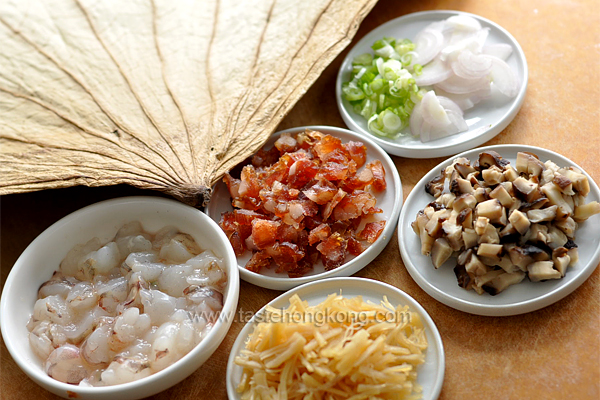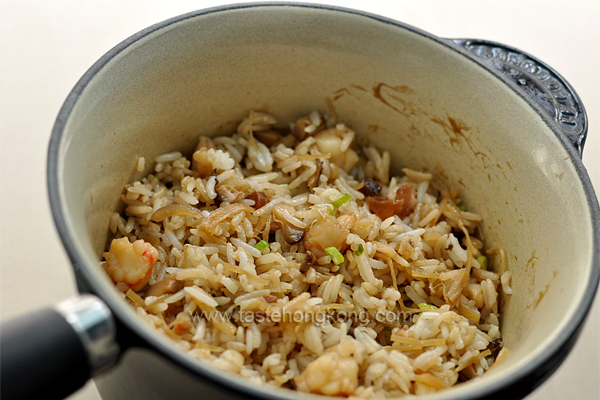 Mix the seasoned rice in the saucepan used for cooking the fillings is both easy and convenient, while helping to reduce the cleaning tasks.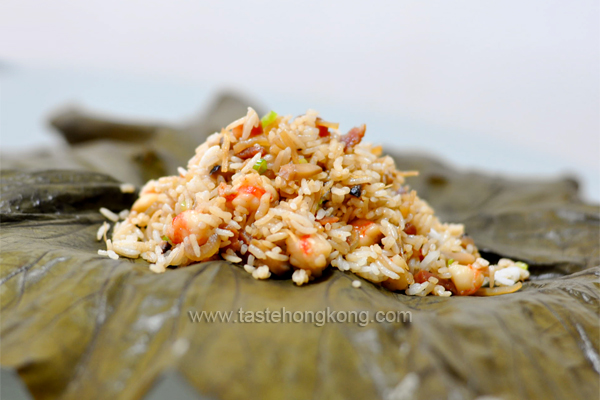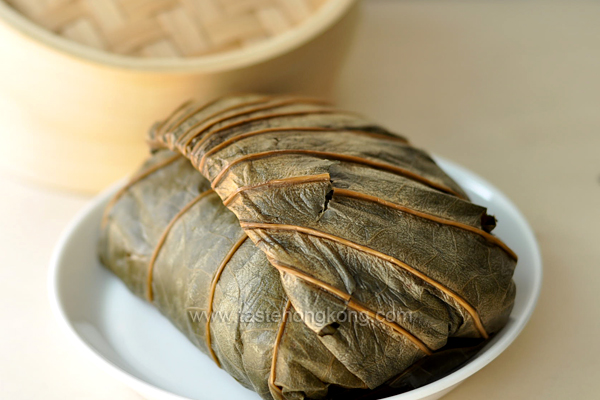 Method
In a wok or large pot, bring about 6 cups of water to a simmer, briefly scald lotus leaf until softened, turn over one or twice if required. Drain it in a colander, let cool and wipe dry.
Heat oil in a saucepan over medium heat, sauté sliced shallot until fragrant. Start adding in Chinese preserved sausage, dried black mushrooms, shrimps and dried scallop one by one until each is aromatic, stirring constantly.
Mix in seasonings and cook well, about one more minute.
Drizzle two tea spoons of soy sauce into the cooked rice little by little, mix well – I find it best done by using chopsticks or wet (and cleaned) fingers. Then, mix together the seasoned rice, spring onion and all the cooked ingredients.
Lay the lotus leaf on a flat plate, greener side up. I usually bend a small part of the center, which is always hard to flattened, toward one side, keeping it flattened and folded on the back.
Fill the center of leaf with mixed rice. Fold sides toward the center like wrapping a parcel, tuck the end of the last side and tuck into the fold.
Place the lotus wrap on a plate. Fill wok with water, bring it to a boil, place rack (or steamer) over boiling water, cover with lid and steam over high heat for ten minutes.
Handle the hot dish with care, cut an opening on top of the lotus leaf wrap before serving.
Serve hot. Enjoy!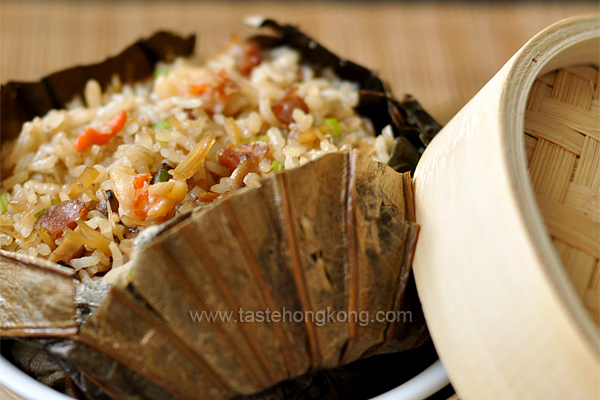 Note:
The Chinese preserved sausage, dried black mushrooms, and dried scallops are prepared the same way as I did for Turnip Cake, from which you may read more on the preparations.
Although leftover rice can be used to make this, ideally, it is better to cook the rice with chicken stock or with water reserved from soaking the dried scallops.
You may also want to add an fried egg (shredded) into the rice to make the dish look more vibrant, resembling those served in some Chinese restaurants. Some even fry the egg together with the rice.
If there are small holes or breakage over the lotus leaf, cut a sector from another blanched lotus leaf to cover. Or, simply use two leaves.
Where to buy? Have you ever seen lotus leaves?
In the previous recipe which I used lotus leaves for steaming chicken, I learned from my other readers that lotus leaves are not available in their places. If you happen to see them around, dried or fresh, I would appreciate it if you could share the information with us, thank you!
Fresh leaves can also be used for making this wrap; just clean and wipe dry but skip blanching.
Tell you one of my lazy secrets, I sometimes actually serve rice topped with the other ingredients without steaming in the lotus leaf. But this is additive too!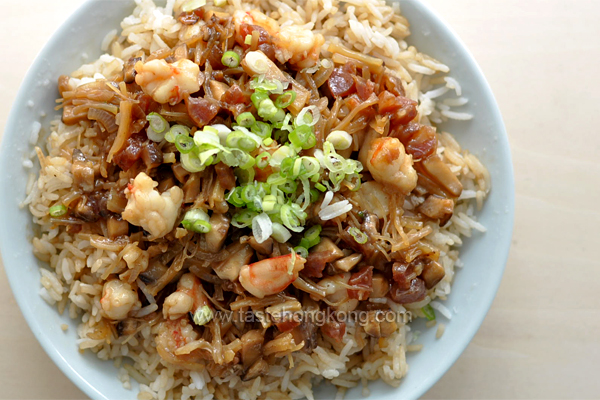 To get immediate updates and new recipes from my blog, you may also SUBSCRIBE them via RSS feeds. See you there.