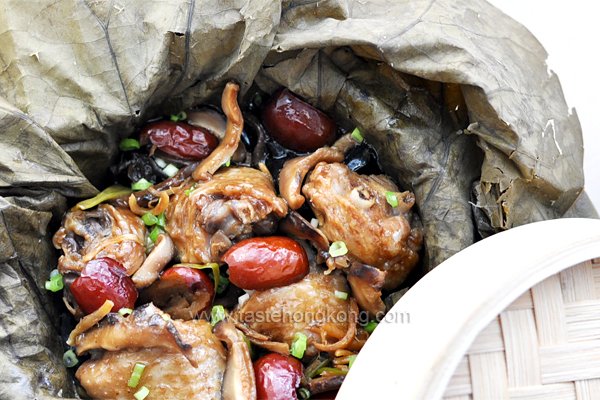 I always feel that dried lotus leaf is both an ingredient and a great tool for cooking. Using it to wrap foods is simple as it can be shaped easily once softened. A piece of it alone is large enough for covering one whole chicken, if that bird is not that giant in size. Besides, it also helps preserve the moist and flavors of meats (and other ingredients) as much as foil does.
Even better is, it releases much aromas from itself during the course of cooking and imparts them to the foods being wrapped. Lotus leaf, therefore, is also a nice natural flavoring agent to me!

I like the moment the wrapped leaf is just opened when I almost 'see' the flavors rise. So it is always best to enjoy this dish hot and keep it covered until it is ready to serve. Yet this is at most an introduction, essentially it is the flavorful, succulent steamed meat that earns my heart.
The original recipe, 荷葉蒸雞, calls for the addition of Chinese ham (jin-hwa ham 金華火腿), but I have decided to adventure without it because my stock has yet to be replenished. Gladly, the dish turns out only slightly lighter in taste since the marinades, mushrooms, and red dates have added much aromas to the dish while masking the smell of frozen meat. You may simply add a spoonful of julienned ham and use chunks from whole chicken if you like to experience the original version.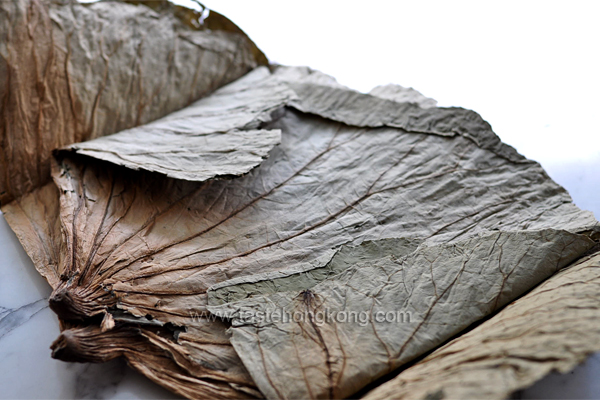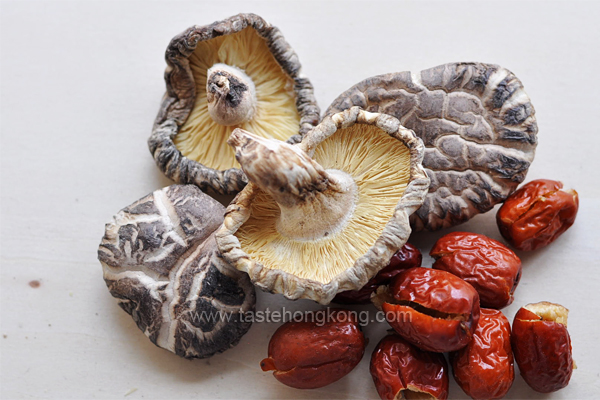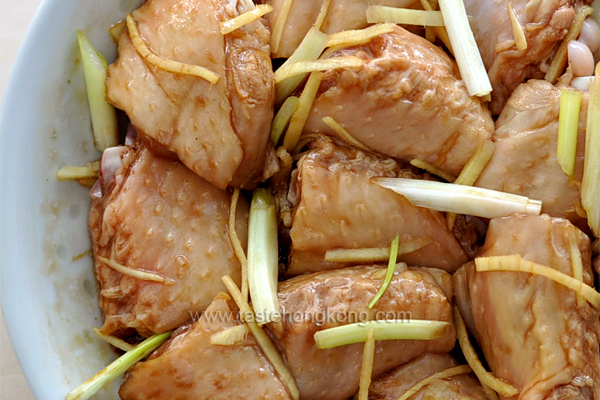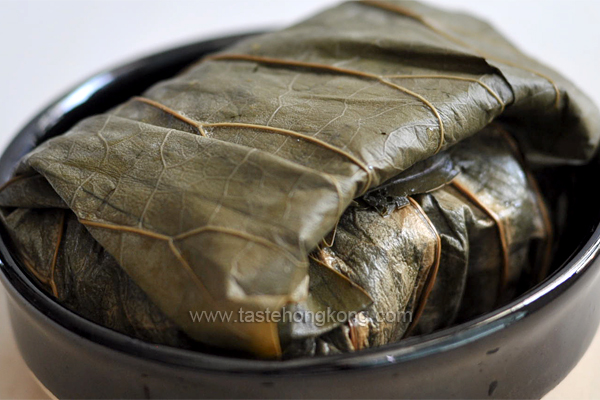 Ingredients
1 to 2 dried lotus leaves
6 organic frozen chicken wings, ~270g
4 dried black mushrooms, reconstituted
2 sprigs spring onion, green portion, finely sliced
Marinades for chicken (I)
1/4 tsp salt
1 tsp oyster sauce
1 tsp light soy sauce (may add a little bit more to taste after steamed)
1/2 tsp dark soy sauce
1/2 tsp Shaoxing wine
1/4 tsp sesame oil
1/4 tsp sugar
1/8 tsp ground white pepper
2 sprigs spring onion, white portion, slightly crushed and sectioned
3-4 slices ginger, julienned
Marinades for chicken (II)
1/2 tsp cornstarch
1/2 tsp oil, I used grape seed oil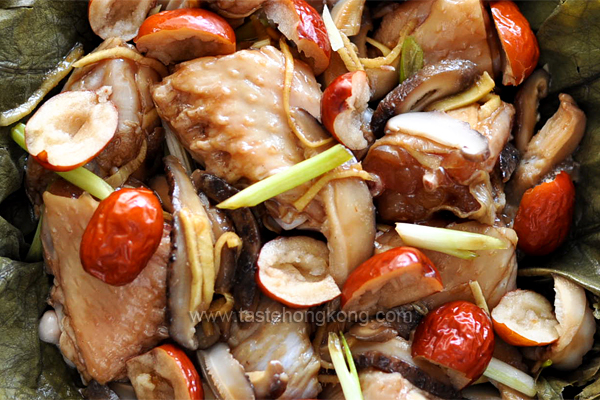 Method
Clean and reconstitute dried mushrooms, then squeeze away excess water and thinly slice. Stone red dates and soak them in water for about 15 minutes, discard water and half each.
Thaw, wash, briefly scald chicken wings (just skipping scalding if you are not that sensitive as me, always needing to get rid of the frozen smells). Half each and pat dry.
In a wok or large pot, bring about 6 cups of water to a simmer, briefly scald lotus leaf until softened, turn over one or twice if required. Drain it in a colander, let cool and wipe dry.
Marinade chicken with (I) for about half to one hour. Then, right before doing the wrapping, add marinade (II) to chicken and mix in mushrooms and red dates.
Lay lotus leaf on cutting board or on a plate, wrap in chicken with all other ingredients like a parcel.
Put the lotus leaf parcel in a dish with shallow height (for collecting any juice drained from the fillings), steam in wok or in a steamer over high heat for 20 minutes.
Serve hot. Scissor an opening on top of parcel or unwrap the leaf to serve. Garnish with green onions.
Enjoy!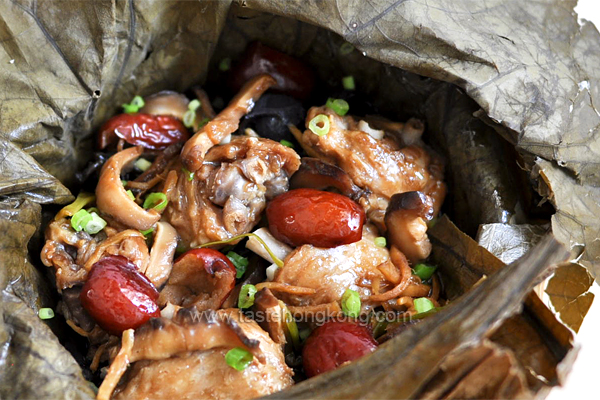 Note
You may find some small holes or breakage over the lotus leaf; in that case simply line another leaf (or another section of leaf) on it before wrapping. That is why you may need two dried lotus leaves.
When wrapping, try not to congest chicken wings in height otherwise you may under-cook some. One easy way of avoiding such problem is to divide the fillings into smaller parcels. That is, half or even cut the lotus leaf into sectors for wrapping. And minus 3 to 5 minutes for steaming.
To get immediate updates and new recipes from my blog, you may also SUBSCRIBE them via RSS feeds. See you there.