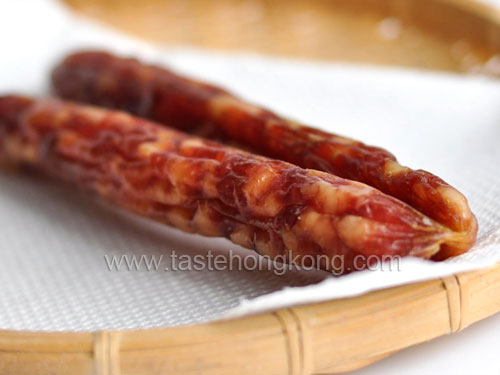 This is to follow up my last post on Turnip Cake with Chinese Sausages, where I received a message from Patty of zomppa.com asking me to describe the Chinese sausage. So motivated to provide Patty with an organized piece of information, I am going to put up here a separate post on Chinese sausages, containing both my interpretations and some good quotes from the web.

I like the way Wikipedia describes Chinese sausage, 'it is a generic term referring to the many different types of sausages originating in China and is commonly known by its Cantonese name 'Lap Cheong' (臘腸)'. Very often, however, I also see them being labeled as 'Chinese Preserved Sausage' or simply 'Preserved Sausage' in English.
As Wiki also suggested, there is a choice of fatty or skimmed sausages. In general, the skimmer the sausage is, the higher is its price. Despite of the type, they are hard, look wrinkled, and taste slightly sweet and salty, measuring about 1.5 centimeters in diameter but varying in length from few centimeters to 15 centimeters or so.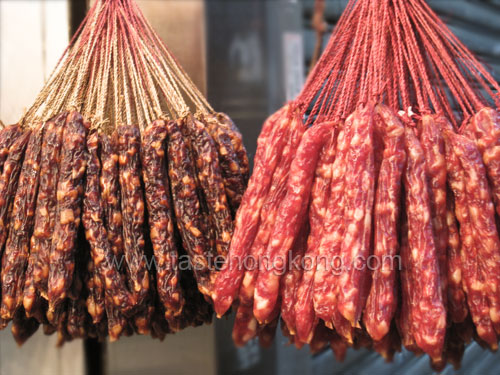 It is also correct to say that there are different kinds of Chinese sausage ranging from those made using fresh pork to those made using pig livers or duck livers. But do take note that they are different in colors. The ones in dark red is the pork sausage usually referred as the 'Lap Cheong'; those in brownish black on the other hand are the liver sausages and they are called 'Yun Cheong' (膶腸) in Cantonese.
The sausages are available in pre-packaged and naked. When not in package, they are hanging in pairs with strings for display.
Pork sausage and liver sausage have been produced by wind-dried, but such kind is less found today as this weather-dependent process is increasingly replaced by machines for mass production.
Pork sausage is commonly used in
– Fried Rice (炒飯),
– Turnip Cake (蘿蔔糕) and,
liver sausage in
– Glutinous Rice in Lotus Leaf Wrap (糯米雞),
– Clay Pot Rice (煲仔飯) – often comes with pork sausage as well
Preparing
Rinse sausage before use. If it is directly from the fridge, you may want to briefly rinse them in hot water to soften it before chopping or slicing.
Storing
Wrap and store sausage inside fridge (coolest spot preferred) for up to 6 months or according to the expiry date on package. Do not wet it before use.
To get immediate updates and new recipes from my blog, you may also SUBSCRIBE them via RSS feeds. See you there.
Recipe(s) Mentioned Chinese Preserved Sausage: