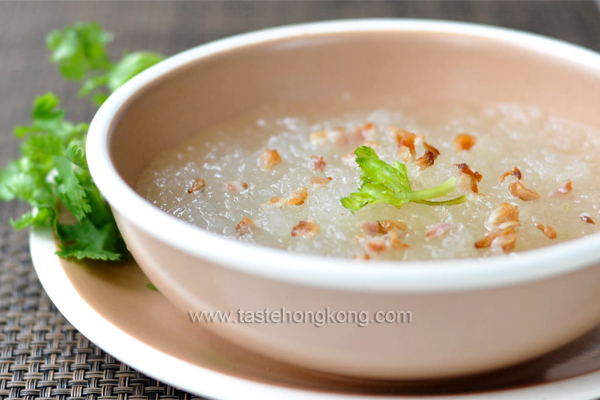 Although I forget how it began, I know it has become one of the soups I love cooking from time to time. And it always marks a simple, nice difference on my dinning table. I believe I have never had other savory soups resembling a thick blanket of snow like this.
Soups are usually served hot on my table, and this is no exception. I eat hot soups all seasons, this soup gives me an added bonus during summer because from the moment the winter melon is pulverized, I can't help associating it with some chilling shaved ice.
Soon after the soup is boiled for minutes, the winter melon is tendered and 'sucks' much flavors from the stock, meaning that it can be quickly prepared and served. This soup actually had not disappointed me whether it was made from a vegetable or a meat stock.
This white gourd is light and soothing, a wonderful food for summer (here tells why it has 'winter' in its name), which is best when consumed fresh. If you have bought a rather big chunk of this gourd, do consider the idea of dividing it and have the rest for making a healing drink.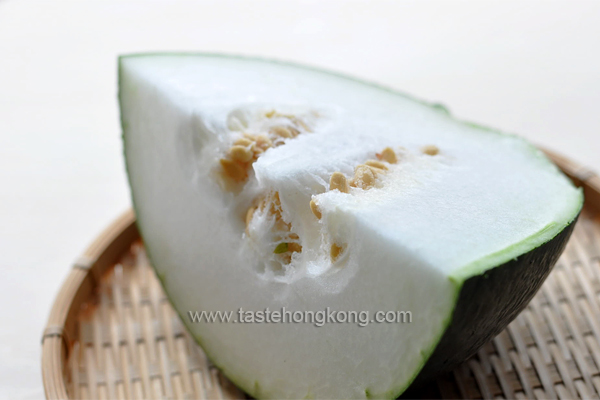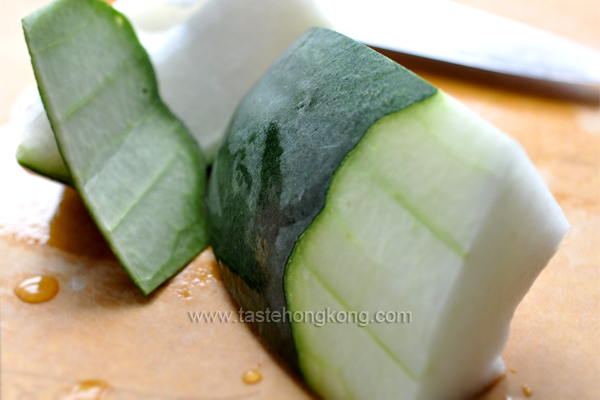 Ingredients
~500g winter melon
1 cup stock, I used dashi
1 cup water
2 tsp toasted bacon flakes or Chinese ham, finely chopped
1 sprig coriander aka cilantro, finely chopped
Seasonings
~1/8 tsp ground white pepper, or to taste
1/2 tsp sea salt, or to taste (do a taste test first if using seasoned stock)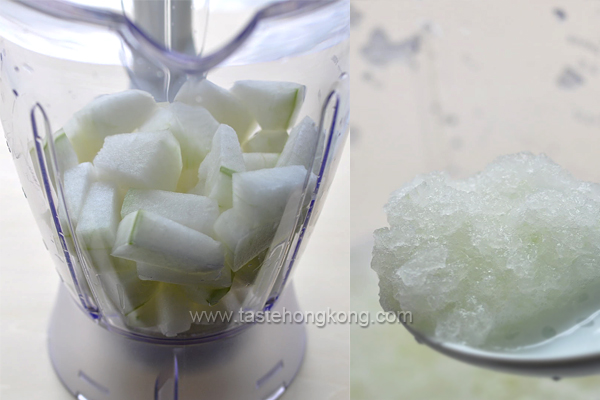 Method
Wash winter melon briefly, if required. Cut away pith and seeds. Peel the green skin. You may need a knife than a peeler because of the tough skin (make sure the gourd rest securely on the cutting board so that it won't escape under your knife and make you cut yourself). Then, slice it into smaller chunks for blending.
Pulverize winter melon chunks with one cup of water in a blender for about 10 to 15 seconds or till they are transformed into a texture of shaved ice.
In a pot, over medium heat, add winter melon flesh, stock and bring them to the boil. Keep boiling for another two to three minutes till winter melon turns transparent. Add chopped coriander and seasonings to taste. Sprinkle toasted bacon or ham on top.
Serve hot and enjoy!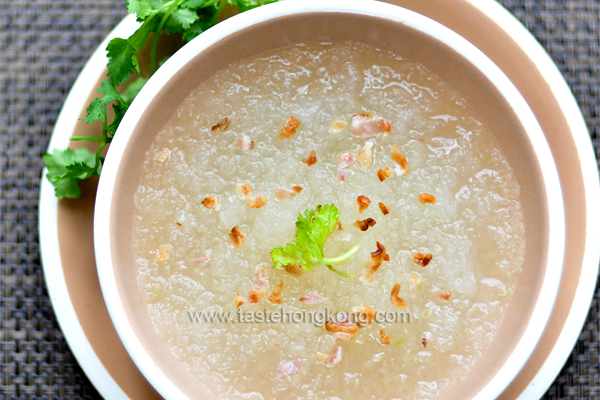 To get immediate updates and new recipes from my blog, you may also SUBSCRIBE them via RSS feeds. See you there.