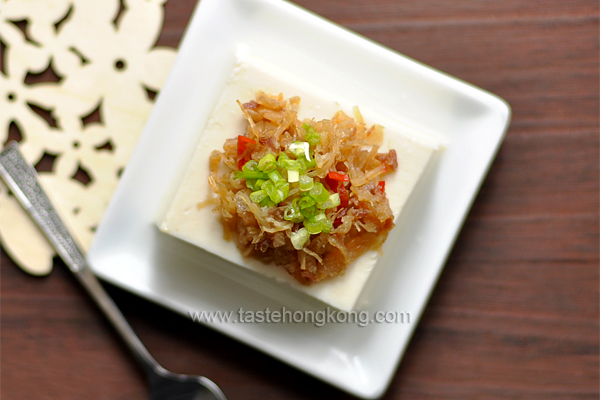 The story began in an upscale restaurant, where a chef here in Hong Kong was said to have invented this sauce. Served, diners loved it, more eateries copied the idea and it has became a hit. Established brands of sauce manufacturers even put it on their production lines, bottling it and have it sold in stores and supermarkets.

And its name, I believe, has also helped make it popular too.
XO is the abbreviation used by cognacs to stand for their 'Extra Old', which has been perceived as a deluxe and better wine. XO sauce however is not an aged sauce, the name is intended for projecting the same image XO cognacs have.
XO sauce is actually a chili sauce. The clever chef recreated it by adding dried shrimps, dried scallops and shrimp paste, making an average hot sauce filled with intense flavors and unami. And, of course, with more value added to the price tag.
To prepare the ingredients, while shallots, garlic and chilies need only to be chopped, dried scallops, dried shrimps and ham however require different degree of attention and amount of efforts in bringing out the best of them.
Preparing dried scallops is as easy as re-hydrate many other dried ingredients. Soaking in water however loses part of their taste. To save the flavors for the sauce, simply soak the dried scallops to the point they are just soften and reserve the water.
Using more oil for making the sauce is not necessarily a bad idea (store-bought versions are often packed with oil), especially if you want to serve it with noodles, making them more slippery. My version here comes with less oil as I intended to enjoy it with some lighter dishes – congee (porridge) and tofu (beancurd). And I'm biased, I love the character of dried scallops, thus trying to have its tastes to stand out from the rest. Usually, I skip using the pungent shrimp paste.
Yesterday, I made a toast for hubby, topped it with my xo sauce. 'Delicious', he said, nodding his head. And I'm happy that I did not make the sauce with too much oil, thus suitable for serving with the toast too! Before this weird endeavor, I have always like the XO sauce to go with: vegetables (blanched or stir-fried), rice, seafoods … The list may go on but the prerequisite is to get the sauce prepared in advance and have it 'mulled' for 1 to 2 days.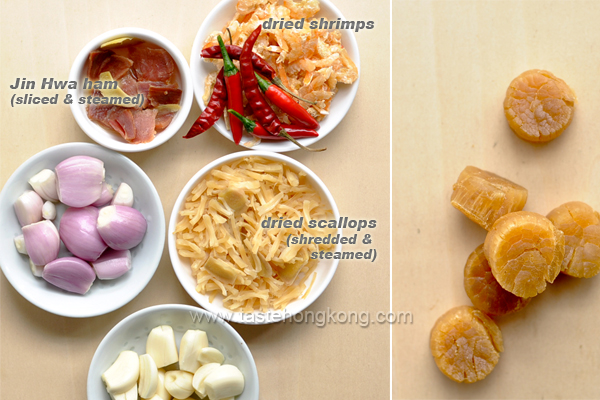 Ingredients for XO sauce
(yields about 1 cup)
5-6 dried scallops
few slices of Chinese ham, finely chopped into 1 tbsp
2 tbsp dried shrimps
few slices of ginger
8-10 cloves garlic, finely chopped
8-10 cloves shallot, finely chopped
2-3 fresh bird eye red chili, coarsely chopped
2-3 dried bird eye red chili, coarsely chopped
5-6 tbsp cooking oil (I used grape seed oil)
1/4 tsp salt, or to taste
to reduce hotness, deseed chilies
Ingredients for XO Sauce with Cold Tofu
2 tbsp XO sauce
1 soft (silken) tofu, chilled and halved
1 tsp thinly sliced spring onion
1/2 tsp sesame oil, or to taste
1 tsp soy sauce, or to taste
Method
Briefly wash dried scallops and dried shrimps. Cover dried shrimps with water and soak until soft, 15 to 30 minutes, discard water and coarsely chopped. Also cover dried scallops with of water (about half to 1 cup) until just soften, about 1 hours, reserve water.
Add a dash of wine and a few slices of ginger to the dried scallop. In another dish, season sliced ham with 1/4 tea spoon of sugar and a dash of wine, also put in couple slices of ginger. Steam shredded scallops and sliced ham in a steamer over low heat for about half an hour. Remove Ginger. Discard any liquid from ham but save those from scallops. Let cool, coarsely chopped ham and tear scallops into shreds (pat dry if still moist).
Heat about 2 to 3 table spoon oil in a saucepan on medium. Stir-fry dried scallops until lightly brown an crisp. Add shallot, garlic, remaining oil and sauté until fragrant. Stir in dried shrimps, ham, and chilies, stirring again until aromatic. Regulate heat to low to avoid scotching, if required. I managed to cook the ingredients here in my saucepan. For a larger quantity, probably you may need a skillet or wok to stir well.
Pour in about half cup of water saved from soaking dried scallops, and simmer until water is absorbed. Add salt to taste. Let cool, transfer to a sterilized bottle, cover and store in fridge for 1 to 2 days before serving.
Top the chilled tofu with a table spoon of XO sauce plus some green onion, then finish it with a dash of soy sauce and sesame oil. There you go a simple, different appetizer.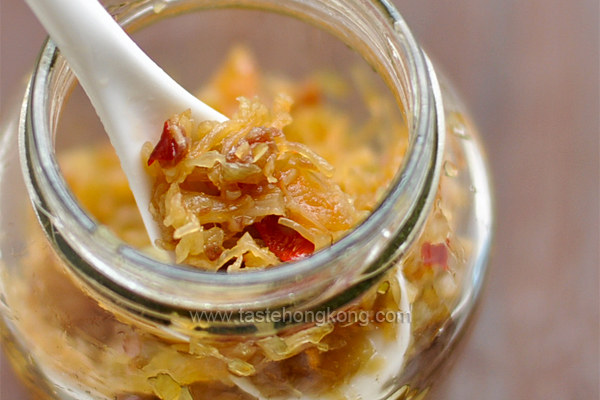 Enjoy!
To get immediate updates and new recipes from my blog, you may also SUBSCRIBE them via RSS feeds. See you there.