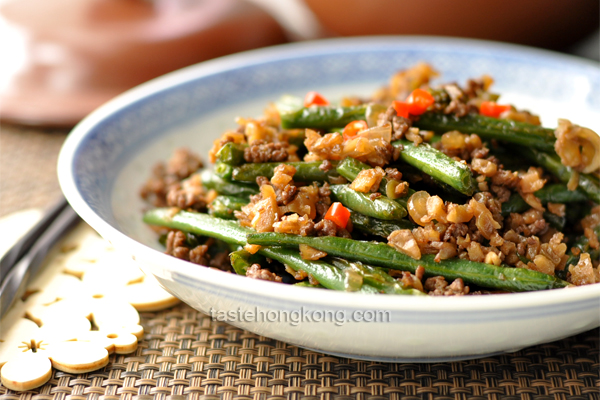 Doesn't it sounds more familiar if I tell you this is called Gan Bian Si Ji Dou 乾煸四季豆 in Chinese? Which is one of the signature dishes of Sichuan.

Bian 煸, in Chinese, means to fry a raw food until it is just crisp (but partially cooked) before cooking it with other ingredients.
Like other 'bian' dishes, this is also characterized by the crisp texture of the main ingredient – fried beans, but is not overly oily.
Yes, you may want to do this with stir-frying than deep-frying, if you ask me. Just be patient as you cooks, constantly flipping and turning the beans over heat, ensuring each piece to coat with oil and cooking to the point when the skins are blistered. To be honest, I tend to believe that deep-frying is an adapted version of some restaurants for cooking fast.
Even this is not the speediest version, you need only a couple of minutes to fry up the beans and simmer them with a small amount of sauce until no excess liquid is there, that is, dry (gan 乾) fry (bian 煸).
Also a fairly simple stir-fry!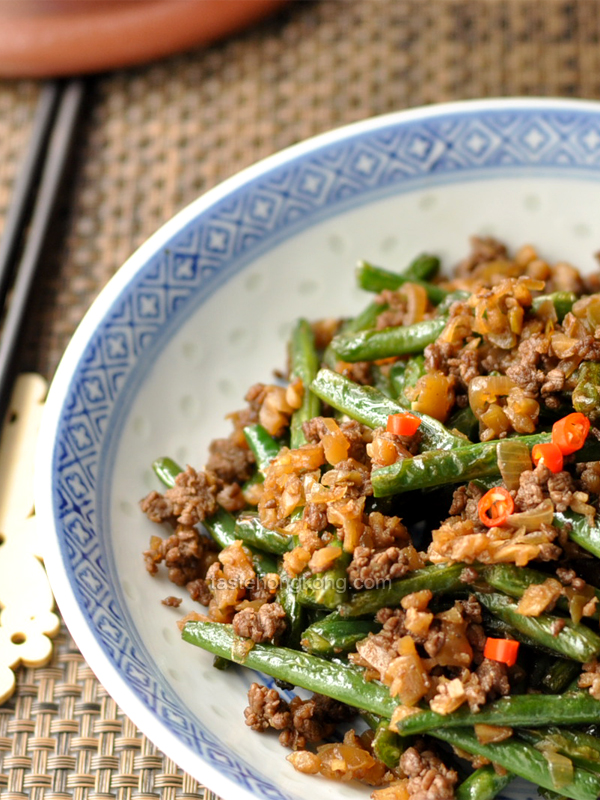 Ingredients
200g french beans
~70g ground pork
2-3 cloves shallot, thinly sliced
1/2 tbsp finely chopped ginger
1 red chilli, thinly sliced (may adjust amount according to taste and use some more for garnish)
1 tbsp finely chopped dried shrimps
1/2 tbsp yellow wine
1/8 tsp salt
2-3 tbsp cooking oil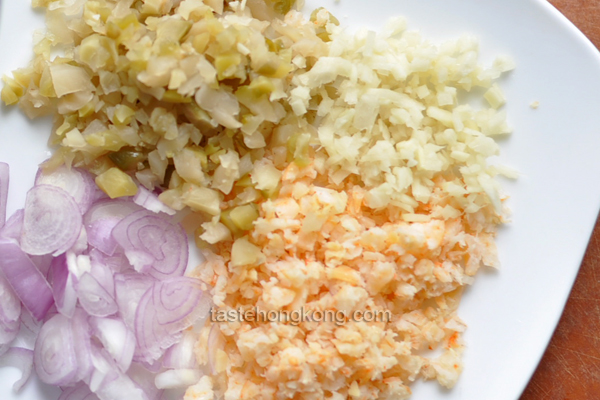 Sauce
1 tsp soy sauce
1 tsp sugar
2 tbsp water
1 tsp vinegar
1/4 tsp sesame oil
1/8 tsp salt, or to taste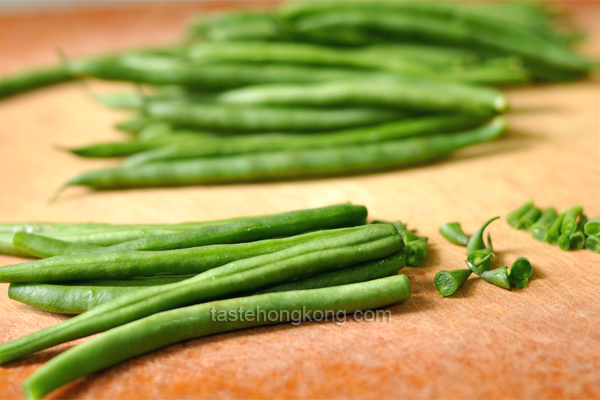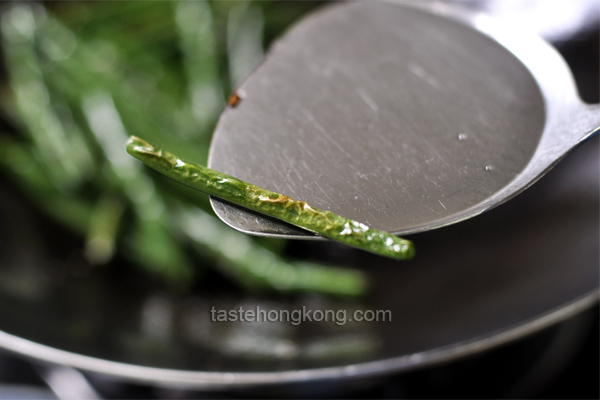 Method
Wash well beans, trim ends if desired. Drain very dry or pat dry.
Combine soy sauce, sugar and water in a small bowl.
Heat 2 to 3 table spoons of oil in a wok over medium heat. Add in beans, constantly stirring and frying for until their skins are blistered and lightly browned, about 2 to 3 minutes. Sprinkle in salt, stirring well. Transfer to a plate.
With the oil left in wok, about a spoon (if no, add some). Sauté shallot and ginger until fragrant.
Toss in meat, chili, dried shrimps and pickled mustard, breaking up any lumps with the back of your turner.
Return beans to wok, stirring well. Splash in wine .
Add in the combined sauce, again stirring well. Spread out all ingredients while the sauce simmers.
Reduce sauce completely but with the beans and meat look a bit moist. Remove from heat and drizzle in vinegar and sesame oil, giving all things in wok a last stir (check taste and add more salt if required).
Dish up, serve hot with rice or noodles.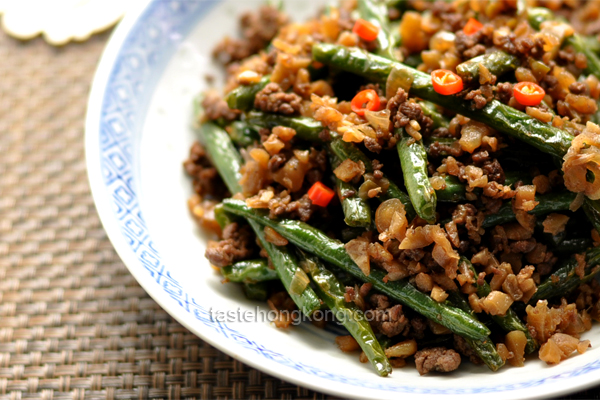 Enjoy!
To get immediate updates and new recipes from my blog, you may also SUBSCRIBE them via RSS feeds. See you there.