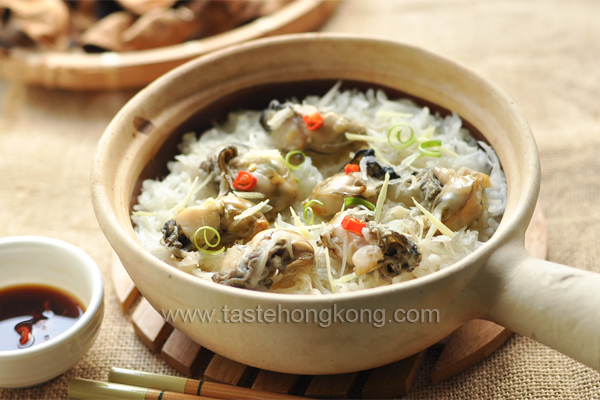 Cooking oyster rice requires little more attention in picking the right pot. Not that you need a distinctive pot but rather one could retain heat well because it is the residual heat from the steamed rice that cooks the oysters, rendering them juicy than rubbery.

With the heat circulating inside the vessel, the umami impact of the oysters seems to have magnified, making the whole rice dish not only warming but also flavor-packed.
The clay pot I used also enabled me to sauté in it the radish shreds with garlic. After that, without washing the pot, I steamed the rice with radish and oysters in the same pot. Which just means, less washing!
You may also choose a cast iron pot or a heavy duty stainless steel pot as long as it comes with a tight-fitting cover. Rice cooker is also a good choice, but if it is not designed to cook with oil, do the sautéeing in a pan first.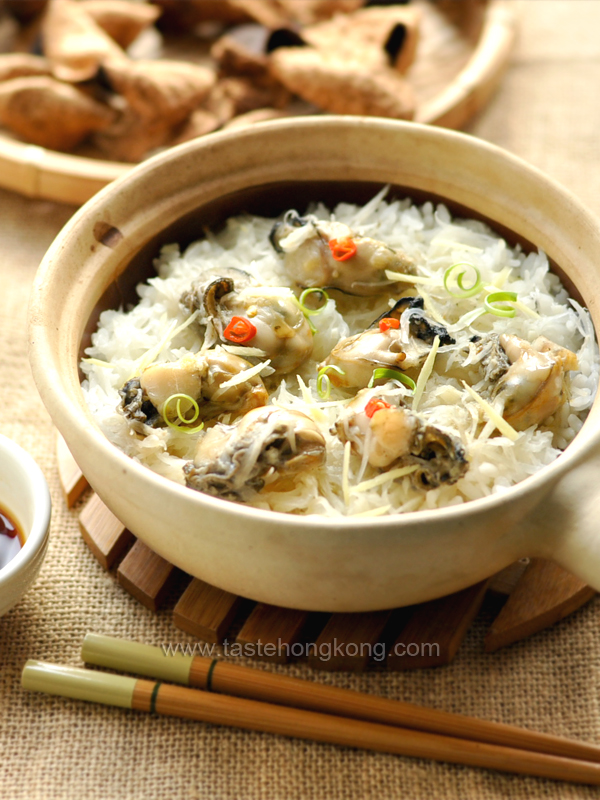 Oyster rice can come with more variations. Those – gul bap – I had seen in Seoul, Korea were also added with carrots, bean sprouts, and/or even mushrooms.
What would be your variations?

Ingredients
1/2 C short grain rice (yields ~2 bowls of cooked rice)
250g small-size oysters, I used frozen type (suggest putting 1 or 2 more oysters if your pot could hold them)
150g radish, julienned
1/2 tsp grated ginger
1/4 tsp freshly ground white peppers
1/2 tbsp cooking oil
2 cloves garlic, finely chopped
1-2 slices ginger, julienned
1 sprig green onion, thinly sliced
Sauce
2 tsp soy sauce
1 tsp sugar
1/2 tsp fish sauce
1/2 tsp sesame oil
1/2 tsp sake/white wine
1 tsp drinking water
1 bird eye chili, optional, chopped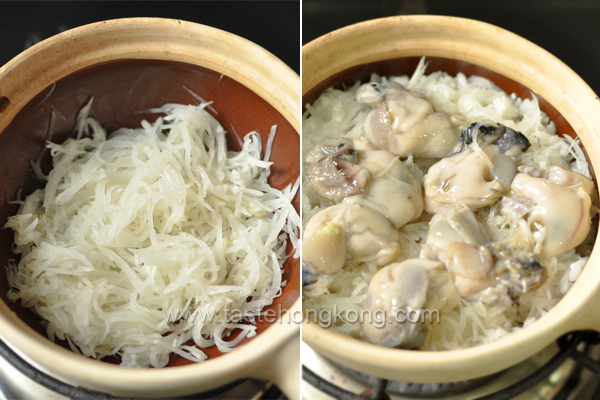 Method
Thoroughly thaw oysters (if using frozen type), gently wash under running tap water. Drain dry.
Marinade oysters with grated ginger and freshly ground white peppers for 10 to 15 minutes.
Peel and cut radish into shreds, about matchstick-size pieces. I julienned it by a mandolin slicer like this
.
Heat oil in pot over low heat, sauté garlic until lightly brown. Toss in radish shreds (adjust to medium heat if required), stir-frying until starts to soften, about 1-2 minutes. Add salt, stirring well and dish up.
Cook rice according to the steps detailed here. If using the same clay pot to sauté radish, turn off heat and let it cool down a bit before adding water and rice (sudden change in temperature may crack the pot, so do not pour a large amount of cold water in it while it is still hot).
Uncover lid as the rice is just cooked, immediately top the rice with sautéd radish shreds and oysters (spread them out evenly), with ginger shreds.
Cover lid, heat for another half minute. Let it stand for another 7-8 minutes.
Mix well with other ingredients for making the sauce (add chili if you like having a spicy kick).
Uncover lid, sprinkle in green onion. Drizzle in sauce according to taste or use it as a dipping sauce for the oysters.
Serve hot (and mix well to enjoy)!
Note:
When cooking rice on stove (like this again), the water to rice (jasmine type) ratio I used is usually 1:1.5. Here, I reduced it to 1:1.1 as there is water extruded from the radish during cooking and the type of rice I used this time required less water.
So you may want to refer to the package instruction of the rice you used, and reduce the water by about 10%, which shall be compensated by the liquid comes from the radish.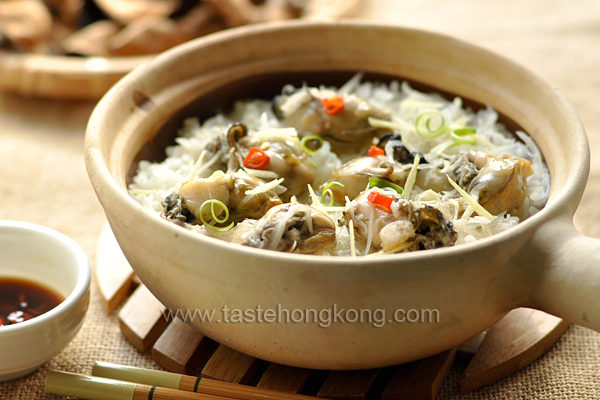 Enjoy!
To get immediate updates and new recipes from my blog, you may also SUBSCRIBE them via RSS feeds. See you there.