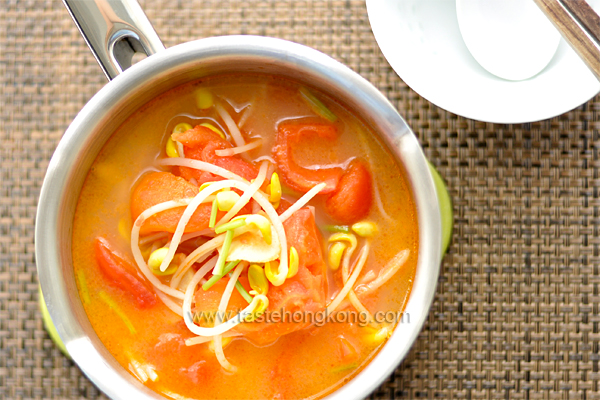 I lucked in, with some leftover whey, I made a delicious tomato tofu soup. It was light, appetizing and, had encouraged me to cook this soup also with whey (yes, I made cottage cheese again).

I love the original version of this soup with a fish called Big Eye (大眼魚/木棉魚), which needed to be pan-fried before boiling with other ingredients. It is not that hard to prepare, but when my lazy mood sets in, a simple task would sound a huge assignment.
Using store-bought stock is a viable option too, but let me tell you, the broth made from the 'fresh' whey plus the soy bean sprouts is way better than I could have anticipated. It seemed to have replicated the homey, Chinese flavors of the original soup (蕃茄大豆芽菜滾大眼魚湯), not to mention that it helped simplify the steps and allow me to prepare the soup in about 15 minutes
The bean sprouts used in this recipe, as its name suggested, are made from soy beans (same for making soy milk), and are different from those sprouts made from mung beans. However, they too have some raw smells but can also be removed by sautéing.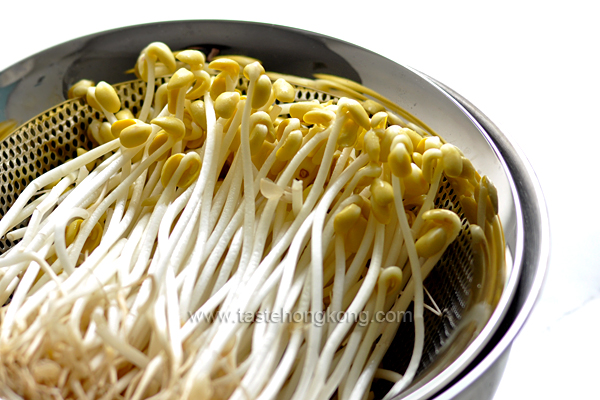 Ingredients
~600g tomatoes
300g soy bean sprouts
4-5 ginger slices
1 cup whey (I used the leftover from homemade cottage cheese)
2 cups water
1 tbsp cooking oil
1 sprig of green onion or coriander, sectioned
Seasonings
1/4 tsp sugar
1/2 -1 tsp kosher salt, or to taste
1/4 tsp fish sauce, optional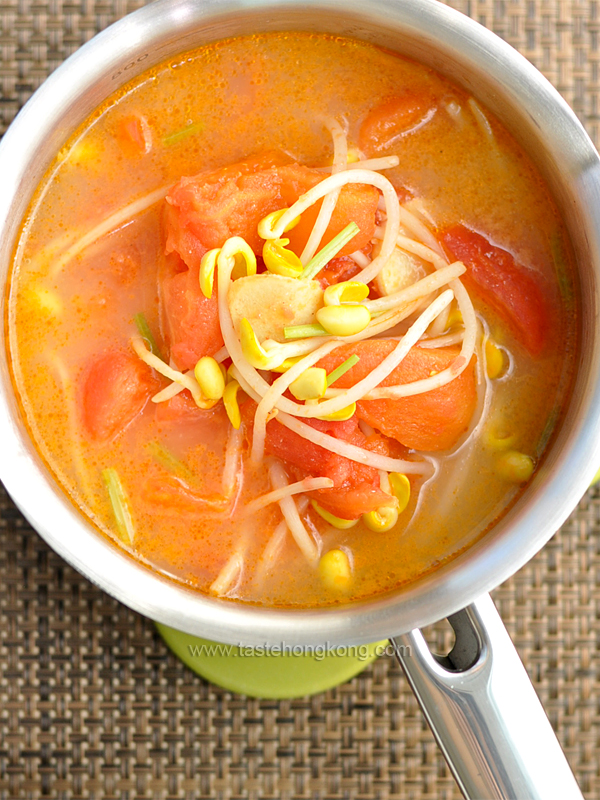 Method
Chop off roots of bean sprouts, discard discolored ones, if any. Wash tomatoes and soy bean sprouts; drain dry. Skin, deseed tomatoes and cut them into wedges.
Heat oil over medium heat in a heavy soup pot, briefly sauté ginger slices. Then add soy bean sprouts and stir-fry. Put in tomatoes, stirring constantly, until they begin to soften. Pour in whey and water, and bring it to a boil.
Reduce heat to low, cover and simmer for about 5 minutes, or a few minutes more if you want the bean sprouts and tomatoes to soften more.
Stir in seasonings, green onion (or coriander). Taste and make adjustment if required.
Serve hot.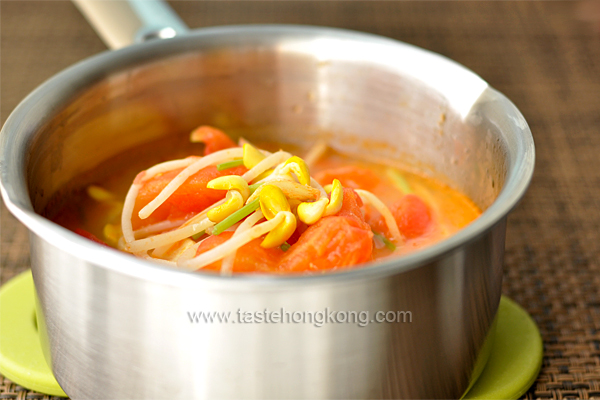 Enjoy!
To get immediate updates and new recipes from my blog, you may also SUBSCRIBE them via RSS feeds. See you there.