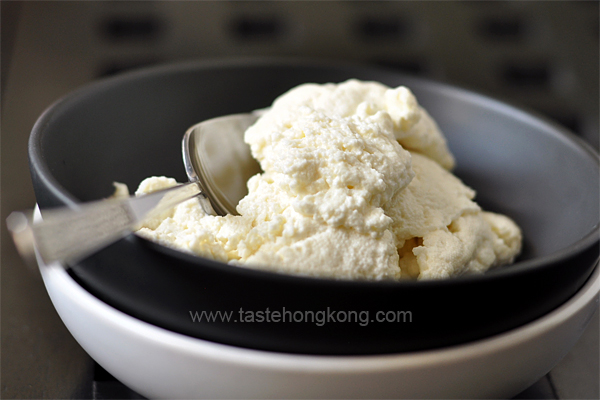 To me, cheese has been an ingredient ought to be bought at supermarkets than homemade. Because I believe good cheese should be made from locally produced fresh milk. But here in Hong Kong, the source is rare.
Only until recently, I was interested by a Chinese newspaper column (one inspired me to make these healing recipes) about a homemade cheese, cottage cheese to be specific, without rennet and had been itching to make one. Equally intriguing is, the cottage cheese (together with flax seed oil) is suggested for use in a natural remedy, called Budwig Diet, for curing many diseases.

Although this is the first time I make this cottage cheese, I have it completed, fairly tidily, in minutes.
What we need are two ingredients plus a pan and a strainer. To prepare, just heat the milk to the right temperature, then add vinegar, stir and wait. The magic moment will show up in seconds.
First thing I was curious about my homemade cottage cheese was whether or not it would taste sour. Verdict? Not all all! It tasted light and maybe the mildest cheese I have ever tried.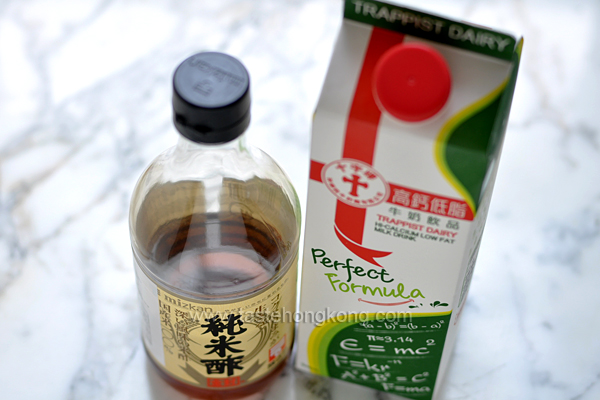 I sprinkled some salt and pepper to my cheese and served it with banana and bread, It is not the best, yet satisfying enough.
If you are interested in reading more about the natural remedy, which is said to be able to cure the malfunction of immune system and some cancer diseases (80-93% of the cases), these links might help:
– the Chinese blog of Yim Ho, author of the newspaper column
– the Budwig Diet in English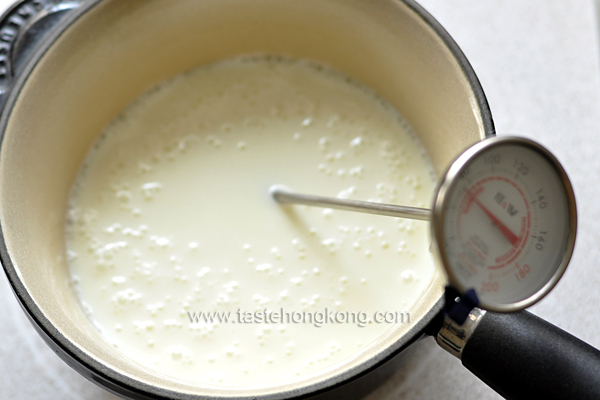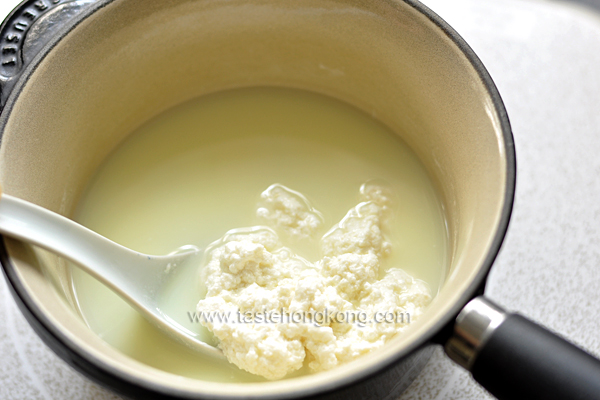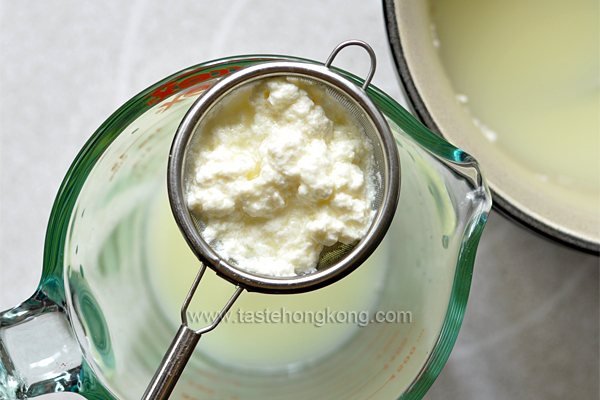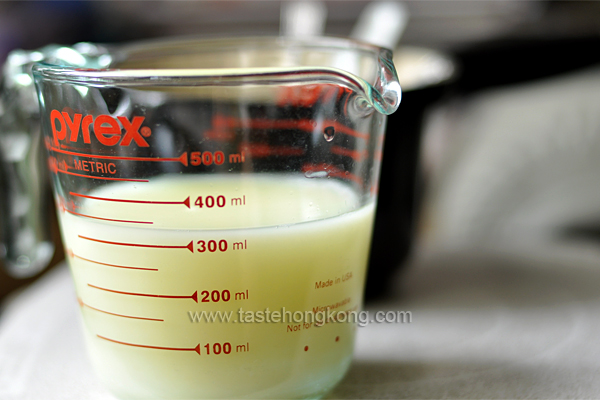 Method
Over low to medium flame, heat milk in a pan, stirring occasionally. As the milk starts to simmer (I waited until my thermometer read 80 degree C), remove from heat.
Add in vinegar, stir gently for about half a minute (in about 15 seconds, lumps start to form and the consistency of milk gradually turns thinner into a whey).
Let cool to room temperature.
Set a strainer over a bowl and pour the liquid with lumps through it. You may need to press down the lumps to get rid of an excess liquid. In case your strainer is not fine enough for holding the smaller lumps, simply line a cheese cloth over it and squeeze the liquid like making soy milk. I was making a pretty small amount, so a mini strainer and a measuring cup were used.
The lumps you've just collected are now made into cottage cheese. Mine yielded about 5 table spoons.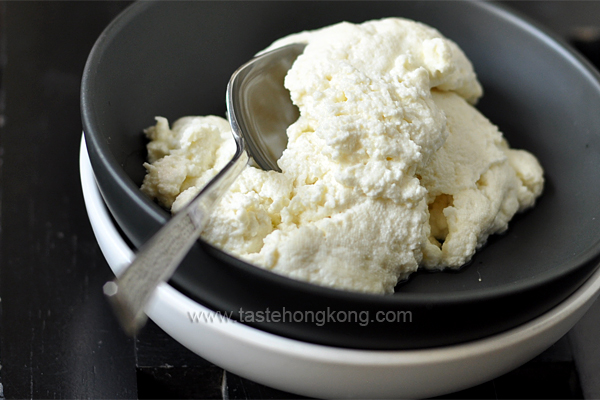 Note: I reserved the whey and added it into my tomato soup (link updated: 2012.6.2) with tofu, which tasted great too.
Enjoy!
To get immediate updates and new recipes from my blog, you may also SUBSCRIBE them via RSS feeds. See you there.