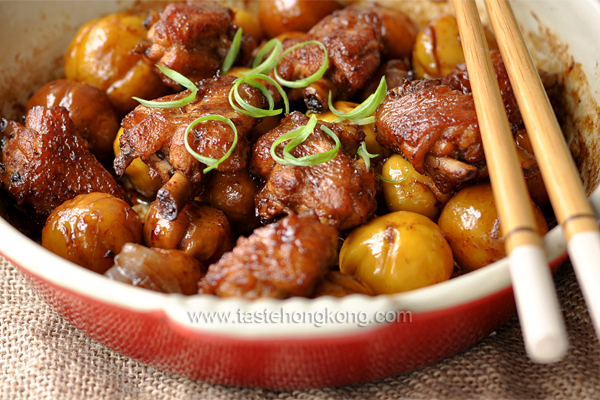 I have included more chestnuts, almost doubled, than the typical recipe of this 栗子炆雞. It is not only because I bias toward them but also because I have learned an easy trick to skin the chestnuts fast.

It is the same simple method I mentioned in my last post, showing how the skins of briefly boiled chestnuts could be rubbed off in seconds.
Because I was cooking this small dish for two, I therefore had all ingredients fried and cooked in my cast iron
dish. That saved some washing tasks but then I had to borrow the lid from my French oven. You may use a clay pot like this or this to cook for a larger amount and also have it served directly from stove to table.
Cooking with clay pots or this cast iron dish shall give us similar results. However, do take note that both the chicken wings and chestnuts have to be covered with sauce to keep them from drying out while being simmered. So, when cooking with a wide and large pot or pan, you may need to proportionally increase the ingredients for making the sauce as required.
The sauce here is rather basic and of minimal style. You may however add oyster sauce and/or chili bean sauce to suit your own taste. If you do so, simply omit or reduce the salt to be added toward the end of cooking. Have fun with your variations!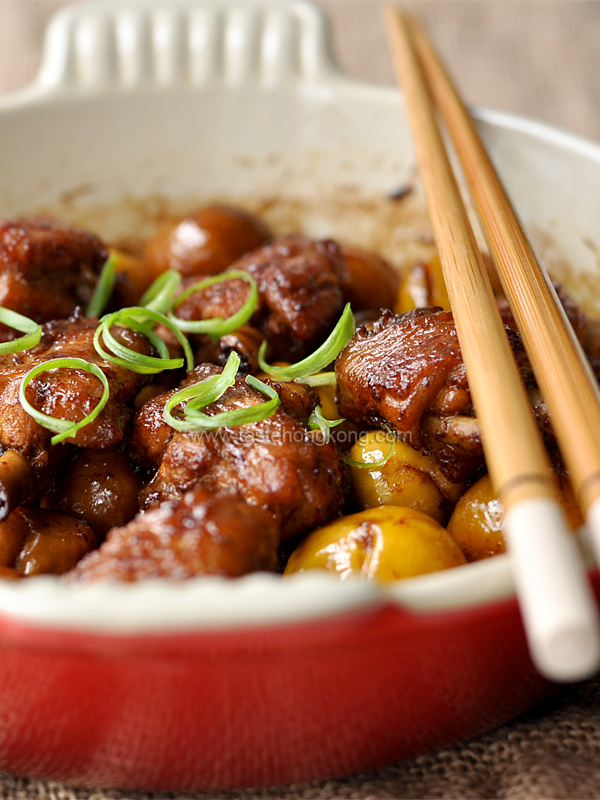 Ingredients
4 frozen chicken wings (middle section), ~250g
200g chestnuts (after shelled)
3-4 cloves shallot, slightly crushed
1-2 slices ginger, slightly crushed
2 tsp cooking oil
1 spring onion, thinly shredded
Marinade for chicken
1/4 tsp salt
1/4 tsp cooking wine
pinch of ground white pepper
a dash of ginger juice
1/2 tsp corn starch
Sauce
1 cup chicken stock
1/2 tsp sugar
1 tsp dark soy sauce
1/2 tsp soy sauce
1/4 tsp salt, or to taste
corn starch paste (corn starch : water = 1 : 2 tsp)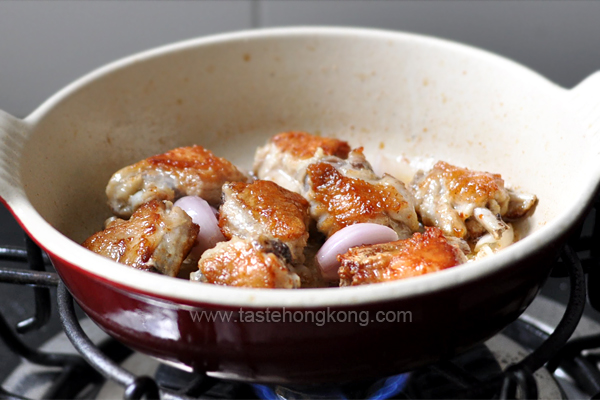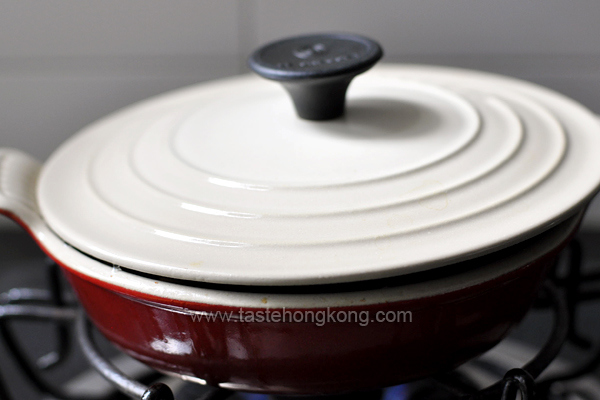 Method
Thoroughly defrost chicken wings; wash, pat dry, cut each into two pieces. Marinade them for at least 15 minutes.
Shell and skin chestnuts.
Heat pan and oil enough (until wave-lines appear). With low flame, fry chicken wings until both sides are golden brown, about 2 minutes each.
Add in shallots, garlic and chestnuts, stirring constantly until fragrant, half to one minute. Mix sugar, soy sauces into chicken stock and pour into the pot. The amount of water in pot shall cover both the chicken and chestnuts to keep them from drying out. Stir well.
Bring the sauce to a boil (regulate heat if required), cover. Then simmer it over low heat, about 10 minutes, or until the chestnuts are done.
Uncover, season sauce with salt. Turn to high heat and thicken with well-mixed corn starch paste.
Garnish with spring onion.
Serve hot, enjoy!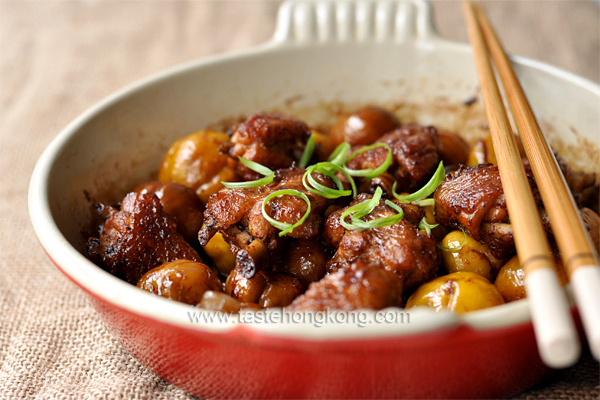 To get immediate updates and new recipes from my blog, you may also SUBSCRIBE them via RSS feeds. See you there.