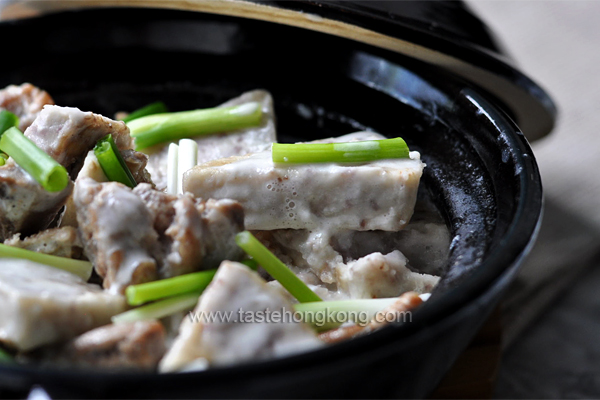 Whenever I'm in the mood to crave for a warming, satisfying dish, I'll take into account clay pot dishes. Among choices at the moment, my can of coconut milk, sitting in the cabinet, seconded me to make one with a thick sauce.

Yes, it is this clay pot dish 芋頭排骨煲 containing a blanket of white sauce coating both the pork and taro, which is creamy and flavor-packed.
Deep frying may be the quickest, also our most traditional way to prepare the pork and taro for braising, but it is not the only way. I pan-fried them, with about two spoons of oil, for a couple of minutes, when the sides were lightly browned.
Either way, the taro slices had to be fried before simmering. Even I did so, I had to be gentle in stirring and turning them or otherwise they would have been broken down into tiny pieces. What I mean is, we want taro slices than puree in this dish.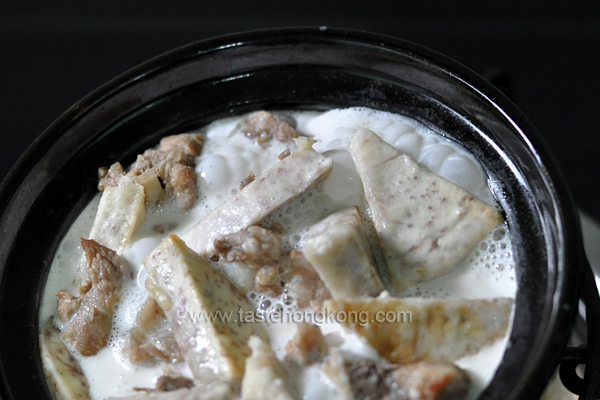 The clay pot not only helped keep the foods warm, it also seemed to have 'freezed' those hot motions – the sauce continued to sizzle and bubble as I removed the pot from my kitchen to dinning room (though they subsided while I was ready to shoot).
Which means, it is a dish that really warms.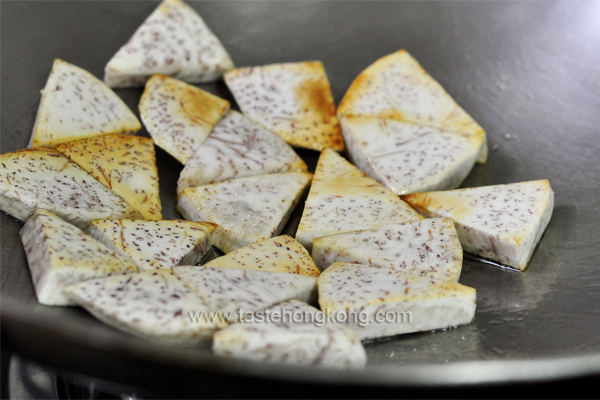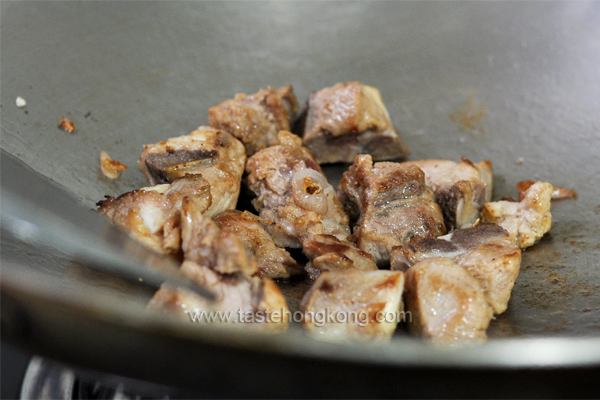 Ingredients
200g pork spare ribs, diced
300g taro
3 shallots, thinly sliced
4 sprigs spring (green) onion, cut into ~3 cm length
~1/3 tsp salt, for marinading taro
~ 2 tbsp oil
Sauce
250 ml coconut milk
1 1/2 cup water
1/3 tsp salt
1/8 tsp ground white pepper
Marinades for pork
1/3 tsp salt
1/4 tsp sugar
1/8 tsp ground white pepper
1/4 tsp yellow (Shaoxing) wine
1/4 tsp corn starch
1/4 tsp ginger juice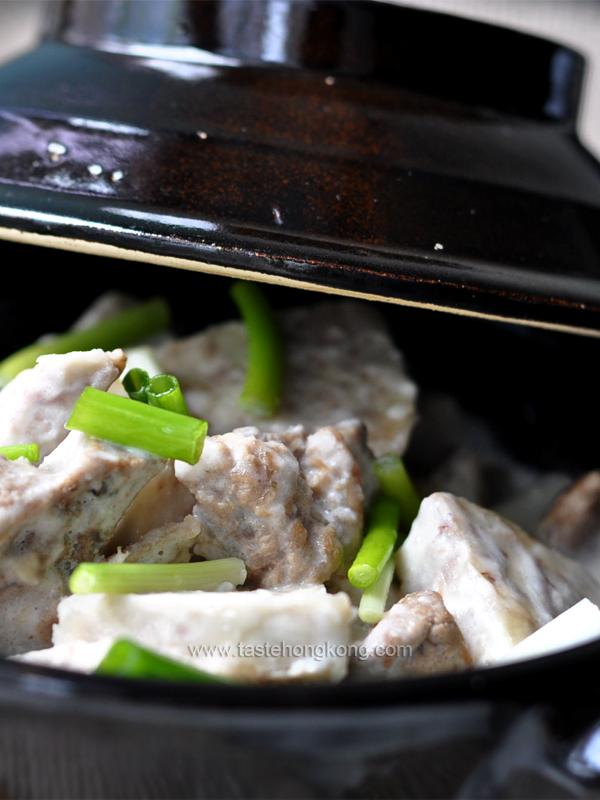 Method
Wash pork ribs clean, pat dry, and marinade for no less than 15 minutes.
Peel taro, wash it clean, pat dry and cut into slices, about 3/4 cm thick. Uncooked taro can cause itchy skin, so wear hand gloves when peeling.
Heat oil in wok over medium heat, pan-fry sliced taro until turned slightly golden, 2 to 3 minutes for each side. Transfer taro to a dish, marinade with salt and set aside; saute shallot and fry spare ribs for 1 to 2 minutes until they are lightly seared (to save time, just pan-fry pork and taro together if your wok is large enough, but you also need to remove the taro from wok before braising the ribs).
When pork is seared, drop in spring onions (reserve some for garnishing). Pour in 1 1/2 cup water and about 1/3 of the the can of coconut milk. Stir well and bring it to a simmer. Cover wok and turn heat to the lowest.
I simmered the spare ribs for about 40 minutes when the meat was just tendered and about 1/2 cup of the sauce was left. You may want to check it a couple of minutes earlier to make sure the liquid is not drying out, otherwise add some hot water.
Put in reserved taro, remaining coconut milk, salt and ground white pepper. Gently stir and turn to assemble well.
Transfer all in ingredients, including the sauce, in wok to a pot for serving. Over a moderate heat, let the sauce simmer, bubble and reduce for a minute or so. Garnish with green onion. Serve hot.
Enjoy!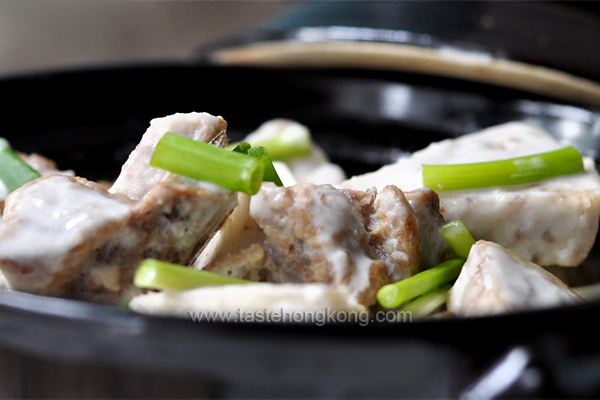 Note:
For braising, a heavy-based pot may perform better than a wok. I used the same wok for both frying and braising because it facilitated me flipping and turning the taro slices in the sauce without breaking them.
It is also common to cook taro with chicken in this same sauce, which in Chinese is called 芋頭雞煲.
To get immediate updates and new recipes from my blog, you may also SUBSCRIBE them via RSS feeds. See you there.