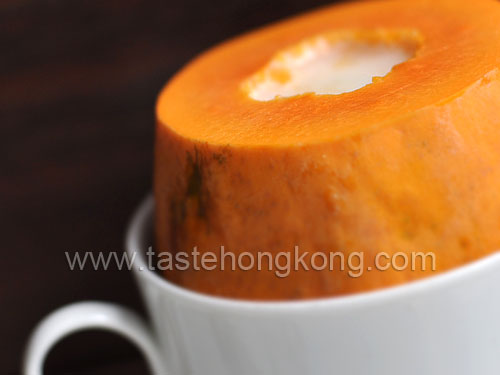 My first guest post , thanks to Geoffrey at geoffstwitchen.com for his invitation and kind words in mentioning tastehongkong.com. Having known Geoffrey, I have also been interested by his dining reviews, be it on Asian or Western cuisine, on a humble store or fine-dinning outlet, in which he always passionately serves his readers with much details. So please do not limit your reading to this recipe but surf around at geoffstwitchen.com where you shall see different discoveries from a versatile food lover, Geoffrey.
Update on September 27, 2011: The blog at geoffstwitchen.com was suspended, therefore, the guest post is returned here below.
Steamed Papaya with Chinese South Almond Milk
Desserts are so popular here in Hong Kong that specialty stores serving them seem to show up at every corner near eateries. No matter how popular they are, I notice that this 'Steamed Whole Papaya with South Almond Milk' is missing from most, if not all, of their menus. However, making this papaya at home is fun and simple especially if you are familiar with the use of a food processor. If not, you may simply substitute an equal amount of your favorite milk for the south almond milk. Whichever, I believe they both can be served as a hearty dessert at home. Besides, steamed papaya is a nourishing treat.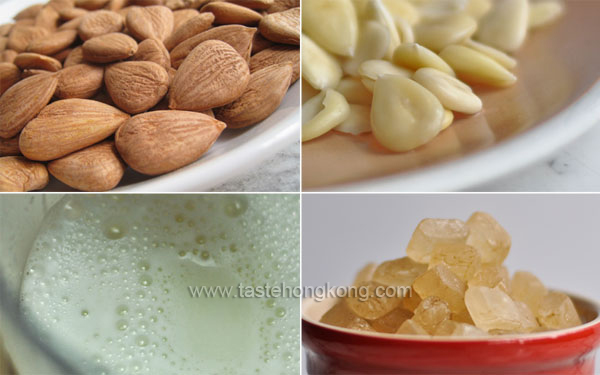 Ingredients
100g sweet apricot kernels aka Chinese south almonds
1 cup of water
2 papayas (~400g each)
rock sugar to taste (I use mini rock sugar)
Preparing Sweet Apricot Kernels:
For greater flavor, I use shelled kernels but still with their skins on. To remove skins, soak the kernels in 2 cups of cold water for about 2 to 3 hours before making the dessert (discard water after soaking). Then, blanch them in boiling water for about a minute and immediately drain the kernels in a colander and rub off their skins with a towel. Or, you may also opt to eliminate this procedure by buying those sweet apricot kernels already with skins removed. Both types, with or without skin, are available at decent Chinese herbal shops, but please be reminded to ask for the sweet apricot kernels (in Chinese 南杏) NOT bitter almonds (北杏)
Method
Chop off tops of the papayas, each of which shall roughly be a 3 cm chunk in height. Then remove seeds from the papayas with a small spoon leaving the flesh intact. Get two containers good for steaming over boiling water and holding your papayas steadily in them. Stability of papaya inside the container is important because the milk would not be easily shaken out during cooking. I use two ceramic cups for this purpose.
In a wok or skillet, fill in approximately 2 cups of water and set up a rack sturdy enough for steaming the two papayas.
One cup of water and kernels in the processor, pulse them for about half a minute or till they look milky. Line a cheese cloth (I simply use a piece of clean cloth) inside a colander, and let them sit properly over a pot or bowl, strain the milk mixture through it. To get the last bit of milk, gently lift up the edges of cloth with the kernel pulp sitting in the center and give the whole thing a squeeze.
Whether you choose to use strained kernel milk or simply dairy milk, in a saucepan bring it to a simmer over low heat. Add the amount of rock sugar according to your taste, stir the milk until sugar dissolves (just omit adding sugar if the dairy milk is sweetened). Move the saucepan away from heat source and set aside.
Bring the water in wok to a boil over medium heat. Place the cups with papaya on the rack, slowly pour the milk into the papayas (leave 2 to 3 mm room from the top to avoid spillover). Cover wok, keep steaming for 15 minutes.
Serve hot. The flesh of the papaya is now tender, simply mine it out with some milk in each spoon and enjoy. Eat all flesh down to the skin.
Enjoy!
Note: If your papayas are of different sizes than the ones mentioned here, check the capacities of their cavities by measuring them with water first. Then adjust the amount of milk and steaming time accordingly.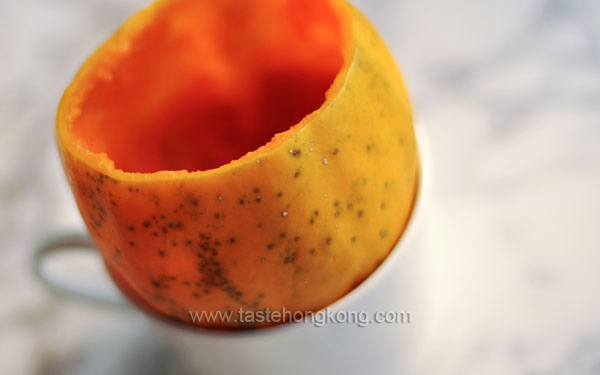 If you are concerned about people in Haitai, you may learn more or take action with the following link. Thank you.
Unicef Hong Kong Committee for UNICEF : Haitai Earthquake Report
To get immediate updates and new recipes from my blog, you may also SUBSCRIBE them via RSS feeds. See you there.