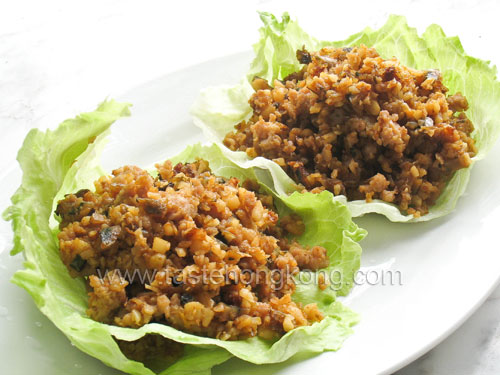 Most of the posts included here so far, if you have noticed, are mostly Asian or actually Chinese recipes. Nevertheless I still see the need to specify the style of this dish cause it is available in many regions yet varies quite a lot in the use of ingredients.
Recalled from my dinning experience, lettuce wraps of the Korean type are the most exciting; apart from generally having pieces of beef as the filling, there are also red hot sauces and raw garlics to go with it. When eating the Thai style, I could probably differentiate it from the others by the first one or two bites as it is just easy to tell from the flavors of added fish sauce and ground peanuts. Talking about the uniqueness, another one that has impressed me is the Malay wraps, I might not be that familiar with Malaysian menu, but I have enjoyed their popular bean sprouts in many kinds of their dishes, lettuce wraps included!
Me being lucky enough to have tried this same dish of different culinary styles, so there is no reason not sharing mine with you.

A reminder first
I cheated in the top photo. To serve, I usually place lettuce leaves on one plate and the cooked fillings separately on another, as such the vegetable would remain crisp and fresh. Sometimes, I even chill the lettuce well ahead to increase the crispness. Besides, if you do not want water drips from a lettuce leave while sending a wrap into your mouth, please pat dry the lettuce after rinsing and/or before serving.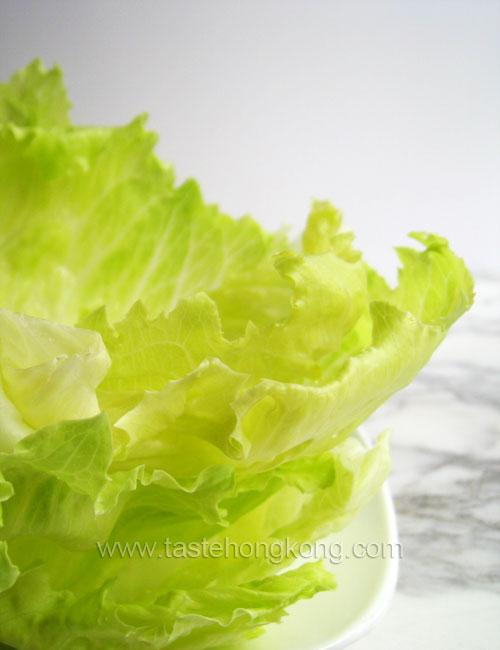 Ingredients
6-8 pcs iceburg lettuce leave,
100g ground pork
5-6 pcs dried oyster, ~60g
5-6 pcs water chestnut, ~80g
1 tsp garlic, finely chopped
1 tsp ginger, finely chopped
Seasonings
1/2 tsp salt
1/2 tsp sugar
1 tsp oyster sauce
1 tbsp water
pinch of ground white pepper
some cooking wine
Water Chestnuts
In addition to the picture below, I have organized some information on water chestnuts on a separate page, simply click here to read the details.

Though fresh chestnuts are preferred, they are not necessarily available all the times. In that case, use canned ones.
Method
Rinse dried oysters and soften them in water for about an hour. Discard water. Rinse and peel off the skin of waterchestnuts. Finely chop oysters and waterchesnuts into small pieces. Now, every ingredient except lettuce should have been finely chopped.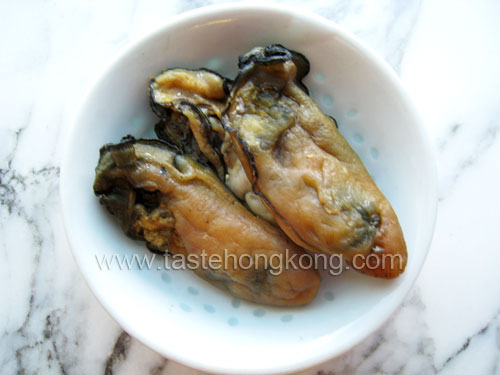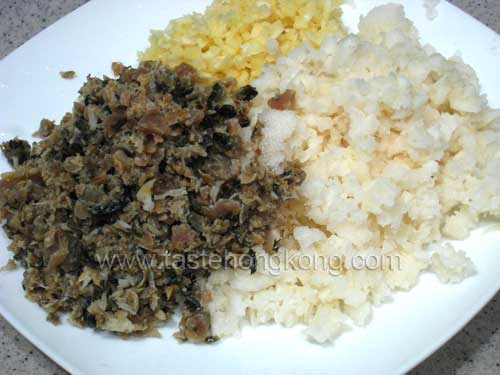 Marinade the meat with some soy sauce, corn starch and oil (see further elaborations put down by Misha and me in the comment section below).
Heat pan with about one table spoon of oil over low to medium heat. Saute garlic, ginger until fragrant. Add in marinaded ground pork and chopped oysters; sprinkle cooking wine while stir-frying them. Cook until the meat is done, then it is time to stir in water chestnuts and all remaining seasonings. As water chestnuts can be eaten raw, here we just need to briefly cook them with other ingredients. Dish up and enjoy.
Any preference on lettuce wraps?
To get immediate updates and new recipes from my blog, you may also SUBSCRIBE them via RSS feeds. See you there.