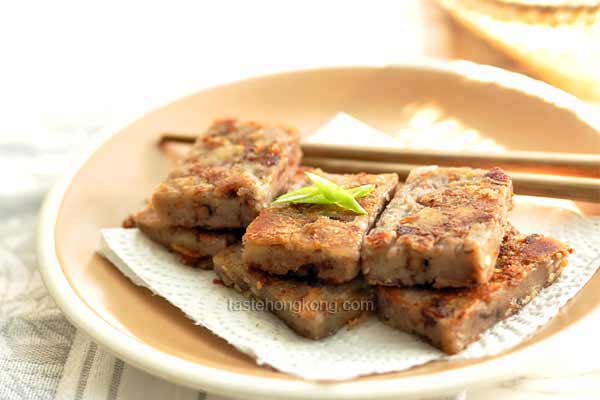 This crisp fried dim sum is easy to miss in Hong Kong nowadays.

Perhaps, it is to blame the diminishing use of moving carts in restaurants, where dim sum ladies pan-fry foods, like pan-fried stuff tofu and this taro cake, in front of her guests (now you tick the dim sum sheets and waiters will bring you the foods directly from their kitchens).
Its popularity, however, grows during the Chinese New Year since it is also considered an auspicious food, symbolizing achieving higher in the coming year. Because the pronunciation of "cake (gao)" is the same as "high" in Cantonese.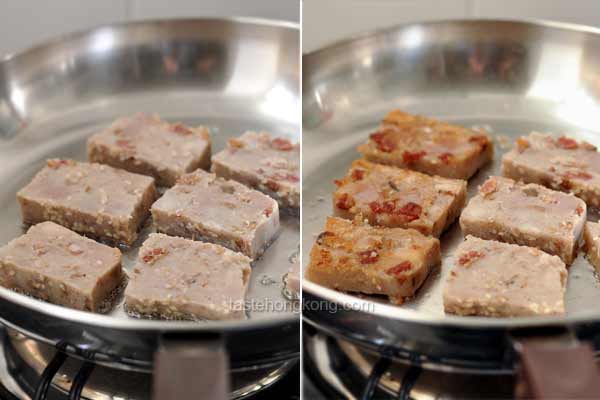 Like another popular Chinese New Year snack, turnip or radish cake (Law Bak Gou 蘿蔔糕), this is made the similar way with rice flour, Chinese sausage, dried mushrooms, dried shrimps.
Yet because taro is far more starchy than a turnip, the wheat starch added in this recipe would make the cake turn out somewhat elastic, balancing the floury texture of taro and rice flour.
Whether or not you will be celebrating the Lunar New Year (on coming Thursday, Feb 19), it is good to make taro cake within these few weeks, when it is still in season before the weather gets warmer.
Taro always comes in a large size, but no worries, there are plenty ways to cook with it, say, with rice, with braised meat or even as a dessert or finger food.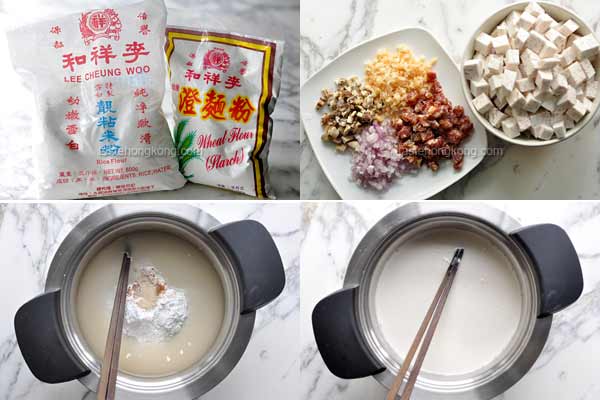 Ingredients
300g taro, peeled and cut into ~1cm cubes
60g rice flour
15g wheat starch 澄麵 (or see tips below)
1 pc Chinese sausage
3-4 pcs Chinese dried black mushrooms
1-2 tbsp dried shrimps
3-4 shallots, finely chopped
1-2 tbsp cooking oil
1 tsp five spice powder
3/4 C water from soaking mushrooms
1/2 C chicken stock
1/2 tsp roasted white sesame for garnishing
some chopped green onions, optional
yields 28 slices, of about 1cm thick, 5x4cm rectangles
Seasonings
1/2 tsp sea salt
1 tsp fish sauce
1/2 tsp sugar
1/8 tsp ground white pepper (for garnishing)
1/2 tsp sesame oil
Method
Preparing dried ingredients and batter
Dried mushrooms: soak in about a cup of tap water for at least an hour, or until softened. It may take hours to soft them if they are very thick. Drain and squeeze dry, reserving the soaking liquid (see tips below).
Dried shrimps: soak in about a half cup of tap water until softened. Drain and discard the water
Chinese sausage: scale it with hot water, making it easier for cutting.
Coarsely chop dried mushrooms, dried shrimps and Chinese sausage. Set aside.
Mix well the flours with chicken stock and seasonings to form a runny batter.
Frying ingredients
Heat wok with cooking oil over medium heat, sauté chopped shallots. Add in chopped sausage, shrimps and mushroom, stir-frying until lightly browned.
Toss in taro cubes and sprinkle five-spice powder, stirring to distribute evenly. Add 1/2 cup of the liquid from soaking mushrooms, 3 to 4 times. stirring constantly to avoid sticking to the bottom and adjusting heat to bring to a gentle simmer. Also, cover the lid after each stir, and uncover every minute for adding liquid. After simmering for 4 to 5 minutes, the taro shall smell fragrant (if it is good) with a hint of the five-spice flavor.
Turn heat to the lowest, mix well batter and add into the taro; keep stirring fast at the same time. As the batter starts to thicken, off heat.
Steaming
Grease the pan for steaming, and turn the batter into the pan. Spread and level down the batter. Sprinkle roasted sesame seeds on top.
Put the pan with batter in a steamer with a tightly-fitted lid and with enough water underneath; steam over high heat for 50 minutes. Check doneness by inserting a skewer into the cake, the cake is cooked if it comes out without stickiness.
Serving
Steamed: Add chopped green onion, if using, while the cake is still hot, cut out the desired size and serve warm.
Pan-fried: Let cool the cake, then cut into about 1 cm thick slices, pan-fry until both side turn golden (here is a reference). I like serving the pan-fried version with some chili sauce and often with some tea.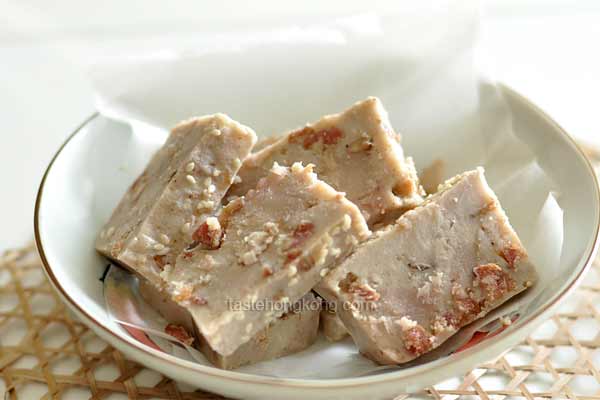 Enjoy!
And Happy Chinese New Year Everyone!
Tips
* When peeling taro, do wear rubber gloves, otherwise you may feel itchy after touching it.
* For added flavor (which is what most Chinese will do), I'd suggest soaking 2 to 3 pcs dried scallops with 1/4 to 1/2 cup of water until softened. Then, tear them into strips, and sauté them with sausage, reserving the liquid for mixing with flours (same way as preparing radish cake).
* If you need to replenish water to the steamer midway, add boiling water.
* The cake can be stored in the fridge for up to a week. That is why we Chinese like to make this (usually double the ingredients to make more servings) in advance during Chinese New Year.
* If not using wheat starch, you may simply replace it with same amount of rice flour too.
To get immediate updates and new recipes from my blog, you may also SUBSCRIBE them via RSS feeds. See you there.