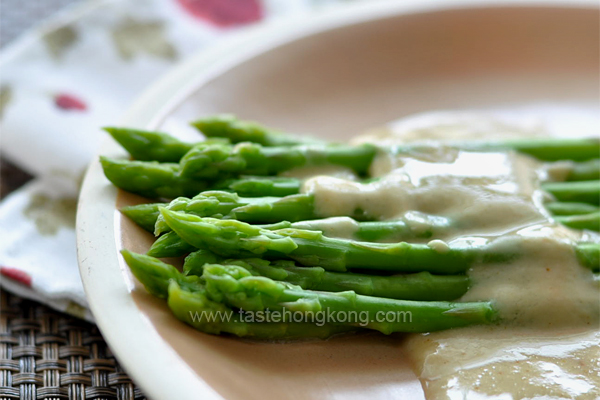 I always read about the benefits of eating soy products, but sometimes I hear that eating fermented bean curd is not healthy. I did not do much elaborate researches about that suggestion but the belief seemed to have started sprouting in my mind for quite a while and I bought no more fermented bean curd for home cooking since then. Honestly, it is fairly hard to refrain myself from the temptation of buying fermented bean curd, because in many Chinese dishes it plays a key role in flavoring different foods, turning an ordinary dish into more inviting and additive.
But I didn't stop eating it. I adopt a discriminating strategy, enjoying it only when dinning out. At Chinese restaurants, instead of having one main course, we usually order several different dishes to share among family or friends. One of the very popular dishes we used to order is Stir-Frying Water Spinach with Fermented Bean Curd (腐乳炒通菜), a dish most restaurants cook well with their powerful flame. We do not stay away from it completely perhaps we believe that eating it sparingly is acceptable and, fact is, it is a truly delectable dish.
At home, I simply sauté water spinach with garlic, ginger, or some spicy sauce, which is already a comfort dish for hubby and I to go with rice and to complement another dish with fish, chicken, beef, or pork. No matter how simple the stir-fry is, there are moments I wish to escape from the heated wok with oil. That is why, at the temperature of 33 degree C, I decided to blanch than to fry. And, inspired by Tigerfish's simple, beautiful dish on steamed asparagus, I feel more confident in using this easy-to-wash vegetable for making this. So here it goes, Asparagus (rather than water spinach) with Fake Fermented Bean Curd Sauce.
If you are not familiar with fermented bean curd, it is a type of preserved tofu with a smooth, creamy texture, smelling cheesy. Therefore it is also called Chinese cheese.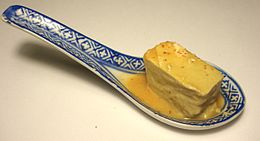 Photo: Wikipedia
The sauce in this recipe, though is an imitation, has both a cheesy feel and a fermented soy bean flavor as the fermented bean curd does. But you may have a complete control on the cheesiness and creaminess by adjusting the ratio of cheese to water and miso. Adding chili powder or not is optional because some fermented bean curds are actually non-spicy.
Ingredients
100g asparagus spears
1 piece cheese (I use Kraft Singles)
1 tsp white miso paste
1/4 tsp chili powder or flakes, optional
pinch of sugar, or to taste
pinch of salt, or to taste
4-5 tbsp water
Blanching asparagus
2-3 cups water
1/4 tsp salt
1/4 tsp sugar
1 tsp oil
Method
Wash asparagus clean (if I have time, I will first soak them in lightly salted water and then rinse them under running water). Cut off the bottom part where the stalks are tough, about one centimeter.
In a pan, add water, salt, sugar, and oil. Bring them to the boil. Briefly blanch the asparagus spears for about one minute (mine are very thin, thicker ones may take longer), or until just tender.
In a saucepan over low heat, put cheese, miso paste, and half tablespoon of water in it. Whisk to melt cheese and combine well with miso; add remaining water a little at a time until reach your preferred consistency. Remove from heat.
Serve hot (I have yet to try it cold). Pour sauce over asparagus right before serving.
Enjoy!
Note:
The quantity here is good for serving as a side dish for two, you may need to double or even multiply the ingredients as required.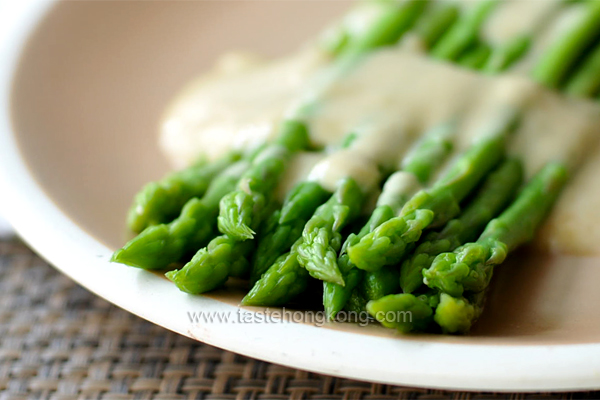 To get immediate updates and new recipes from my blog, you may also SUBSCRIBE them via RSS feeds. See you there.