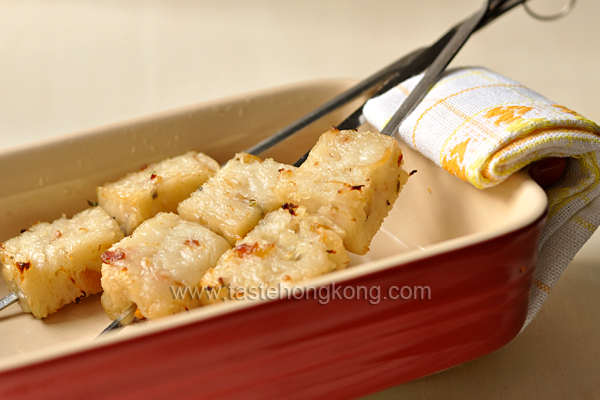 Happy Chinese New Year Every One!
Among the various forecasts of the Year of Rabbit, I like the one suggesting that we are going to have a peaceful year following the last turbulent year of Tiger.
I cooked this dish tranquilly in my kitchen. No flame, no heated pan, no sizzling; I just prepared the turnip cake as if I was grilling satay or kebab in my oven.

To make this skewer dish, you will first need a steamed turnip cake chilled in fridge for at least a day in advance. Then slice out the portion you wish to serve. Mind you, this is not a traditional way of serving turnip cake but is one of my happy adventures of making cooking simple and clean. Traditionally, a turnip cake is sliced and pan-fried or simply reheated by steaming.
You may check out my homemade turnip cake with step-by-step photos here. If you happen to visit Hong Kong before or during Chinese New Year, You may also buy it from Cantonese restaurants or established cake shops.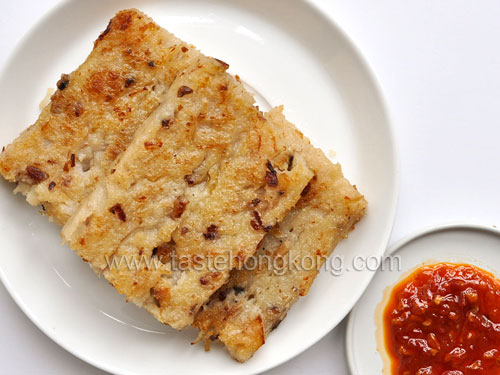 Ingredients
turnip cake
oil
Method
Preheat oven with grill function to 160 degree C.
Cut turnip cake into larger square cubes or rectangular cubes; mine are about 3x2x2cm. Thread the turnip cubes on to skewers.
Brush oil on all sides of turnip cake cubes.
Place on an oven-proof dish and grill for 5 minutes or till golden brown. Turn and grill the opposite side for another 3 minutes, or also till golden brown.
Serve hot with chili sauce or sauce your prefer.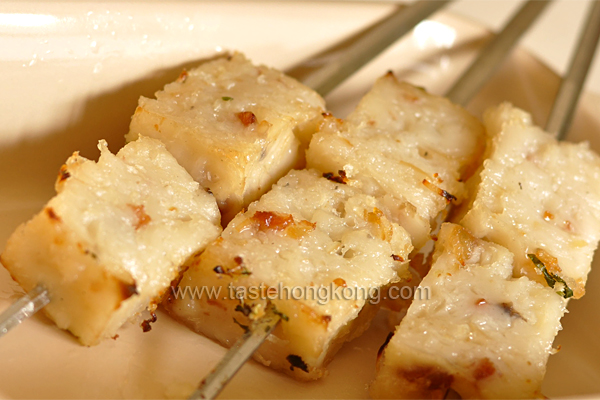 Note:
If you use wooden or bamboo skewers, soak them in water for about 10 to 15 minutes before threading.
Hope the 'Rabbit' not only radiates its influences on my kitchen, on the place I live, but also on every part of the globe. Let it calms floods, droughts, and all social unrest.
Peace, may we share? We are fortunate here to have fireworks on every second day of Chinese New Year (as least for the past decade if my memory serves me correctly) above the Victoria Harbour of Hong Kong. Below was the one just performed on February 4, 2011. Enjoy!
Have a Healthy Year of Rabbit!
To get immediate updates and new recipes from my blog, you may also SUBSCRIBE them via RSS feeds. See you there.