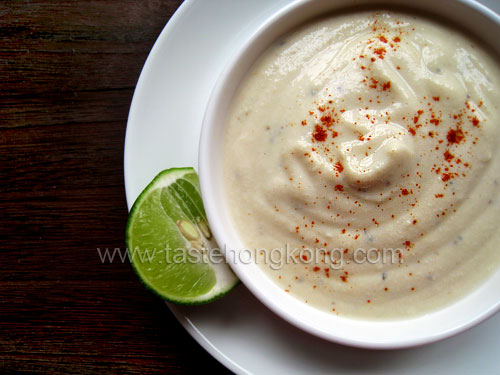 Making this tofu cream is not that I don't eat mayonnaise. I just found it to be a light yet tasty alternative – lower in calorie but higher in protein as compare to mayonnaise – for use as dressing for salads. I also mix a portion of the cream with mashed roasted salmon to become a filling for sandwiches. So here comes a lunch with my loving salad and sandwiches.

Ingredients
1 pc soft tofu (~200g)
2 tsp sugar
1 tsp mustard
1 tsp olive oil
1 tsp ground black pepper
2 tsp lime juice
1/2 tsp salt
pinch of paprika (optional)
Method
Prepare this cream requires no cooking. But the tofu with me is bought from a store that sells it naked in an open space, therefore I have to steam it over low heat for about 5 minutes to make sure it is free from bacteria. This step might not be necessary to you if your tofu is vacuum packed.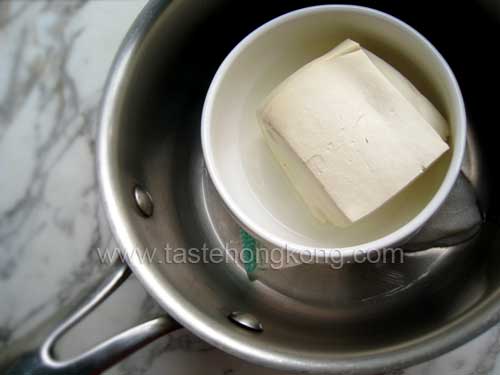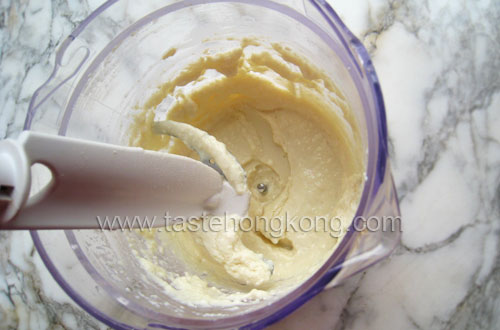 Let cool the tofu, pat dry, cut it into large pieces and put them in a blender to blend until smooth, which shall take a couple of seconds only. Allow the blended tofu to go through a fine sieve if you wish it to become creamier.
We need only to pat dry but not press or drain the tofu to discharge its water or the cream will become too thick.
Add into tofu cream the sugar, mustard, olive oil, black pepper and mix well. Then, add lime juice, salt to taste and chill a couple of hours if necessary. Before served, simply sprinkle some paprika for added flavor or as garnishing.
Note:
The tofu cream is in its best condition when freshly made. So whether you are going to take it as a dressing or a sauce, do consume the cream on the same day you have it prepared. Its texture will deteriorate (with water separated from the cream) even overnight.
I haven't made my tofu cream go through a sieve, which is thus slightly coarse as the salad dressing but it is fine enough after mixing with the mashed salmon fillet.
Dressing for salad
Kiwi fruit, raisins, toasted bread with tofu cream: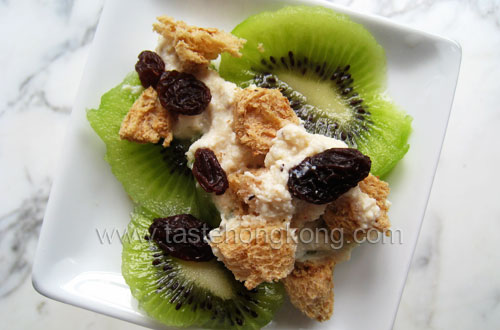 Fillings for sandwiches
Roasted and mashed salmon with tofu cream: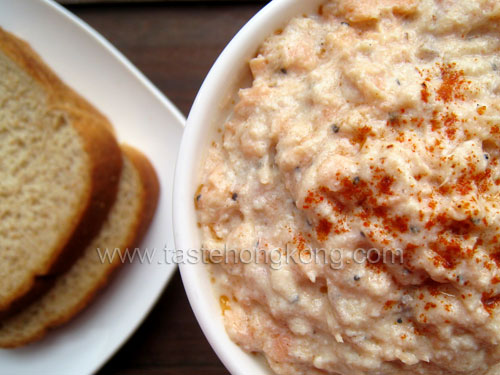 To get immediate updates and new recipes from my blog, you may also SUBSCRIBE them via RSS feeds. See you there.