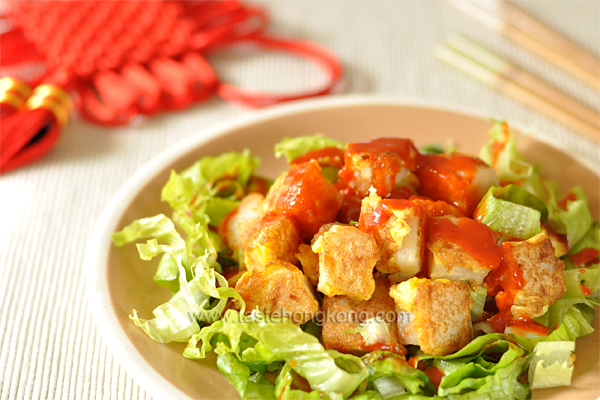 Last week, also the first week of Chinese New Year, was almost all about eating. Like previous years, we had a family get-together playing mahjong, cards … in my flat, packed.

We feasted on tong yuan to celebrate the Festival. And as always, there were also Chinese cakes: lo bak gou 蘿蔔糕 (or luo bo gao aka turnip cake), and water chestnut cake 馬蹄糕 (ma tai gou) were sliced, pan-fried and served as snacks.
Happily, all homemade cakes were finished. What I have cooked here is the leftover of a store-bought turnip cake which was stir-fried with lettuce. This is not traditional because stir-fried lo bak gou is usually cooked with bean sprouts.
But the lettuce has also balanced the starchy turnip cake, making the whole dish lower in calories. It is somewhat like a warm salad and the portion here shall be good for two.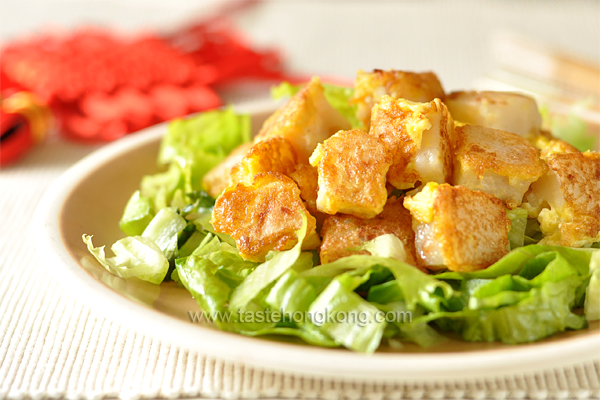 It is quite a Chinese custom to make dishes with lettuce during the Spring (New Year) Festival because lettuce is pronounced as 'san choi 生菜' in our language and sounds similar to '生財', meaning 'thriving wealth'.
May this therefore helps me deliver you, 'A prosperous and happy Year of Dragon!'
If you want to take a look at how turnip cake is made from scratch, let me walk you through here with step-by-step photos.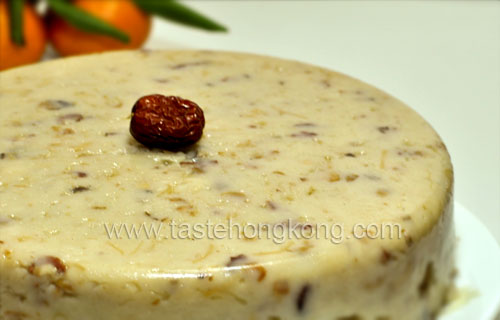 Ingredients
5 slices of turnip cakes, cut into 1cm cubes
1 egg, beaten with a pinch of ground white pepper
6-8 lettuce leaves (wash and drain dry if necessary), shredded
Dressing / Sauce
3 tbsp chili sauce
1 tsp sake
1 tsp sesame oil
salt to taste
2 cloves garlic, finely chopped
Method
Put cubed turnip cake in beaten egg, coating each cube evenly.
Arrange shredded lettuce on plate.
Mix well ingredients for dressing, add salt to taste.
Heat wok with oil over medium heat, when heated enough (same way as pan-fried tofu), pour in turnip cake with egg. Turn to low heat, let the egg set and browned a bit on the bottom side. Toss in chopped garlic, add some more oil if required. Then turn over (it doesn't matter which other side you are browning, just gently give some flips and turns until all the coating is set and the cubed cakes are heated through, about a minute).
Dish up on the bed of lettuce. Serve with dressing while the lo bak gou is still hot.
Enjoy!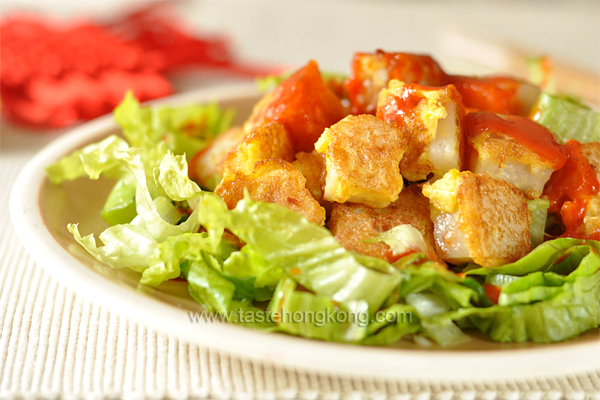 Note:
After shooting half portion of this recipe, I reheated the fried turnip cake left in wok together with the remaining dressing and lettuce. I want to tell you, that dish was good too particularly if you want it completely hot.
To get immediate updates and new recipes from my blog, you may also SUBSCRIBE them via RSS feeds. See you there.