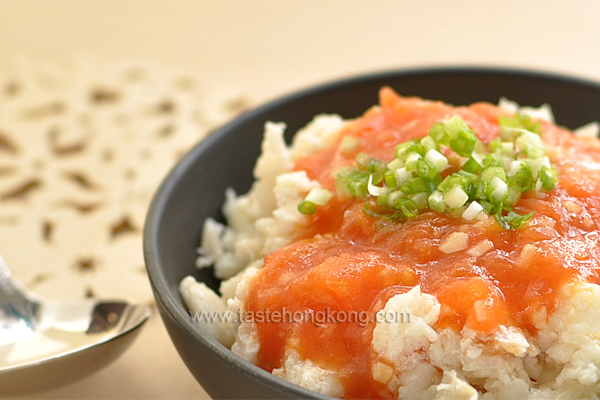 This dish might has the reputation of being tricky to cook well at home, which means it is easier to do it in a professionally equipped kitchen where Chinese chefs may tell you to fry the eggs with a fiercely hot wok and warm oil 猛鑊陰油.

Don't get them wrong, warm oil doesn't mean you may dip your fingers in! The oil is hot but does not smoke; the flame level is so high that you may literally hear it roars.
And the steps to achieve this is to heat the wok enough then fill it with a pool oil, almost like a set-up for poaching. After the beaten egg white is poached (fried), it has to be strained from oil. My version here has used less oil and the fish fillet is poached in water than in oil.
But this is the way I found my less powerful stove can better handle.
Both ways, as the eggs are poured into the oil, they should't be cooked for too long or they will become tough and spoil the beauty of this dish.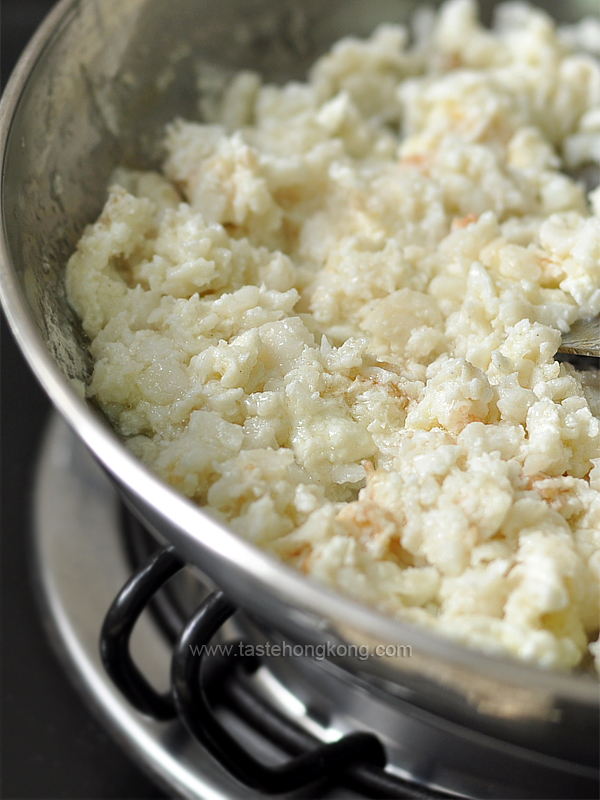 I have to admit, however, adding one or two more spoons of oil, which is up to you to adjust, shall help make the egg even silkier.
Don't blame yourself if the fish fillet turns out and tastes like crab meat, as this is a dish inspired by the famous Shanghai Fake Crab Meat in Egg White 賽旁蟹.
Hope this lighter version of scrambled egg would be a good dish for you to begin the year. Happy and healthy 2013 everyone!
Ingredients
200g white fish fillet, I used frozen code fish
4 egg white, beaten (at room temperature)
2 tomatoes
1/2 tsp fish sauce, or to taste
1/4 tsp sugar
2 tbsp water or stock
~4 tbsp cooking oil
1 tsp chopped garlic
salt to taste
1 tbsp chopped green onion
Marinade for fish fillet
1/2 tsp sea salt
pinch of ground white pepper
1/4 tsp corn starch
Method
Thoroughly thaw fish fillet. Wash, pat dry and marinade for no less than 15 minutes.
Poach fish fillet in boiling water until just cook through, about a minute. Remove with a strainer or slotted spoon. Drain, flake and set aside.
Skin, seed and dice tomatoes like this. Saute them with oil and garlic until fragrant and softened. Add salt to taste and stir well. Dish up.
Mix fish sauce, sugar and water into beaten egg white, add flaked fish fillet and stir well.
Heat a pan or skillet enough (test with water droplets if they form like dews on leaves and evaporate immediately); add oil, swirling the pan to coat. Remove from heat.
Gently pour in egg mixture, quickly flipping and turning it to help it set. Return to heat source and regulate (lower) the flame as required. The aim is to have the eggs just cooked but not brown.
Dish up, top with sautéd tomatoes and green onion. Serve hot and mix well.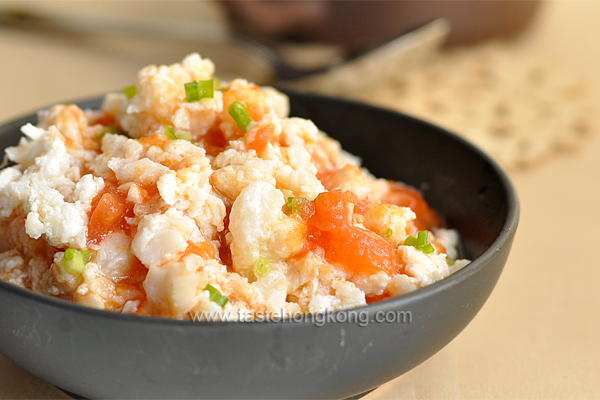 Enjoy!
To get immediate updates and new recipes from my blog, you may also SUBSCRIBE them via RSS feeds. See you there.