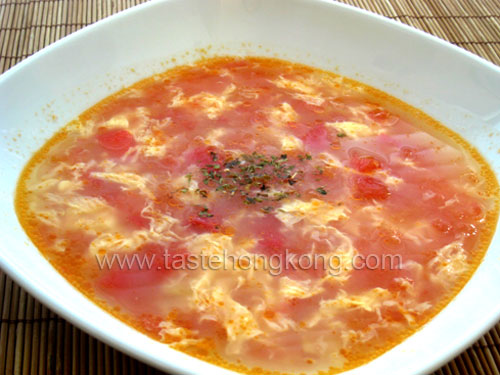 This was a very popular dish in the mainland China or perhaps is still a popular dish in some of her rural areas. The traditional recipe comes with only two ingredients – egg and spring onions. And typical of the dish is – soup is water, water is the soup. Using chicken stock and tomatoes as base of the soup probably is a luxury for them. Apparently we are lucky to have a more nutritrious version here. Enjoy.

Ingredients
1 egg, beaten
2 cups chicken or beef stock
1 tomato, cut into small pieces
1 clove garlic, finely chopped
1 tsp spring onion, finely chopped
1 tsp olive oil
some Chinese rice wine (or dry sherry)
1/4 tsp salt
1/2 tsp sugar
some sesame oil
Method
1) Heat oil in a pan over low heat, sauté galic, followed by tomato, until fragrant. Sprinkle in wine. It is recommended to sauté tomato with oil first as this will help release lycopene from tomato, a powerful antioxidant, which is beneficial to health.
2) Pour in chicken stock and turn to medium heat, bring it to boil and add salt, sugar. Reduce to low heat, and quickly stir in egg in one direction, after which the egg should form feather-like shreds.
3) Turn off heat, drizzle sesame oil and garnish with spring onions.
Tip
I'm rather picky in having swallowed tomatoes with seeds and peel. So whenever time is allowed, I would make a small cut at the bottom of tomatoes, have them blanched in boiling water for a while (doing so will make peeling easy) and remove peel and seeds.
To get immediate updates and new recipes from my blog, you may also SUBSCRIBE them via RSS feeds. See you there.