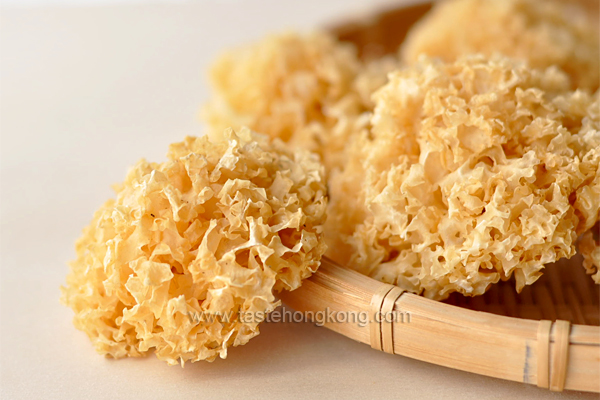 White fungus has many names: snow ear fungus, silver ear fungus, white wood ear, white tremella mushroom. And these names tell, it is a type of fungus also belonging to the mushroom family.

White fungus has been prized for its medicinal benefits, namely anti-inflammatory and anti-tumor. In Chinese families, it is commonly used in soups cooked for soothing purposes like nourishing the bodies, healing dry coughs and clearing heat in the lungs. White fungus with rock sugar in a sweet soup or with chicken in a savory version are among the popular ones. Occasionally, you may also see it in stir-fries, vegetarian style in particular.
It is also said that eating white fungus could help keep our skin young believing that its collagen content is comparable to bird's nest. Here, we may buy the fungus at about HKD10 per tael (~38g) but have to pay at least 50 times more for the bird's nest. So it is clear why white fungus is dubbed 'poor man's bird nest'.
Often than not, white fungus is available in its dried form than fresh. So whatever the dried white fungus is used for, it has to be soaked, trimmed and washed thoroughly before used. How to do all these are simple.
Soaking white fungus
Cover dried white fungus with enough water (at least 3 to 4 times of its size). Depending on the variety, you shall see it double in size in 10 to 15 minutes and turn from yellowish-white to semi-transparent. I usually have it soaked for about half to one hour until all its body become gelatinously soft.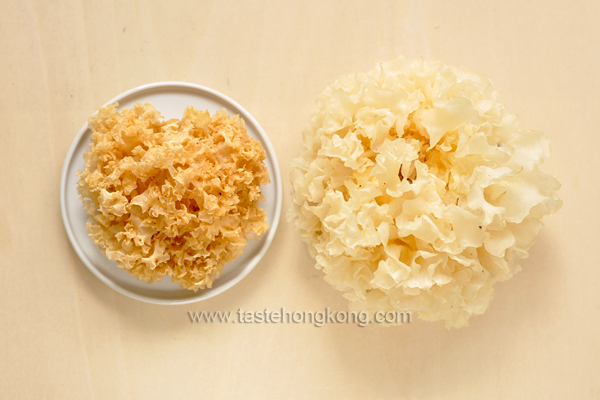 Trimming white fungus
But its bottom will remain firm even after soaked. So trim this part out.
Using it as a facial scrub?
A saying suggests that this firm core, supposedly to be trashed, can be used as facial and body scrub. I'm still considering … considering to try to scrub my hands first.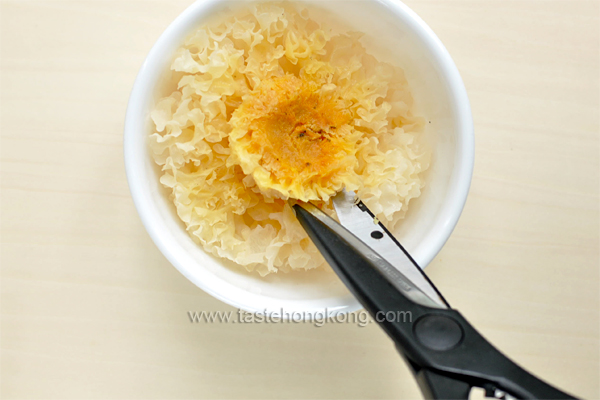 Finishing
After the hard bottom is trimmed away, just tear the fungus into small pieces resembling petals. Then wash thoroughly and drain dry. Give them some squeezes if you like.
Then, the white fungus is ready for cooking in soups (like one posted here where you are also welcomed to comment) or stir-fries.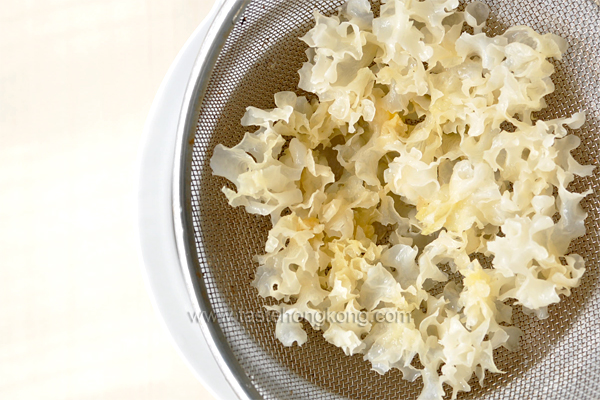 To get immediate updates and new recipes from my blog, you may also SUBSCRIBE them via RSS feeds. See you there.