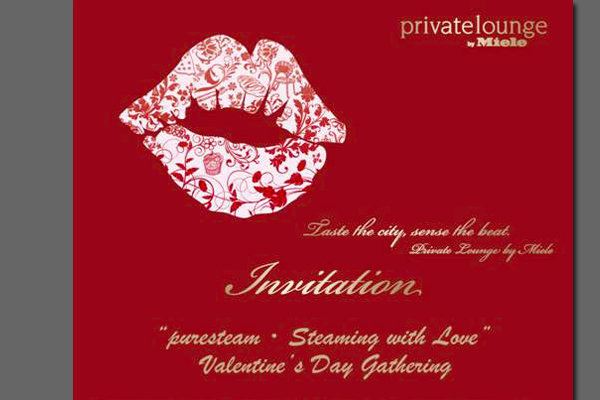 Miele and Chef Ricky Cheung 張錦祥 are no strange names to me, but I had never been so close to them, enjoying a dinner together with some cook book authors, cooking instructors and bloggers.
While Miele introduced to us their new steam oven at her Private Lounge, Ricky cooked the meal and shared with us his cooking tips.

* * *
Entering the Lounge, I was not only greeted by their friendly people but also a food box along with some lucky pockets at their reception bench. Yes, that was an evening during Chinese New Year – and our German host also had these festive details.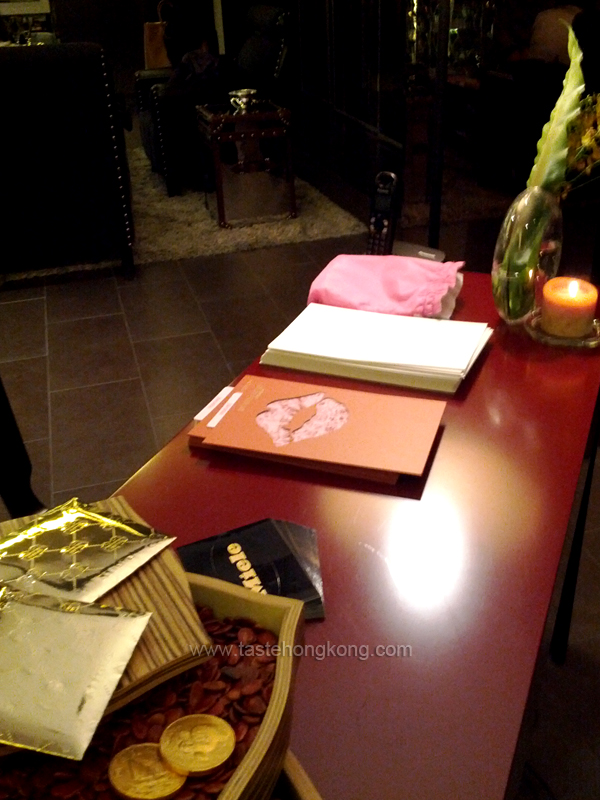 Prepared for us was a five-course dinner,
– Steamed Asparagus, served with Parma Ham and Hollandaise Sauce
– Black Truffle Soup
– Steamed Rice with Porcini Mushrooms, served with Hot Spring Egg
– Grilled Fowl Flavored with Spicy Lemon Honey
– Mocha Brownie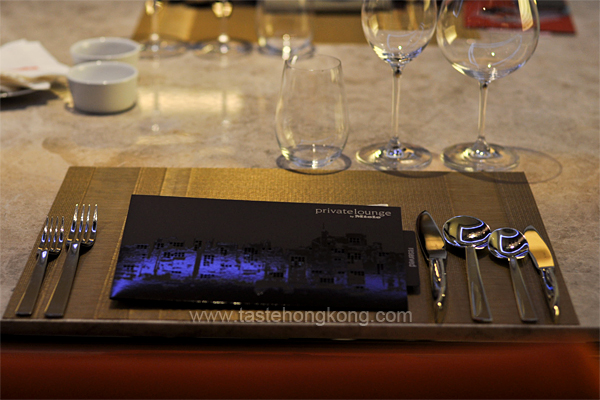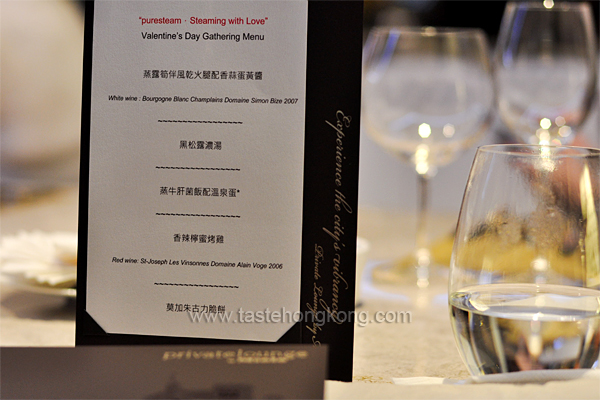 Honestly, I'm not a big fan of hot spring eggs, but I know it is tricky to get it right. A perfectly cooked spring egg should have the white formed like a delicate, smooth custard coating the sphere yolk. Generally, we would need a decent pot, a thermometer, and a timer to make sure the eggs are cooked in water consistently at the right temperature and with the precise timing. Still, sometimes, it seems that there is a factor of luck requiring some trials.
Miele showed how they perform those steps in an effective and reliable way.
Having placed eggs in the steam oven, a gentleman filled the removable tank with water, closed its door and did the settings on the glass panel. There, the eggs were being cooked.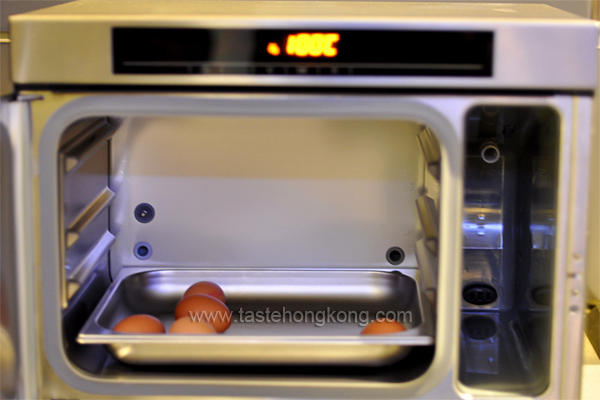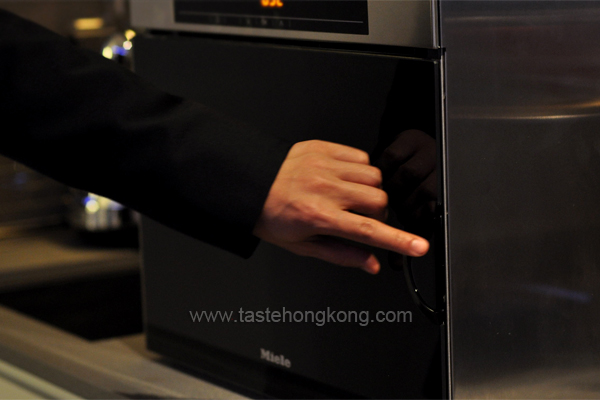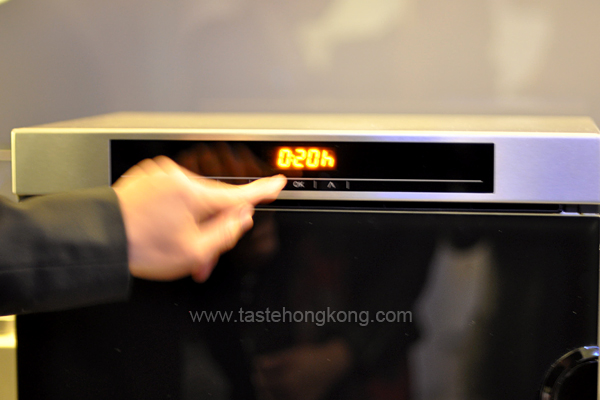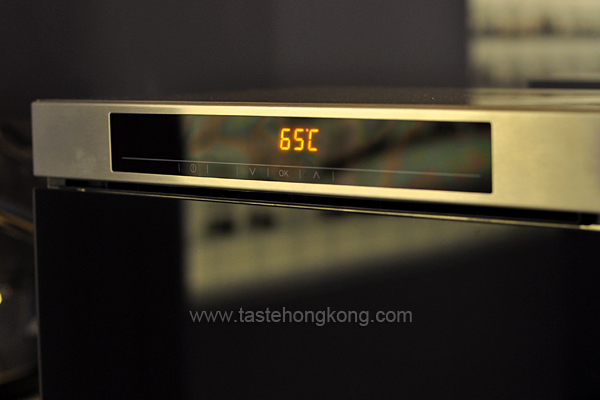 I hadn't timed how long we had left the eggs unattended but should be more than 20 to 30 minutes. They were then harvested from steam ovens and cracked from their shells, and all appeared like this …
Not one was over-cooked even left unattended.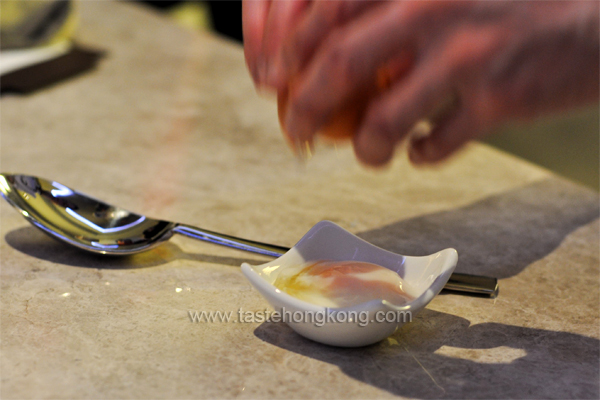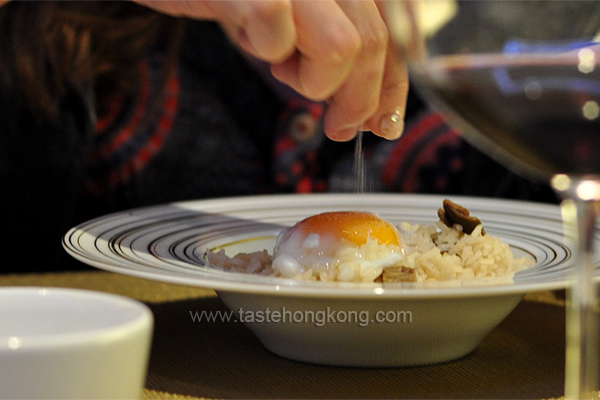 'Vegetables cooked by steaming may turn yellowish easily,' suggested Ricky while drizzling oil and sprinkling salt and pepper onto the asparagus 'but we shall see how Miele's steamed oven do it differently'.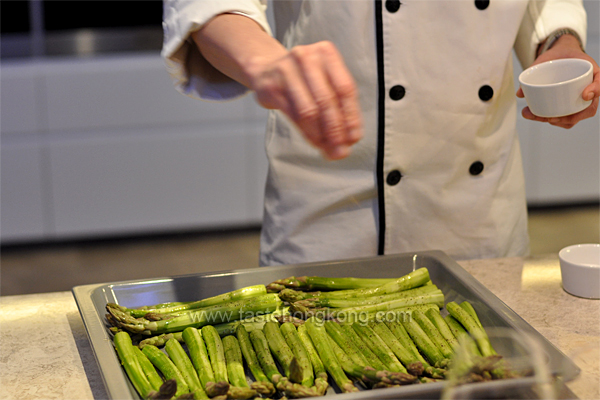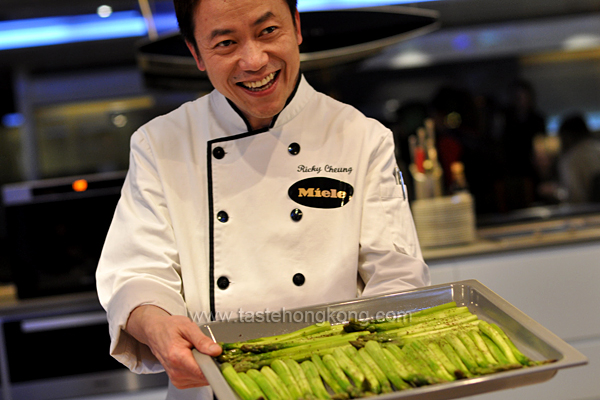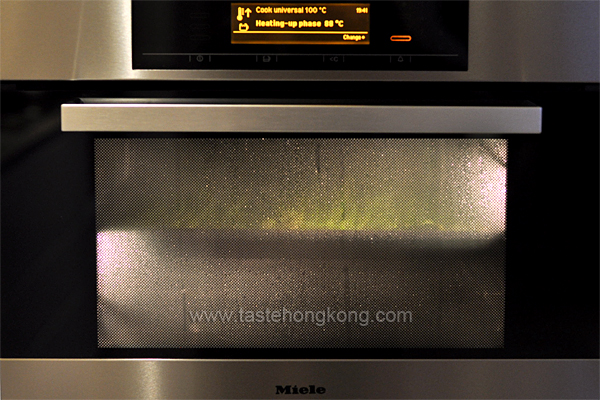 Yes, the asparaguses came out green from the steam oven as Ricky had proposed (notice some parts of their green skins were peeled off?). It was not the type of crunchiness they would have been served raw, but they tasted crisp and fresh. Actually I finished a portion of the asparaguses without the sauce.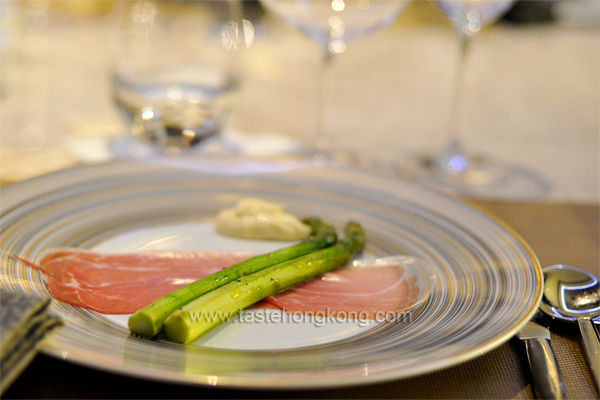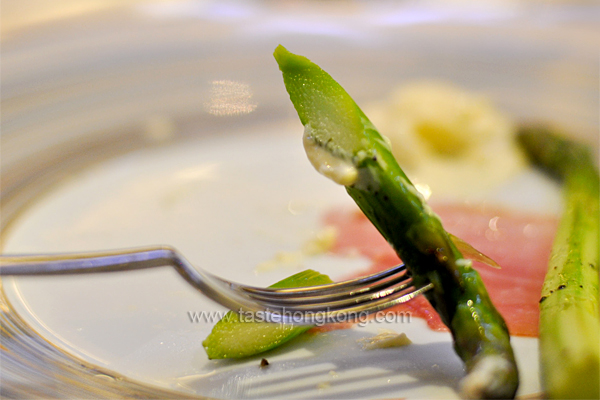 The steamed rice was prepared more or less the same way as we would do it with a rice cooker. Ricky started cracking jokes with us while doing those simple steps. And he shared his recipe for making the Steamed Rice with Porcini Mushrooms:
– rice to water (or stock) ratio ideally is 1 to 1.1
– for added flavors, reserve the water from rehydrating the dried mushrooms for adding into the rice and stock
– there might be some small particles found in the soaking water. One convenient way to get rid of them is to allow the water to rest for a while and allow the particles sink to the bottom, after which they could be discarded after water is poured into the rice.
The steamed rice turned out like an Indian Biryani (yet a bit sexy and mushroom-scented), so you may want to add some more stock to the above recipe for a softer texture.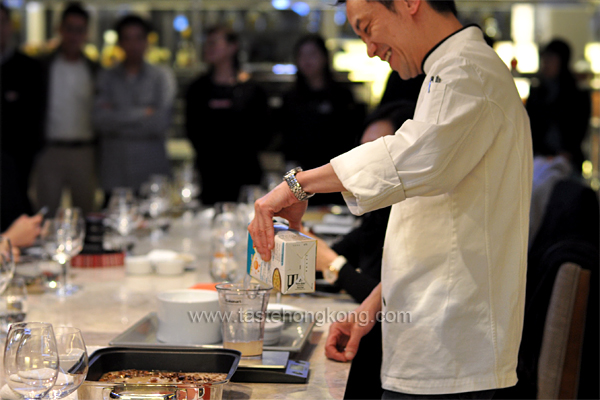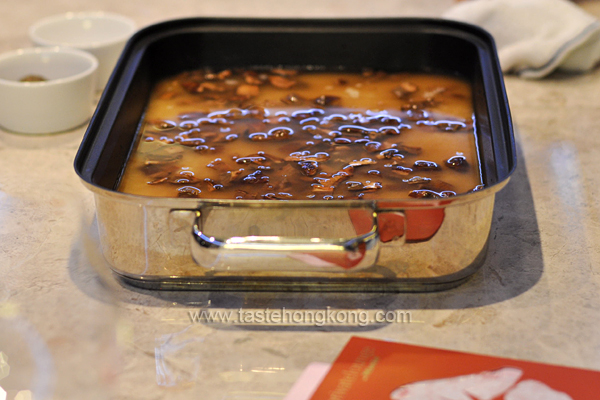 Having tucked the rice into the steamed oven, Ricky grabbed a beer in hand and continued chatting with us in laughter.
Thank you Miele for your kind invitation, this is a fascinating event. Ricky, I have to tell you I too enjoyed the thick soup, swooned over the succulent fowl, licked clean the dish of brownie, leaving the fresh berries behind because I had already gone beyond my capacity limit. You both did a wonderful job!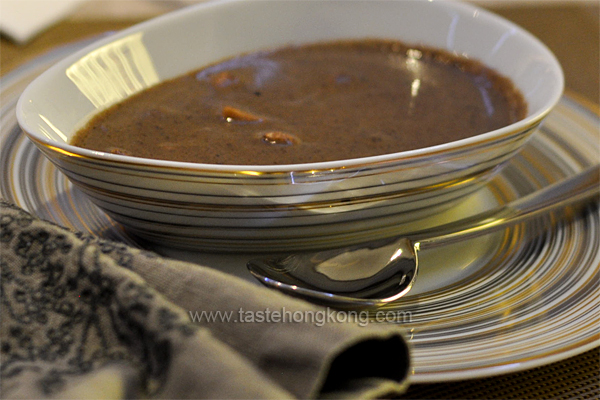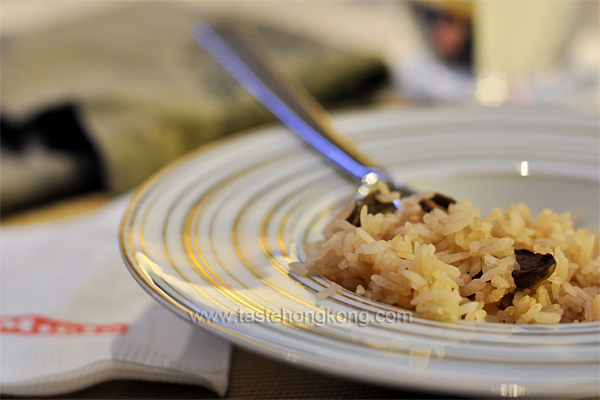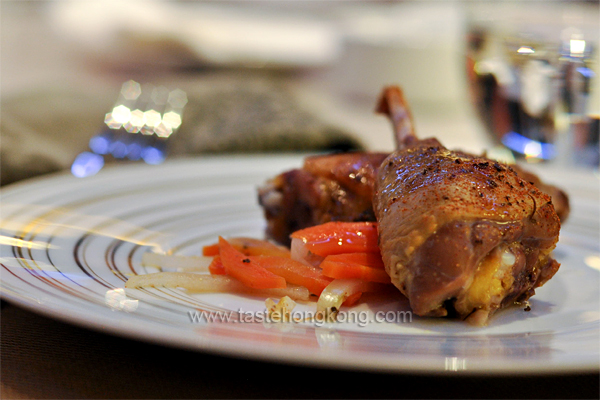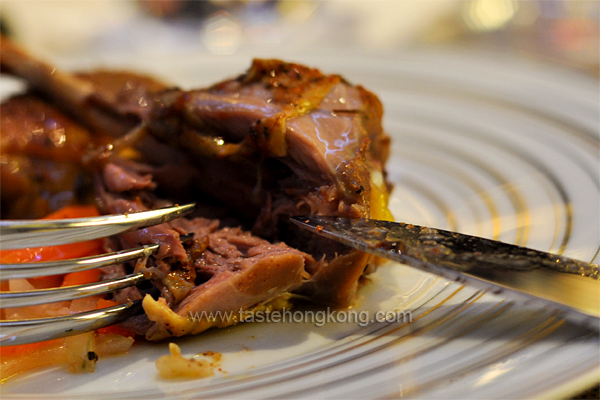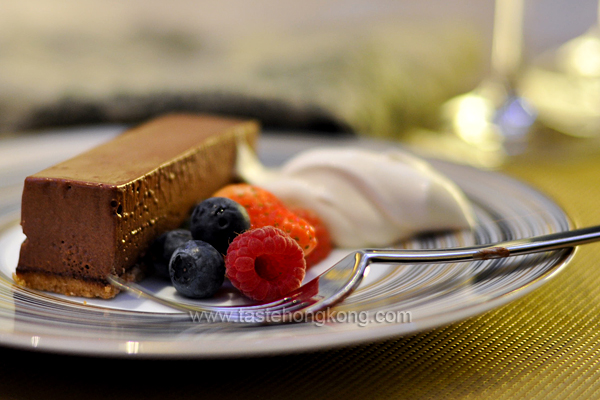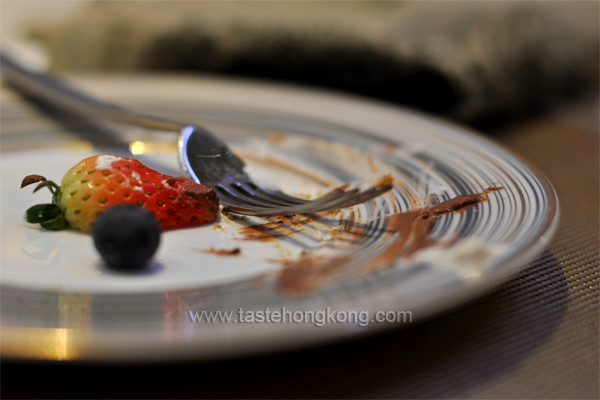 No doubt, the accomplished chef and the neat-arrangements together had made the dinner both enjoyable and relaxing. But could we not attribute the fascinating evening to the help of that smart cooking appliance?
It is intelligent too, according Miele, her Steam Oven with the unique Puresteam feature could cook different dishes simultaneously without mixing of flavors and over-cooking of any one of them. And its gentle cooking feature would even help preserve the nutrients in foods.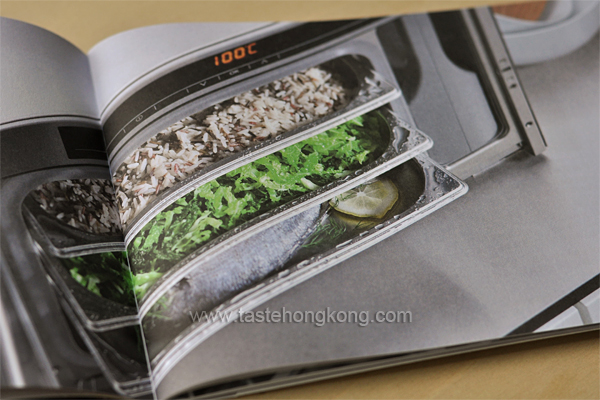 I'm interested in finding out how best Miele can get such done and how helpful it is for making healthy recipes. Yet this is not a privilege for me, you may also talk to the people at Miele's VIP Lounge. It is her new model DG1450, a counter-top steam oven listed at HK$11,980.
Wanna take a peep at the lounge before making your call? Let's thanks Nicolas, Manager of Miele Private Lounge, for escorting us around.
Enjoy!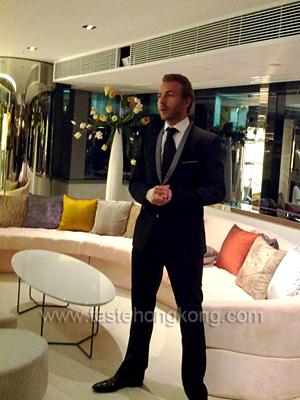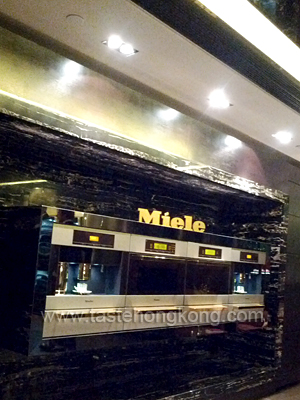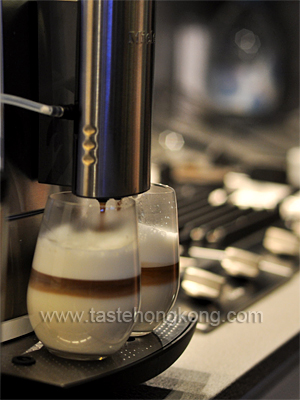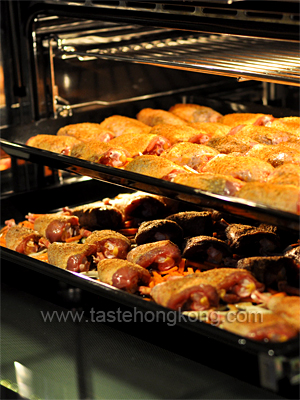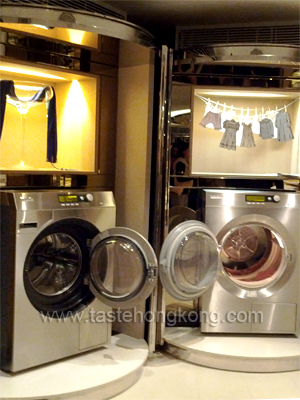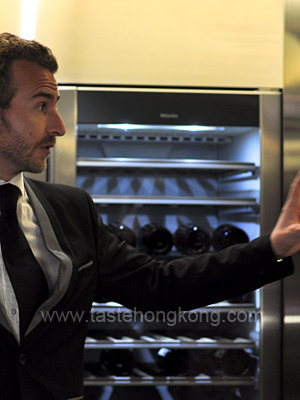 Private Lounge by Miele : Phone (852) 3755 3287
To get immediate updates and new recipes from my blog, you may also SUBSCRIBE them via RSS feeds. See you there.